Proposal to close Fairview Developmental Center meets with resistance
More than 100 spoke and attended a public hearing Saturday at the Fairview Developmental Center in Costa Mesa to express both concern and support for a recent plan to close the state-owned facility.
The hearing in Fairview's auditorium was an initial step toward Gov. Jerry Brown's austerity proposal last year to transition the center's developmentally disabled residents out of its institutional-style setting by 2021 and into smaller regional centers that are more integrated into local communities. To that effort, Brown has budgeted $78.8 million this fiscal year toward Fairview's closure and two other California facilities like it.
The governor's proposal, however, was met with considerable skepticism during the first two hours of Saturday's hearing, which began around 10 a.m. and was scheduled to last until 5 p.m.
Family members of current or Fairview residents expressed worry that their loved ones wouldn't receive the high level of care that Fairview staff have provided for decades.
Maggie Flavia, whose son has lived at Fairview since 1983, was unconvinced that he would receive such specialized care outside the center.
"Can the care at Fairview be duplicated out in the community? I say it's an impossibility," she said.
For some residents, Flavia added, leaving Fairview "is literally a matter of life and death."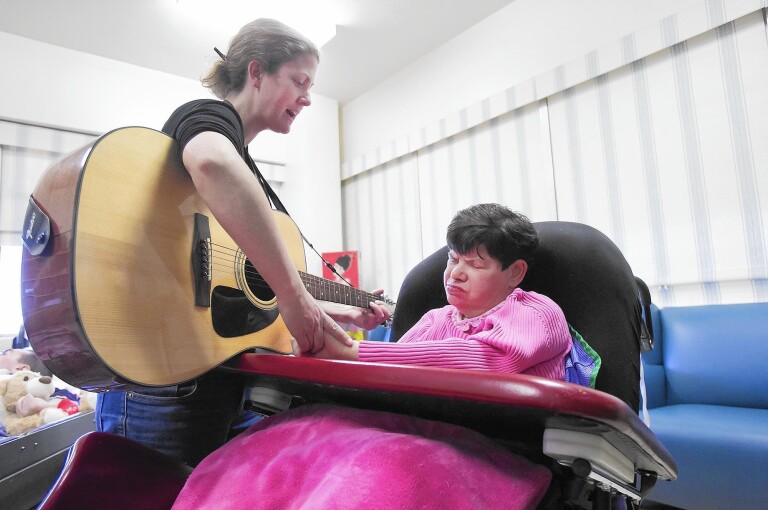 Rehab therapist Candace Bartel uses music with a client at the Fairview Developmental Center on Friday.
(Don Leach / Daily Pilot)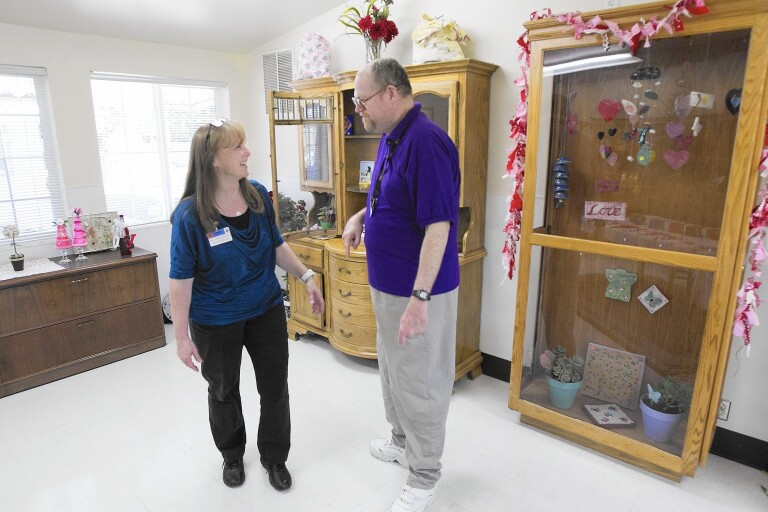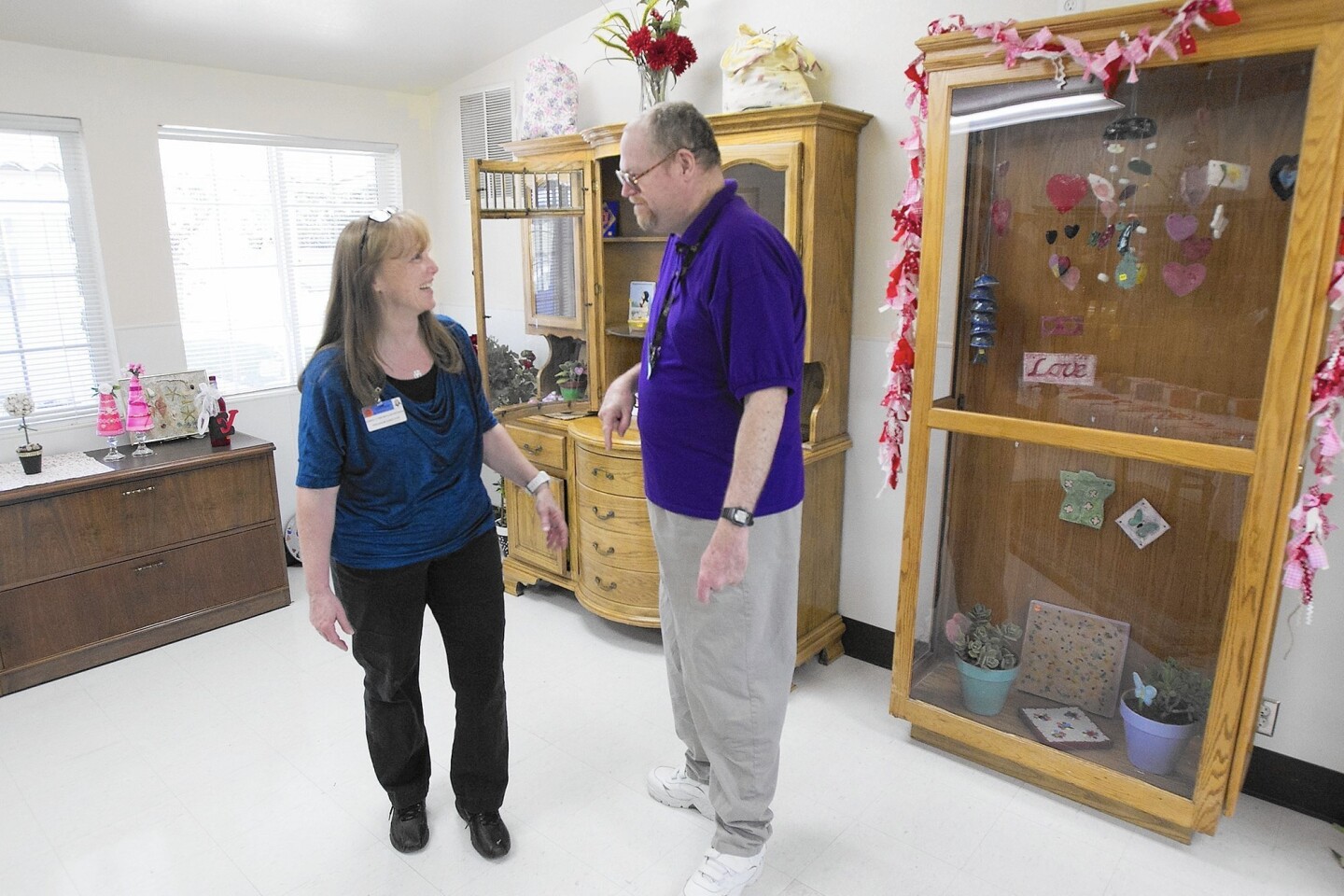 Program director Carol Lynn Naylor-Pecson chats with resident Dale in the Fairview Developmental Center Creative Hands boutique on Friday.
(Don Leach / Daily Pilot)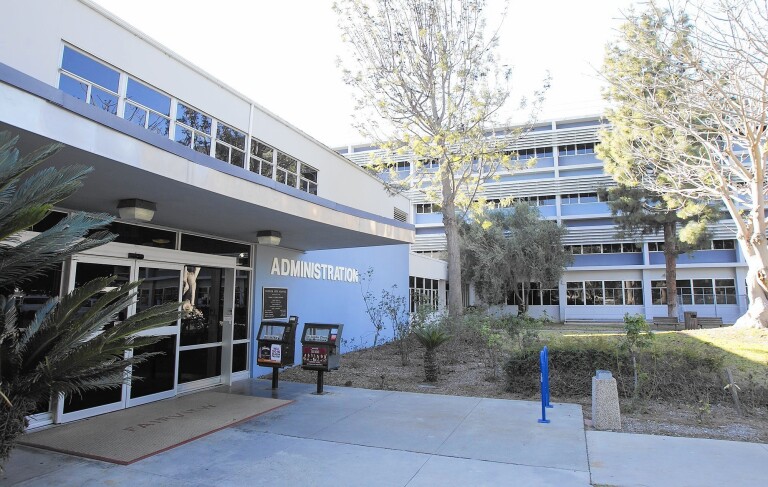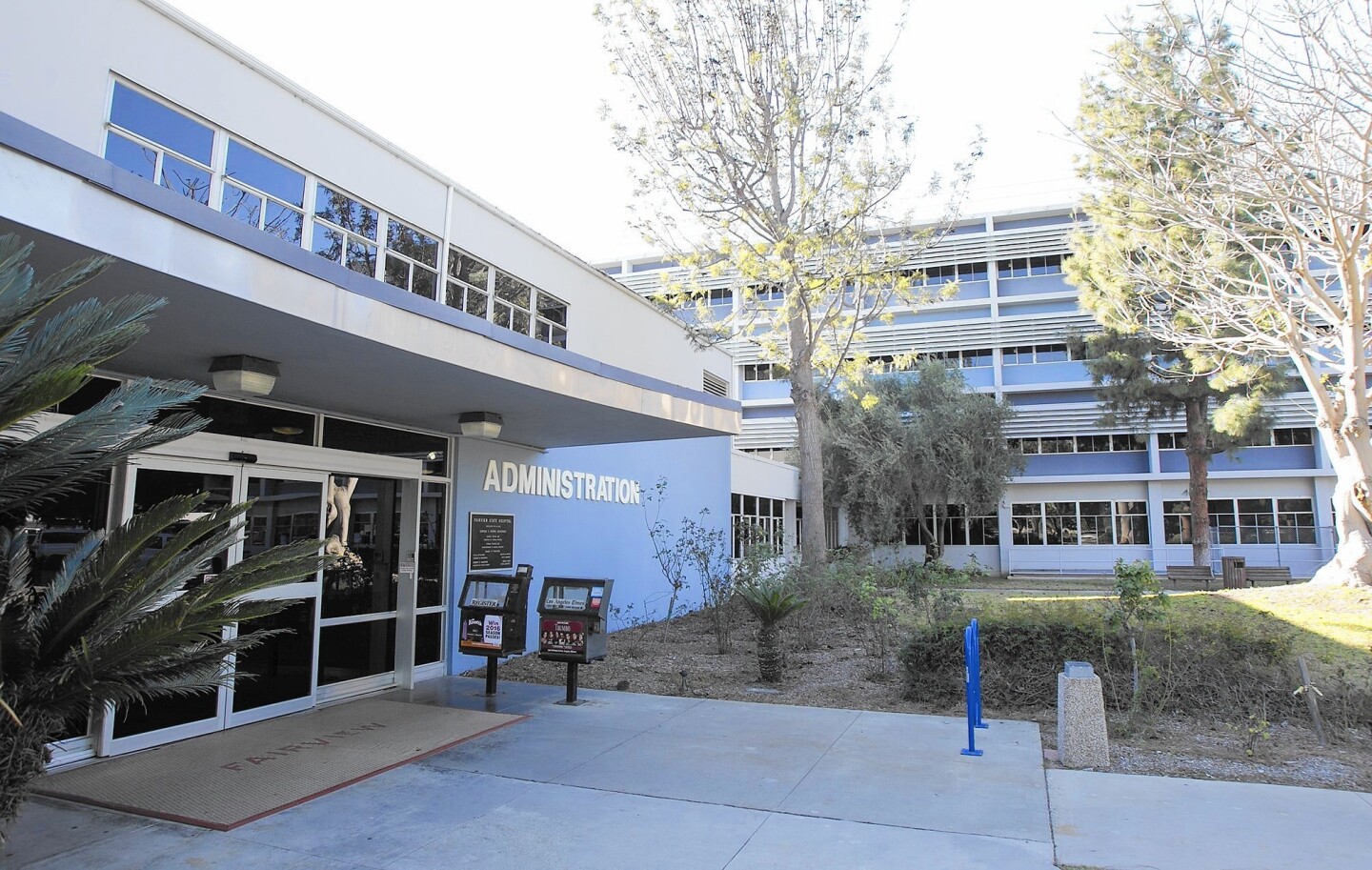 Officials are hearing public comments on the closure of Fairview Developmental Center in Costa Mesa.
(Don Leach / Daily Pilot)
Resident Manny Flores waters lemon trees in the communal garden at the Fairview Developmental Center in Costa Mesa on Friday. Officials from the state and the center are hearing public comments on the facility's planned closure.
(Don Leach / Daily Pilot)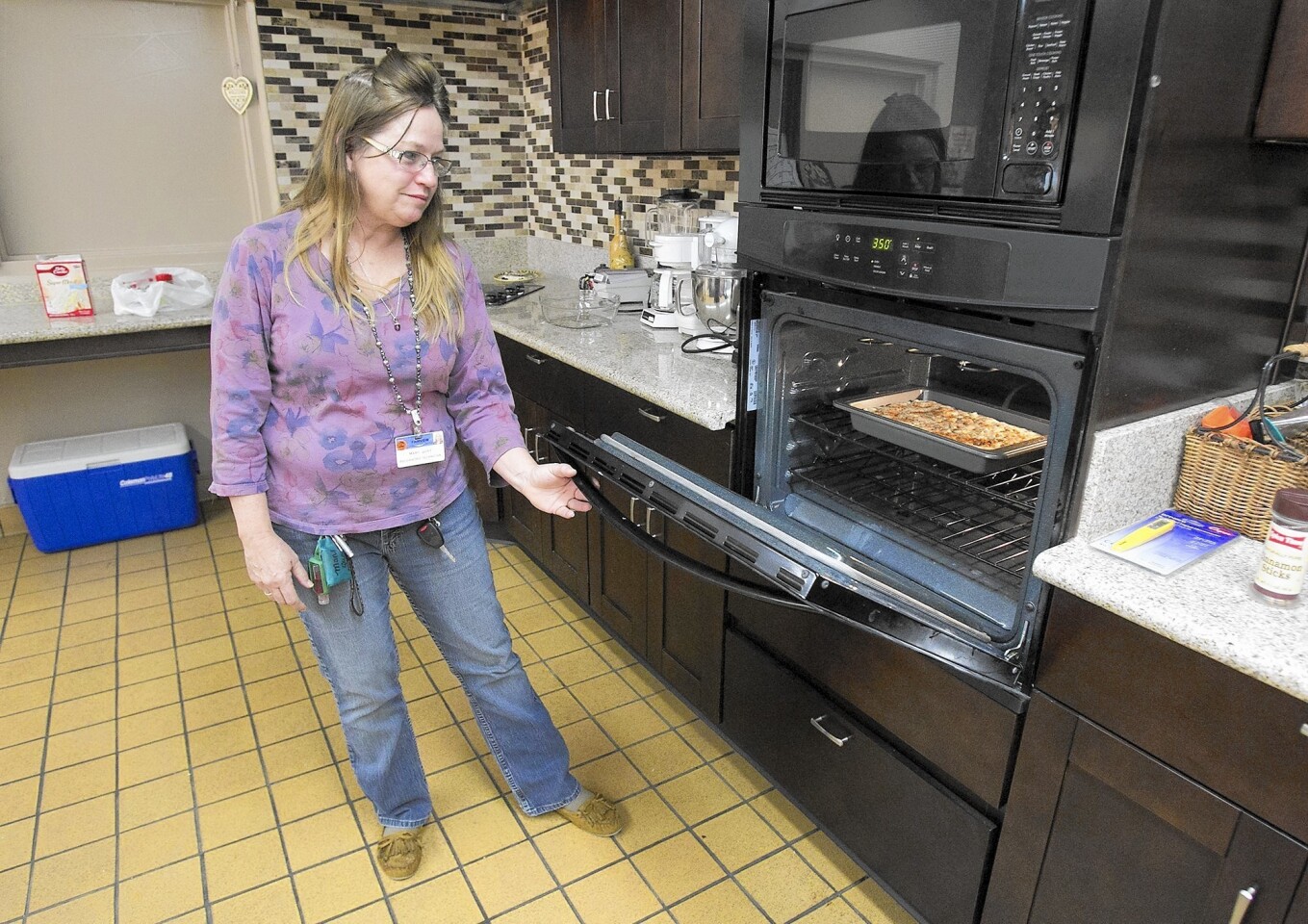 Psychiatric tech Mary Quay readies a cake for residents in the club room at the Fairview Developmental Center on Friday.
(Don Leach / Daily Pilot)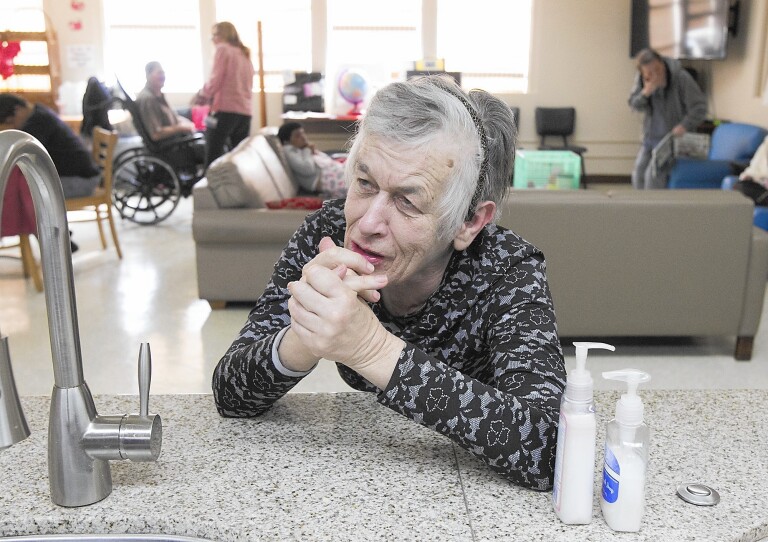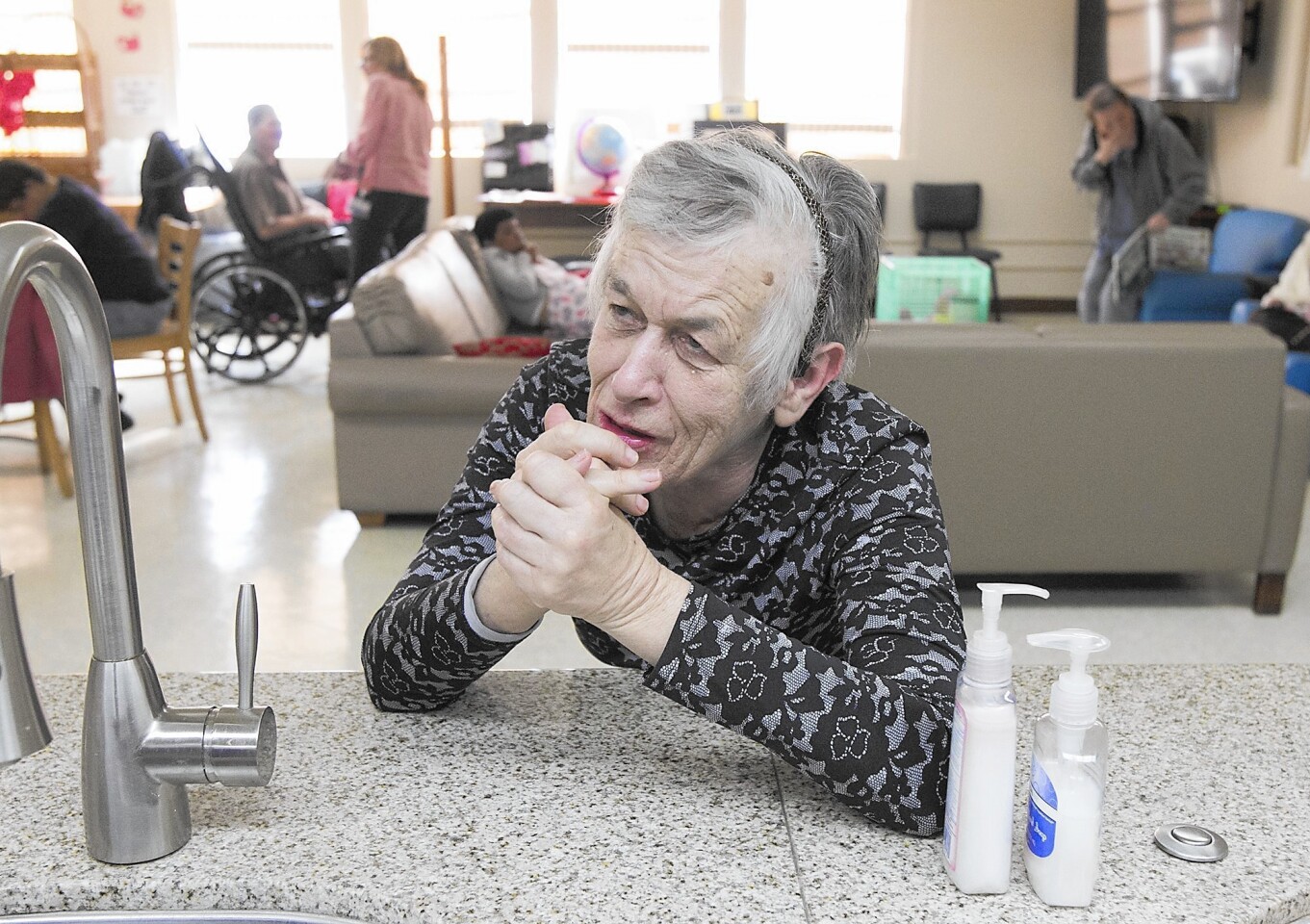 A resident in the club room at the Fairview Developmental Center chats with visitors as she waits for a cake on Friday.
(Don Leach / Daily Pilot)
The Creative Hands boutique at the Fairview Developmental Center.
(Don Leach / Daily Pilot)
Residents tend to the communal garden on Friday during a tour of the Fairview Developmental Center in Costa Mesa.
(Don Leach / Daily Pilot)
An employee, left, and residents of the Fairview Developmental Center chat in one of the communal gardens on Friday.
(Don Leach / Daily Pilot)
Michael Fitzgerald told state officials his brother has lived at Fairview for most of his life. There, he lives a very regimented existence, and that works for him.
"To rip him away from this place is a discredit to our taxpayers, a discredit to the community," Fitzgerald said. "We should be ashamed of ourselves."
A representative with Disability Rights California, a Sacramento-based advocacy group, said it supports the closure, provided that the plan safely transitions Fairview's population into appropriate settings.
State officials have noted that should the center close, its residents will receive individualized care, and that no one will be moved until supportive services are in place, like housing and medical care.
Representatives from Coastline Community College urged that Fairview residents, 114 of whom take classes through the campus, continue receiving their education.
Costa Mesa City Councilwoman Sandy Genis noted that the council's recommendation last year for 500 homes on Fairview's property is a tentative, adjustable number. The homes were part of a proposal to the updated city's general plan, a blueprint-like document for future Costa Mesa development, that the council will adopt later this year.
Those plans "may or may not be what ultimately is adopted," Genis said.
The councilwoman and other Costa Mesa residents urged the state to reuse Fairview's land for veterans or homeless services.
Robert Sterling, who works at Estancia High School, said the land could be used for local nonprofits, like Save Our Youth, the Boys & Girls Club of the Harbor Area and Girls, Inc.
"We need more real estate for our students," he said.
Ray Ceragioli, president of Fairview Families and Friends, a nonprofit that supports the center, attended Saturday's hearing, but said his organization has not yet taken a stance for or against closing the center.
One of Fairview Friend's board members, Terry DeBell, said she felt, based on the morning's testimony, "it really highlights what a source [Fairview] has been ... it's a very, very special place."
All of Saturday's comments will be summarized into a state Legislature plan submitted by April 1.
The hearing was also videotaped by Costa Mesa Brief and will be available on its YouTube channel.
As of this month, the 114-acre developmental center is home to 244 people, some of whom cannot live independently and require 24/7 care. Fairview currently employs 984 people.
It opened in 1959. Its population peaked in 1967 with 2,700 residents.
---