Local community colleges offer healthy returns for students and society, study says
While some may say a good education is worth its weight in gold, the weight of the price tag might leave others unsure whether it's actually an investment.
But according to a study conducted for the Costa Mesa-based Coast Community College District, the district's students are receiving both an education and a return.
The $30,000 district-commissioned study was conducted for the 2013-14 school year by Economic Modeling Specialists International, an Idaho company that provides economic impact studies and labor market data to educational institutions. The study evaluated the spending of alumni, active students and the district and analyzed the return on investment for students, taxpayers and the community.
The Coast Community College District includes Orange Coast College in Costa Mesa, Golden West College in Huntington Beach and Coastline Community College, which has several locations in Orange County.
The average recipient of an associate's degree from Coast will see earnings of $12,300 more per year than if he or she had only a high school diploma or equivalent, according to the study.
Other education experts share the belief in the benefits of college.
"Generally speaking, more education has a large outcome for most students and society," said Rachel Baker, an assistant professor of higher education and economics of education at UC Irvine. "There is evidence that points toward that greater return ... so it makes sense to think that."
For former student Jennie Gabira — who earned an associate degree in diagnostic medical sonography from Orange Coast College in 2012 in Costa Mesa —— her investment meant a lot.
As a single mother of two teenagers, the San Clemente resident felt her earnings as a preschool teacher — about $20,000 a year — weren't cutting it.
"I love teaching, but I couldn't support my family on it," said Gabira, 41, who taught preschool for 16 years. "I was looking for a career that was just as rewarding as teaching but could pay better."
Now that she is a diagnostic medical sonographer, she is earning three times the amount she made from teaching, she said.
Gabira said the cost for her two years at Orange Coast was $2,500. Other Orange County programs she looked at cost around $38,000, she said.
The current cost for California residents to study at Orange Coast is $46 per unit, the same as at Golden West and Coastline. A two-year program typically has 60 units.
Even at such a relatively low price, Gabira said she felt prepared after graduation.
By the time she left Orange Coast, Gabira had put in 1,750 clinical hours as part of the diagnostic medical sonography curriculum. The college also helped her find the clinics where she did the work.
With her degree, she quickly found work as a full-time sonographer in Oceanside. She does biopsies and diagnostic ultrasounds for pregnant women.
"It was a great experience when I got my ultrasound for my kids, but I never new how great it would be to give that to other people," Gabira said. "My goal is for patients to leave with a smile."
*
Moving, spending and earning
Besides their earning power, Coast Community College District students and alumni also are working and spending in Orange County, Economic Modeling reported.
"We're not only an employer and buyer of goods and services — the living expenses of students benefit local businesses," Gene Farrell, the district's chancellor, said in a statement. "Plus, Orange County employers look to CCCD-educated students to satisfy their workforce development needs."
The district is an economic engine, Farrell believes.
Alumni generated $1.6 billion in gross regional product for Orange County in the 2013-14 analysis year, according to the study.
Thousands of the district's former students are employed in the county, and many students move into the county to attend the district's schools, the study said.
In 2013-14, 37% of students attending a Coast college originally lived outside Orange County.
A portion of them made the move to attend school. Their spending on groceries, rent and transportation ultimately generated $313.3 million in gross regional product in the area during the analysis year, according to the study.
Roberto Orozco Jr., 34, moved from Long Beach to Fountain Valley to attend Coastline Community College so he could take his prerequisite classes before applying to medical and nurse practitioner schools.
Orozco left the Marines in January 2015 and started classes at the college in June.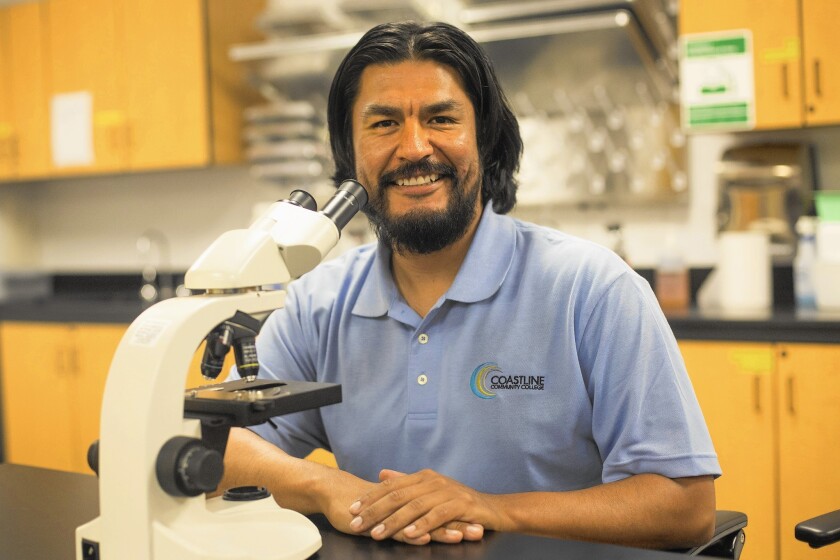 Before setting his sights on Coastline, he looked at Long Beach City College, National University, Santa Ana College and an extension program at his previous alma mater, UCLA.
The Veterans Resource Center at Coastline sold him.
The classes he'll complete in his two years at the college include physiology, anatomy, general chemistry and microbiology.
Though Orozco plans to apply for more schooling after Coastline, he'll already qualify for opportunities with what he learns there, he said.
"Because I have those classes, I could be a lab technician, a food safety inspector or other positions," Orozco said. "Some of these start at 42 or 45 [thousand] minimum. That's not crazy high, but even with a bachelor's [degree] I didn't qualify for jobs like that.
"At the end of the day," he said, "you're definitely getting a greater return."
*
Benefits to taxpayers and society
The Coast Community College District is helping more than its students, according to Economic Modeling's report. It's also helping taxpayers.
The study said lifestyle changes associated with education can generate savings for taxpayers in the areas of healthcare, law enforcement and unemployment benefits.
Some experts say that correlation can be difficult to determine.
"We can't say for certain that if students go to college they're guaranteed to be civically engaged and have better health," Baker said. "But I think the general findings do align with what the study found."
According to a report by Lance Lochner, an associate professor of economics at the University of Western Ontario, incarceration and conviction rates worldwide are high among the least educated.
Lochner estimated that increasing high school graduation rates by 1 percentage point in 1990 would have resulted in nearly 100,000 fewer crimes in the United States, providing an annual social benefit valued at more than $2 billion.
"Not only is there a potential to do well in a career, but because of the enrollment in one of our colleges, the students are putting money back into the economy and they are seeing a great return," Farrell said. "The students attend school here, and we find that a good majority of alumni remain in O.C. They're contributing back to the county."
---