Secret logs on jail informants are 'distressing,' D.A.'s office says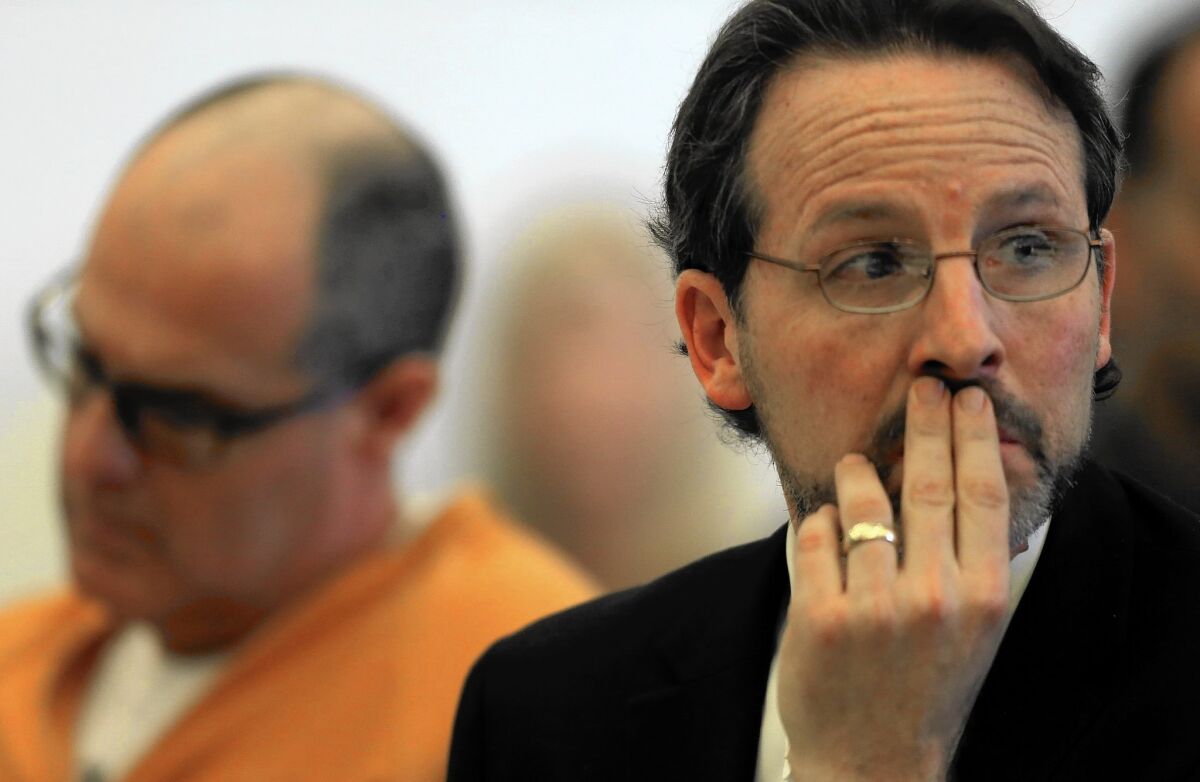 The defense attorney for convicted murderer Daniel Patrick Wozniak peppered two Orange County Sheriff's Department officials with questions Tuesday about secret records kept on the department's jailhouse informant program and why the entries are only coming to light now, months after his client was convicted.
Unknown to the department's command staff, deputies assigned to handle jail informants kept a log of their interactions with inmates between 2008 and 2013, according to testimony from a sheriff's sergeant and a lieutenant.
The fact that the log was kept hidden despite prosecutors and defendants asking for any such information is "distressing," the Orange County district attorney's office said in a statement released hours after Tuesday's hearing.
"The OCDA expects police officers to tell the truth and pursue justice," the statement said in part.
Public defender Scott Sanders has been seeking such records as he tries to persuade an Orange County judge not to impose the death sentence on Wozniak.
Jurors last year found Wozniak, 31, of Costa Mesa guilty of murdering two Orange Coast College students and then dismembering one of them in a bizarre coverup attempt in 2010.
In January, the jury recommended that Wozniak be put to death. Superior Court Judge John Conley is scheduled to issue the official sentence this month.
Since the end of the trial, however, new information has surfaced about Wozniak and a jailhouse informant who spoke with him.
The case is the most recent front in a fight Sanders has waged with the district attorney's office and the Sheriff's Department alleging that they routinely fail to turn over evidence — particularly related to jail informants — that defendants are entitled to see.
On Tuesday, the Sheriff's Department gave Sanders about 80 pages of log entries related to Wozniak's case.
Furthermore, Conley allowed Sanders to interrogate sheriff's officials about the records and how they were discovered.
Under a barrage of questions, sheriff's Sgt. Kirsten Monteleone said she'd had no idea that deputies were keeping the daily record until one of them showed it to her in the past few weeks.
"You were stunned," Sanders said.
"I was surprised," she replied.
Monteleone and Cmdr. Adam Powell testified that they were part of a team assigned to find any private notes or records that deputies kept that higher-ups didn't know about.
The two said they were assigned the task in February when a deputy named Robert Szewczyk revealed in a different murder case that he had kept four years worth of his own notes.
An Orange County judge ultimately ruled that the defendant in that case deserved a new trial because prosecutors had failed to disclose that a key witness was a regular informant.
After Szewczyk's revelation, Sanders filed a subpoena asking for any similar notes.
Powell testified that he and Monteleone sent a department-wide memo asking deputies for any notes they may have kept.
They also emailed about 300 past and present deputies asking if they had any more information that needed to be revealed, Powell said.
According to Powell, they directly contacted two deputies named in Sanders' subpoena: Bill Grover and Ben Garcia.
Monteleone testified that when she showed Szewczyk's notes to Garcia, he revealed the log that had been kept for years by multiple deputies.
At times during the hearing Tuesday, prosecutors also pressed Monteleone and Powell.
Deputy District Attorney Eric Scarbrough asked repeatedly whether Monteleone asked Garcia why he hadn't disclosed the log earlier when he was asked for notes he may have kept on specific inmate informants.
"He didn't feel that they were considered notes," Monteleone said.
Prosecutors, too, were kept in the dark until Tuesday, according to the district attorney's office statement.
"The OCDA finds it distressing that these notes would be withheld from the OCDA, the court and the public until this hearing," the statement said. "The OCDA has been assured by Sheriff Sandra Hutchens that she will take appropriate internal actions to address this issue."
A Sheriff's Department spokesman did not immediately respond to an email seeking comment Tuesday night.
--
Twitter: @jeremiahdobruck
---