The Festival of Children Foundation, based in Costa Mesa, recently organized a flash mob of more than 200 Orange County School of the Arts students at the Santa Ana campus.
Sandy Segerstrom Daniels, founder and executive director of the foundation, was featured in the flash mob.
The event launched the nonprofit's video challenge, which will give children's charities the chance to win more than $65,000.
The contest began Monday and lasts through Sept. 30. For more information, visit FestivalofChildren.org.
*
3 Irvine businesswomen to be honored at gala
Three Irvine businesswomen will be honored at the 20th-anniversary Remarkable Women Awards gala Thursday at the DoubleTree hotel at 201 E. MacArthur Blvd., Santa Ana.
Deborah Dickson, chief executive of accounting company Smith Dickson, will receive the Lifetime Achievement award; Loreen Gilbert, president of WealthWise Financial Services, will be named Businesswoman Owner of the Year; and Cynthia Hackler Flynn, founder of law firm Hackler Flynn & Associates, will be honored as Entrepreneur to Watch.
The gala, presented by the National Association of Women Business Owners-Orange County, will begin at 5 p.m. with a cocktail reception and silent auction, followed by dinner and the awards presentation from 7 to 9 p.m.
Tickets are $125 and are available at nawbo-oc.org or (714) 630-2983.
*
CSP charity golf tournament Thursday in Irvine
Oak Creek Golf Club in Irvine will host Community Service Programs' 33rd annual Swing for Kids Charity Golf Tournament from 9:30 a.m. to 7:30 p.m. Thursday.
The event will recognize UPS and Laguna Beach Youth Shelter Advisory Board President Kelly Cornwell with the Margot Carlson Leadership Award for their support of CSP's programs for at-risk youths, which include shelters in Huntington Beach and Laguna Beach. UPS has donated more than $100,000 to the Santa Ana-based nonprofit in the past decade and sponsored the Swing for Kids tournament for 13 years.
The tournament cost is $250 per player, or $50 for dinner only. For more information, visit cspinc.org/swingforkids.
*
Vanguard University professor honored for podcast
Bonni Stachowiak, an associate professor of business and management at Vanguard University in Costa Mesa, recently received the MERLOT Faculty Development Classics Award for her podcast, "Teaching in Higher Ed."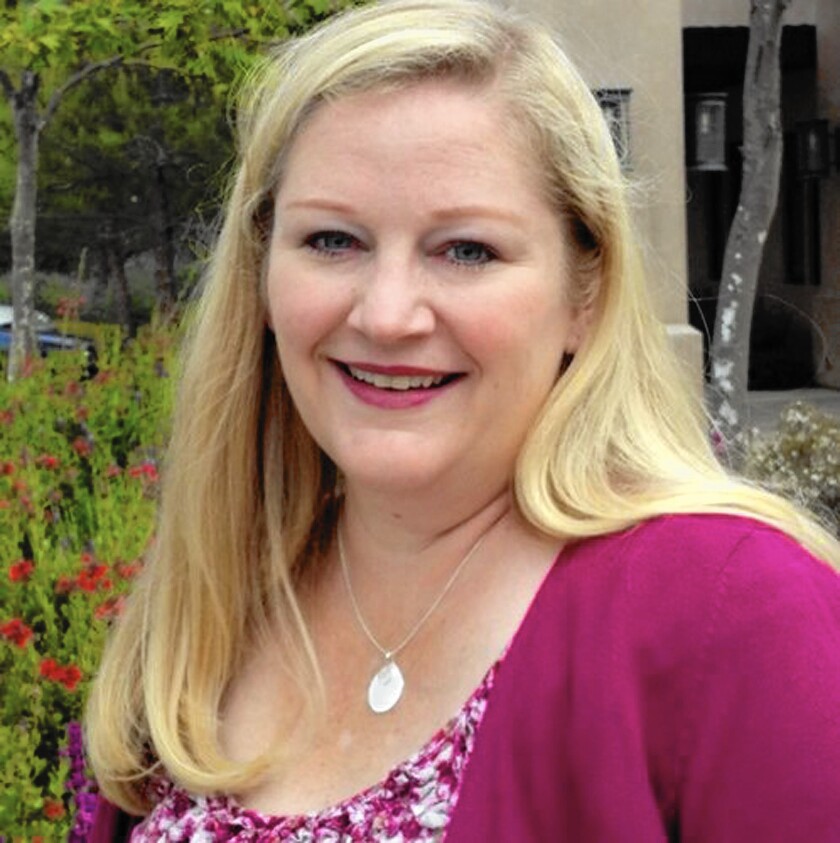 Winners of the 2016 awards were honored at a conference April 20 in New Orleans.
Stachowiak's podcast covers educational technology, personal knowledge management, teaching and productivity. Each week, she interviews experts in teaching and learning and shares her own experiences. The 100th episode was Thursday.
The podcast has been featured in the Chronicle of Higher Ed and Inside Higher Ed.
MERLOT, or Multimedia Educational Resource for Learning and Online Teaching, is an international online community of faculty and institutions that works to increase web-based, interactive teaching and learning materials.
*
OCC's 68th commencement set for Friday
Orange Coast College's 68th commencement ceremony Friday will confer 5,391 associate degrees and certificates.
A total of 1,565 students will receive their associate in arts degrees, 883 will receive associate in science degrees and 2,943 will be presented certificates of completion.
Biology professor Farah Sogo, Orange Coast's 2015-16 Faculty Member of the Year, will deliver the commencement speech.
OCC alumnus and retiree Jim Carnett, a Daily Pilot columnist, will be honored at the ceremony.
The program will begin at 5:30 p.m. at the Pacific Amphitheatre, 88 Fair Drive, Costa Mesa. Parking will be available through Gate 3 on Fairview Road.
The college will provide live streaming of the ceremony at orangecoastcollege.edu/gradvideo.
*
Newport-Mesa joins kindness campaign
The Newport-Mesa Unified School District will join the Orange County Department of Education's One Billion Acts of Kindness initiative that began this month and will continue until reaching 1 billion "good deeds" in Orange County, according to a district news release.
The initiative aims to promote civility, character and positive school climates, district officials said. Acts of kindness can be recorded on social media using the hashtag #kindness1billion or by visiting Kindness1Billion.org.
"This is a wonderful initiative that we wholeheartedly support," Newport-Mesa Supt. Fred Navarro said in a statement. "As educators, it is important to look beyond just academics and foster positive school climates to nurture students' emotional and social well-being."
*
Project Access raises funds
Project Access recently raised more than $19,000 during a bowling event in Tustin and an additional $27,500 in donations from an Orange County nonprofit giving day this month.
The Newport Beach-based nonprofit plans to use the money for its youth education programs.
*
Pacific Club hosts Voice for Girls event
More than 180 Orange County business and community leaders met with Girl Scouts at the Pacific Club in Newport Beach on May 6 to talk about generational gaps in the workforce, according to a news release.
The fifth annual Voice for Girls event included a speech from psychologist, author and generational speaker Rita Murray.
*
Newport Beach gathering honors KidWorks donors
Several major donors to nonprofit KidWorks' ongoing fundraising campaign "Building Dreams" were recognized at a gathering in KidWorks board member Steve Craig's Newport Beach home.
So far, more than $3.25 million has been raised, bringing the campaign closer to achieving the $3.5 million total needed to double the capacity of the Dan Donahue Center, KidWorks' main community center in central Santa Ana.
KidWorks has a total of four centers in Santa Ana. The organization offers educational support, health and fitness activities and leadership and character-building programs for youths in Santa Ana.
*
Irvine residents are grand-prize finalists for dance and music
Students Megan Goldstein and Geneva Lewis, both of Irvine, were among 14 grand-prize finalists in The Music Center's 28th annual Spotlight scholarship and arts education program.
Megan, who attends Pacific Coast High School in Tustin, was named a finalist in non-classical dance. Geneva, who is home-schooled, was a finalist for classical instrumental.
All finalists will receive $5,000 scholarships. They also will appear in a performance June 11 at The Music Center's Walt Disney Concert Hall in Los Angeles.
Students were recognized in seven categories: acting, ballet, non-classical dance, classical voice, non-classical voice, classical instrumental and jazz instrumental. The finalists were chosen from among more than 1,600 students in Southern California who auditioned for a panel of judges.
*
Educators and artists can connect at Segerstrom
The Arts Teach Showcase will enable educators to connect with professional artists from 8:30 a.m. to 2 p.m. May 24 at the Renée and Henry Segerstrom Concert Hall in Costa Mesa.
The showcase, presented by the Segerstrom Center for the Arts' education department, is free for teachers, school administrators, PTA members, nonprofit representatives and others who are interested in presenting artists at their sites.
More than 60 professionals in dance, music, theater, storytelling and visual arts will attend.
To register, call (714) 556-2122, ext. 4310, or email artsteach@scfta.org.
---