UC Irvine event featuring gay conservative speaker triggers protest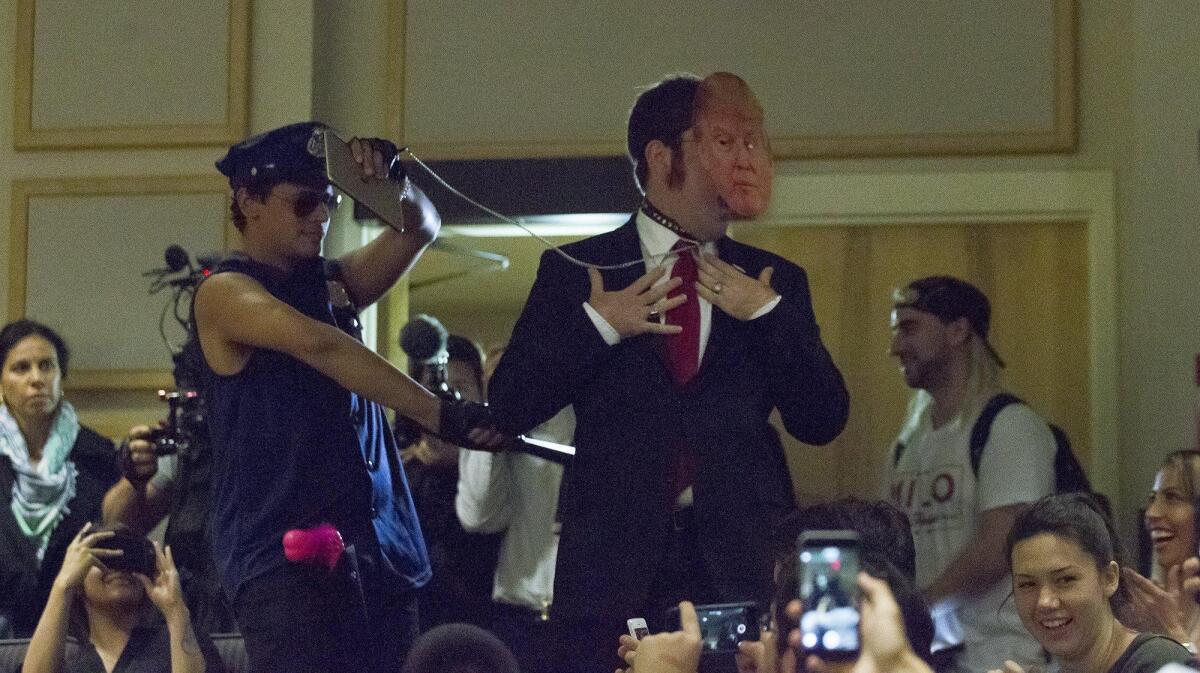 An event at UC Irvine featuring gay conservative speaker Milo Yiannopoulos ignited hours of protest from students Thursday evening as the campus club presenting the event passed out pacifiers to the opponents.
More than 500 people lined up hoping to get into the event in a social sciences building. The lecture hall could accommodate only 200.
The club College Republicans at UCI hosted Yiannopoulos, the technology editor for conservative website Breitbart.com, as he provided critiques on topics such as white privilege, which he believes "doesn't exist," and feminism, which he called "cancerous."
Club members said last month that campus posters promoting the event were torn down. They decided to pass out pacifiers to any protesters when Yiannopoulos arrived.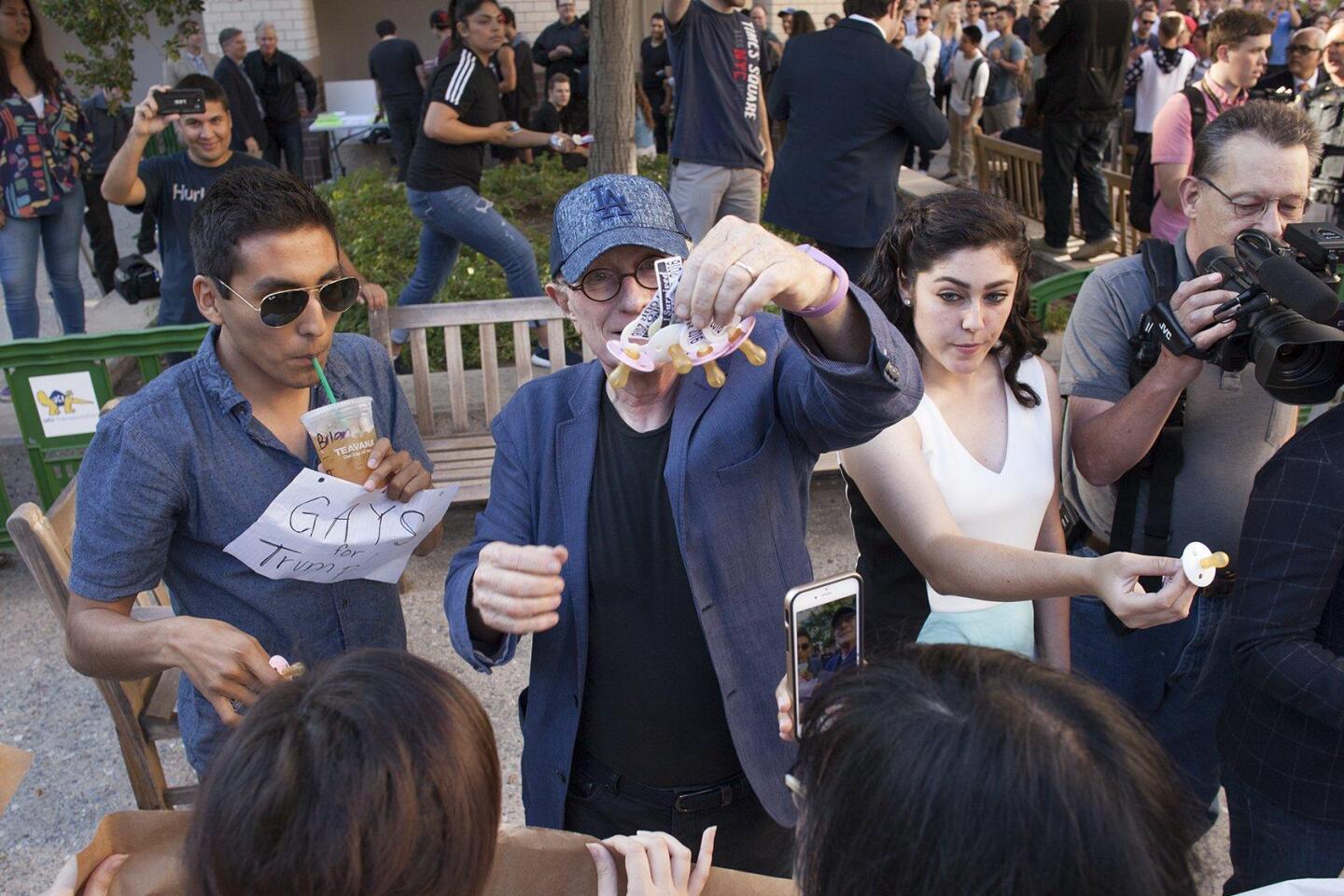 Members of College Republicans at UCI hand out pacifiers to protesters before an event featuring speaker Milo Yiannopoulos at UC Irvine on Thursday.
(Kevin Chang / Kevin Chang | Daily Pilot)
Milo Yiannopoulos, left, technology editor for conservative website Breitbart.com, makes his entrance Thursday at UC Irvine with a man in a Donald Trump mask before speaking during an event presented by College Republicans at UCI.
(Kevin Chang / Kevin Chang | Daily Pilot)
Backers of conservative speaker Milo Yiannopoulos face off with protesters, left, before an event at UC Irvine featuring Yiannopoulos on Thursday.
(Kevin Chang / Kevin Chang | Daily Pilot)
A Donald Trump supporter holds an Israeli flag as he waits in line to see speaker Milo Yiannopoulos at UC Irvine on Thursday.
(Kevin Chang / Kevin Chang | Daily Pilot)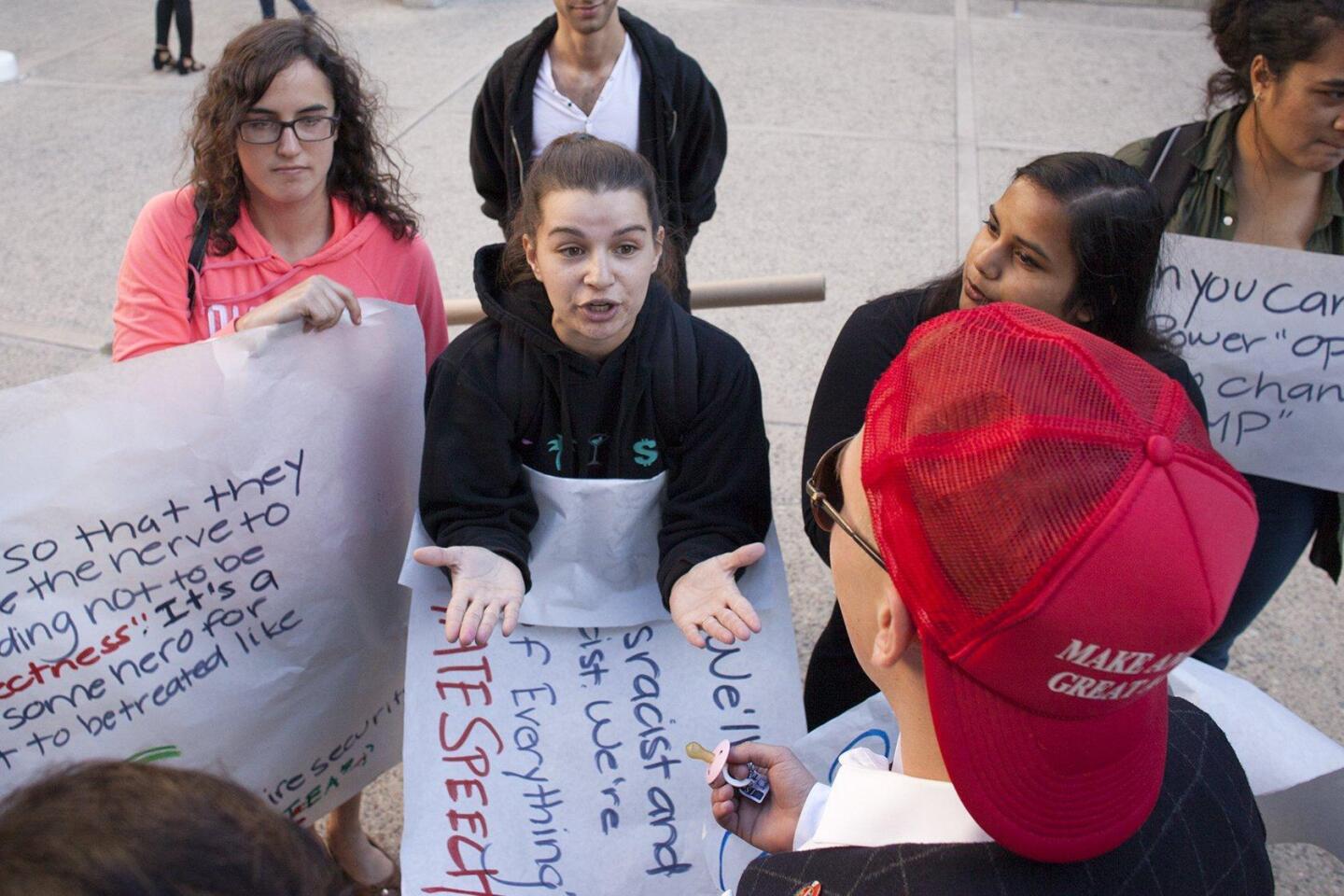 Protesters argue with people attending an event featuring conservative speaker Milo Yiannopoulos at UC Irvine on Thursday.
(Kevin Chang / Kevin ChangDaily Pilot)
Milo Yiannopoulos makes his entrance in a sleeveless police uniform, trailed by a man in a President Obama mask, before speaking at UC Irvine on Thursday night.
(Kevin Chang / Kevin Chang | Daily Pilot)
Join the conversation on Facebook >>
Some of the posters had contained the name of Yiannopoulos' current college tour, "The Dangerous F----- Tour," which includes a pejorative term for homosexual.
The pacifiers — which contained tags reading "I survived! Milo Tour 2016" — were a symbol of the infantile nature of political correctness, said former College Republicans President Robert Petrosyan.
As the line Thursday began to wrap around buildings near the lecture hall two hours before Yiannopoulos' scheduled 7 p.m. appearance, about 15 students huddled in a courtyard to form an impromptu protest.
The students said they were familiar with Yiannopolis' views and that they were not fans.
"There's a fine line between having your own opinion and making sure you're not continuing to disenfranchise a whole set of people," said Mystic Pelton, a UCI undergraduate. "Some people have privilege, and they're the ones that may identify with Milo more because they have that privilege and have never been threatened in a public space, stereotyped or been victims of a campaign."
Some of the protesters left the courtyard around 5:30 p.m. and returned a half-hour later with posters, some of which read "Free speech [does not equal] hate speech" and "Demanding not to be stereotyped is not 'political correctness.'"
With posters in hand, they lined up in front of short gates that barricaded the people waiting in line for the event.
Shortly afterward, members of College Republicans began handing out pacifiers to them.
As the pacifiers were dangled in front of the protesters' faces, shouting matches erupted with club members and one protester took the pacifiers and threw them to the ground.
UCI student Haya Hilton, who was handed one of the binkies, called the club's action "immature and ignorant."
More students joined the protesters and the group grew to more than 40 by the time Yiannopoulos appeared shortly after 7:30.
UCI and city of Irvine police stood by the barricade that separated the protesters from the people lining up to enter the event.
Some in the line wore hats bearing the "Make America great again" slogan of presumptive Republican presidential nominee Donald Trump. Many said they were followers of Yiannopoulos on social media, and some were students from other colleges in and outside California.
"[Yiannopoulos] stands for taking down an establishment that promotes intellectual dishonesty in the form of political correctness," said University of Richmond student Maddie Bright.
Read the latest headlines from the Daily Pilot >>
Yiannopoulos entered the lecture hall in a sleeveless police uniform and sunglasses.
He drew cheers with lines such as "Racial profiling works and saves lives" and "Put somebody in office who's going to represent the greatest threat to social justice this country has ever seen."
"To buy into conspiracy theories about patriarchy and supremacy ... it's used as a way for people to explain why their lives suck," he said. "Either you demand special privileges and things you haven't earned or you get up, get into the system ... and try to pull the best life you can."
As the event concluded and audience members filed out, protesters chanted "Shame on you."
After 10 p.m., Yiannopoulos was escorted out of the hall by UCI police to a parking lot where his driver met him.
Twitter: @AlexandraChan10