Homeless gala houses a roomful of friends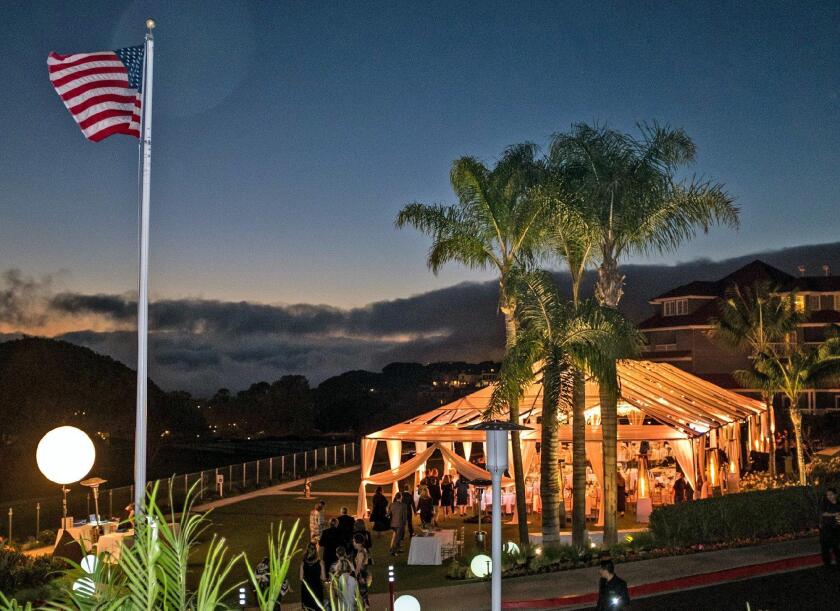 Nearly 30 years ago, they could have been pragmatic and called it the Laguna Beach Homeless Shelter but instead they chose a name closer in spirit: Friendship Shelter.
The name is immediately more familiar and caring. For all these years, the Friendship Shelter has been bearing the responsibility of lifting up the community's homeless and helping them find work, housing and a better life.
So it was not surprising on Saturday night to see so many supporters embracing as friends. There were 370 people who attended the annual Friendship Shelter fundraiser at the Laguna Cliffs Marriott Resort and Spa in Dana Point.
The gala raised more than $400,000 for the program.
"It was just such a beautiful night and a great gathering of people," said executive director Dawn Price. "The mix of old friends and new friends in the room is really powerful."
Price said there already have been 78 people placed into permanent supportive housing this year, and she expects to reach an all-time high of more than 90 people by the end of the year.
Seven of them were at the event, which included a moving video, created by the local agency Fat Box, that highlighted their struggles. Respecting their privacy, we are withholding their names but they admitted to overcoming many personal struggles including job loss and addiction.
All praised the work at Friendship Shelter.
"I can't heal on the streets," said one man.
"They gave me hope for myself," said another.
One woman tearfully said she knew she could turn her life around but just needed a break.
"I remembered who I used to be," she said.
Gala chair Barbara McMurray, who also is on the board of directors, was pleased by the turnout and the community's continuing support.
"You wouldn't want to see what Laguna Beach looked like if we didn't have Friendship Shelter," she said. "There's a lot of unseen good the Friendship Shelter is doing that nobody will ever know about because we prevent homelessness. We do a lot of work scooping people up and getting them housed or getting them reunited with family and that sort of thing."
This year has been particularly busy for the shelter. The staff has been working behind the scenes to refine how it classifies and identifies those people most at risk.
Through the county's coordinated entry program, more homeless are being assessed and properly ranked according to needs. Sometimes, the most immediate action may be a "rapid rehousing" option where people with jobs can get financial assistance for housing.
"The rapid rehousing program is the way to go for people who are able to work and able to — with coaching — address the issues that might have led to their homelessness," Price said.
The new assessment process is significant at the county level, Price said, because it standardizes the complex parameters involving homelessness. Plus, because Laguna Beach has been leading in this area, it has benefited the local homeless population.
After implementing the new system, 100 homeless in Orange County were placed in permanent housing, 44 of them from the Laguna Alternative Sleeping Location (ASL).
"That to me proves the need for year-round shelters, multi-service centers, that engage homeless people so that when we have the resources to house them we know exactly who we want to house and we're able to quickly get them through the assessment process," Price said. "I think the ASL proved that having a year-round shelter made a difference there."
In addition, the Friendship Shelter is continuing its work to expand locations wherever it can get approval and funding.
Price keeps a map of Orange County that shows with yellow dots where all of the homeless people have found housing. Nearly every city is represented, from Rancho Santa Margarita to San Clemente.
"We're working with other nonprofits to acquire housing to make the permanent supportive housing program both expand and stay financially sustainable," Price said.
At the gala, McMurray said she was especially pleased with all the new volunteers.
"I really like that we're bringing in a new crowd, a new generation," she said. "We had a really big gala committee. Then they attend and bring their friends. It spreads the word about what we're doing and the successes."
After the auction and speeches, the gala came to a close and it was time for dancing with Lee Rocker of the Stray Cats.
Or I should say, Lee Rocker of Laguna Beach — just another friend.
---
DAVID HANSEN is a writer and Laguna Beach resident. He can be reached at hansen.dave@gmail.com.
---