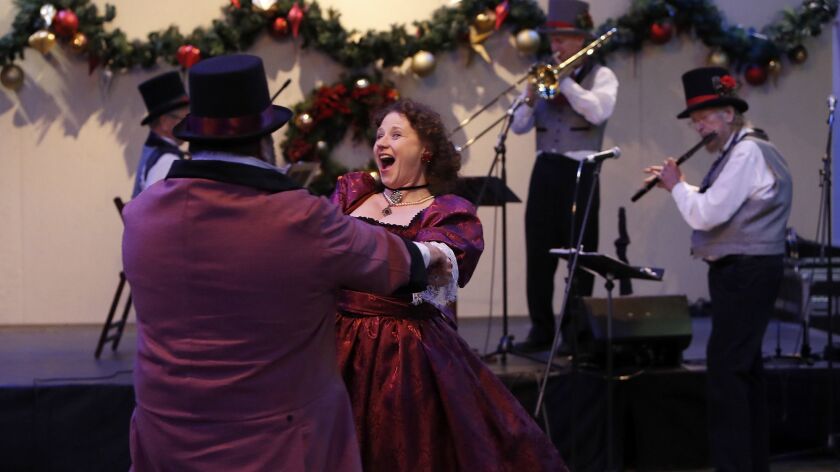 Winter Fest OC, a holiday celebration continuing through Jan. 6 at the OC Fair & Event Center in Costa Mesa, will have not one but two New Year's Eve parties Monday night.
Gates will open at 2 p.m. with daily attractions such as snow play and slide areas, a Dickens Village, live entertainment, rides, a holiday parade and tree lighting and more.
The first New Year's Eve celebration is at 6 p.m., featuring Katy Perry tribute band Prizmatic, plus fireworks, balloons and an orange ball drop.
Pink tribute band Raise Your Glass will get the second party started at 11 p.m., with the fireworks, balloons and ball drop at midnight.
Gates will close at 1 a.m.
New Year's Eve admission is $19 for adults and $14 for children ages 3-12 if purchased online at winterfestoc.com/buy-tickets. Online tickets are $10 if used to enter between 2 and 3 p.m.
Admission at the gate is $25 for adults and $20 for children.
Rita Rudner to bring on 2019 with comedy show in Laguna
Comedian Rita Rudner will present her annual New Year's Eve show at 7 p.m. Monday at the Laguna Playhouse.
The audience can bid farewell to 2018 by watching the ball drop in New York City, while being served champagne and dessert.
Tickets are $107. The playhouse is at 606 Laguna Canyon Road, Laguna Beach.
For tickets and more information, visit lagunaplayhouse.com.
Surf City Splash offers New Year's Day dash into Pacific
Hardy souls can get an early start to the new year Tuesday morning in the 19th annual Surf City Splash, a run into the chilly Pacific at Huntington Beach.
A pancake breakfast will start at 9 a.m. next to Zack's HB at Pier Plaza, 405 Pacific Coast Hwy. A costume contest after 11 a.m. will award prizes for best disco, PJs, team, New Year and sea creature costumes. The dash into the ocean will take place at noon.
Registration is $25, including the breakfast and splash. To register, visit hbsurfcitysplash.com or visit the International Surfing Museum at 411 Olive Ave., Huntington Beach. Proceeds benefit the museum.
Marine commander to speak in Newport
Lt. Col. Bryan Grayson, commanding officer of the 1st Battalion, 1st Marines out of Camp Pendleton, will speak at the Newport Beach Chamber of Commerce's "Wake Up Newport" meeting Jan. 3.
Grayson will give an update on the unit, which the city "adopted" in 2003 and supports through the Newport Beach 1st Battalion, 1st Marines Foundation.
The meeting will start at 7:15 a.m. with a continental breakfast in the Friends Room of the Newport Beach Central Library, 1000 Avocado Ave. The program will run from 7:45 to 8:30 a.m.
Admission is free, but reservations can be made with Pam Smith at psmith@newportbeach.com or (949) 729-4411.
Pageant of the Masters to hold open casting calls
Laguna Beach's annual Pageant of the Masters will hold open casting calls in January for people who want to participate in the 2019 summer tableaux show, "The Time Machine."
Volunteer cast members are required to stand still for at least 90 seconds as part of the live scenes depicting famous artworks. The 2019 pageant will feature works by Norman Rockwell, Georges Seurat, Johannes Vermeer and others.
The casting calls will be held at 7 p.m. Jan. 4 and 5 and 2 p.m. Jan. 6 at the Festival of Arts grounds, 650 Laguna Canyon Road.
The pageant will run July 7 to Aug. 31.
For more information, visit foapom.com/event/2019-casting-call/2019-01-04.
2 guest speakers set for Newport Sunrise Rotary Club meetings
Newport Beach Chamber of Commerce President and Chief Executive Steve Rosansky and former Anaheim mayor Fred Hunter will be guest speakers for the Newport Beach Sunrise Rotary Club's Eminent Speakers' Guild on Jan. 8 and 22, respectively.
Rosansky's discussion will be titled "Are Chambers of Commerce Still Relevant in Today's Economy?" Hunter will talk about the process of overseeing and building the Honda Center in Anaheim.
The breakfast meetings will begin at 7:30 a.m. at Five Crowns restaurant, 3801 E. Coast Hwy., Corona del Mar. Breakfast is $20.
For more information, visit newportbeachsunriserotary.org.
Blood drive scheduled in Costa Mesa
A blood drive is scheduled for Jan. 9 at the UFC Gym in Costa Mesa.
The drive will run from 2 to 7 p.m. in the parking lot at 2860 Harbor Blvd. Donors must be at least 17 years old and weigh at least 114 pounds.
To schedule an appointment, call (888) 538-6199 or visit hoagblooddonor.org. Walk-ins are welcome.
Tree and cardboard pickup for Republic customers
Customers of trash disposal company Republic Services — formerly Rainbow Environmental Services — can leave their Christmas trees and cardboard cartons at the curb for free pickup and recycling through Jan. 11.
Trees must have all ornaments, hooks, lights and stands removed and must be placed next to trash bins on regular pickup days. Flattened cardboard containers can be placed next to the trees. Large trees should be cut in pieces a maximum of 6 feet long.
After Jan. 11, tree pickups must be arranged directly through Republic. For more information, call (714) 847-3581.
Costa Mesa seeks applicants for 3 city commissions
The city of Costa Mesa is seeking applicants to fill vacancies on a trio of commissions.
Three seats are available on both the Planning Commission — which makes decisions and advises the council on issues pertaining to land use and development — and the Parks and Recreation Commission, which does the same for park and rec issues.
Four spots are up for grabs on the Senior Commission, which reviews items related to local senior services, programs and the Costa Mesa Senior Center.
For more information about the commissions or to apply, visit costamesaca.gov/apply. The deadline is 5 p.m. Jan. 16.
Appointees will serve four-year terms through February 2023.
---
UPDATES:
This article was originally published at 2 p.m. Dec. 27 and was later updated with the Newport Beach Sunrise Rotary Club and "Wake Up Newport" items.
---