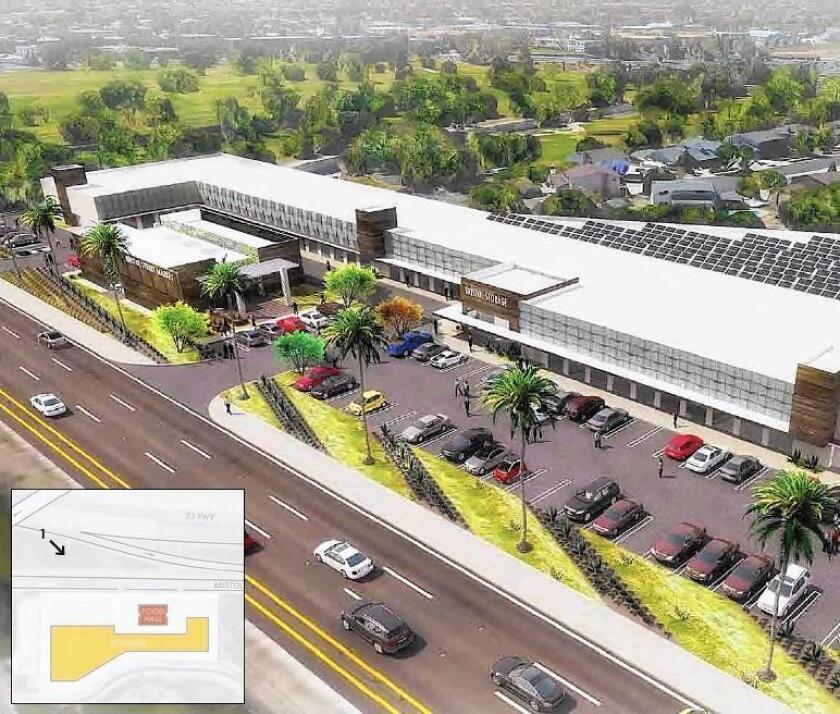 A proposal to topple an automotive strip mall in the eastern reaches of Costa Mesa and replace it with almost 100,000 square feet of self-storage space and a food court is expected to go before the city Planning Commission this month.
The project — a venture of Sanderson J. Ray Development of Newport Beach and Costa Mesa-based Cardinal Development — would entail flattening the 37,883-square-foot Autoplex strip mall at 375 Bristol St. and replacing it with a two-story, 744-unit self-storage facility. The 3.2-acre site is near the Newport Beach Golf Course.
The project would include about 98,800 square feet of storage space along with a 1,200-square-foot management office, according to project architect Annette Wiley.
The proposal also calls for a freestanding 5,000-square-foot food court with vendors "providing unique offerings that will provide Costa Mesa residents with additional high-quality food choices," according to planning documents.
The idea is similar to kitchen and food preparation arrangements at the 4th Street Market in Santa Ana and the Anaheim Packing District.
"The existing mall has struggled for years to maintain tenants as the need for small, independent auto repair businesses has declined dramatically," according to a document the applicants submitted to the city.
"In short," the document states, "the future of the Autoplex mall appears dim."
A storage facility would be financially feasible on the site, partly because it would be "somewhat immune to noise problems" arising from the nearby John Wayne Airport, according to the document.
"Recent market research shows sufficient demand for self-storage within the surrounding community in light of current multifamily development under construction as well as in the planning stages," the document states.
The project is expected to go before the Planning Commission for a public hearing June 13.
Documents related to the project are available for public review during business hours at City Hall, 77 Fair Drive; the Mesa Verde Library, 2969 Mesa Verde Drive East; and the Donald Dungan Library, 1855 Park Ave.
While the Bristol project calls for building a new storage facility in Costa Mesa, another proposal would tear one down.
Concord-based DeNova Homes said last week that it is in escrow to buy Baker Storage, 929 Baker St., and is working with City Hall on plans to build 56 single-family houses on the 4.7-acre site.
Twitter: @LukeMMoney
---