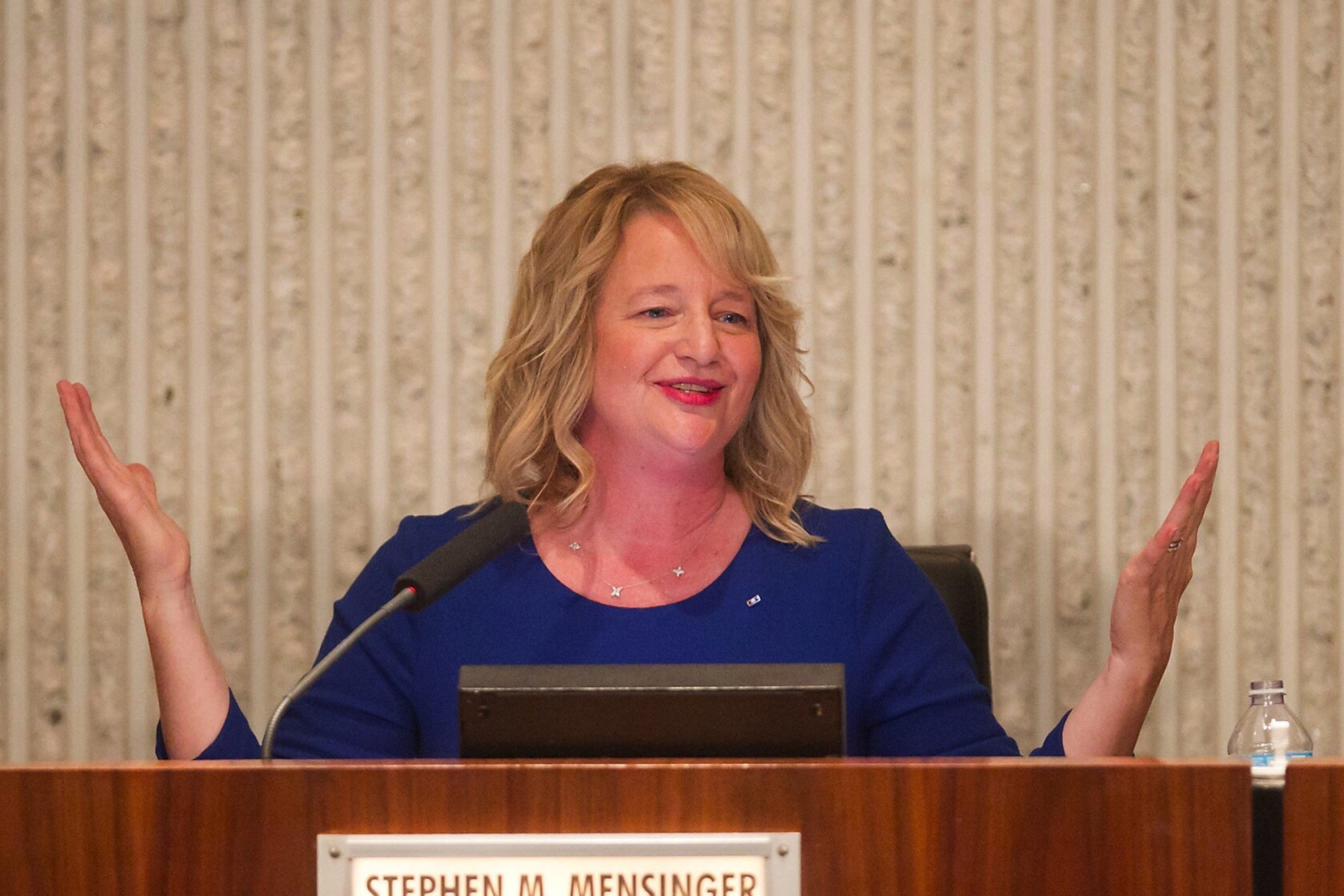 Katrina Foley was named mayor at the Costa Mesa City Council meeting Tuesday night.
(Don Leach | Daily Pilot )
City Council incumbent Sandy Genis and newly elected council members John Stephens, center, and Alan Mansoor are sworn into office on Tuesday at Costa Mesa City Hall. All will serve four-year terms.
(Don Leach | Daily Pilot)
Mayor Pro Tem Jim Righeimer, left, gets a spirited hug after giving departing Mayor Steve Mensinger the Mayor's Award, the key to the city, during a special Costa Mesa City Council meeting Tuesday.
(Don Leach | Daily Pilot)
Newly elected council member John Stephens is all smiles during public comments after being sworn into office during a special Costa Mesa City Council meeting Tuesday.
(Don Leach | Daily Pilot)
Mayor Pro Tem Jim Righeimer, left, gives longtime City Council member Gary Monahan a certificate of recognition for his service to the city during a special session of the Costa Mesa City Council on Tuesday.
(Don Leach | Daily Pilot)
The mood of many of those in the standing-room-only crowd at Costa Mesa City Hall could perhaps best be summed up by a sign one woman carried into the council chambers.
"Joy to the world, a new council majority!"
That new majority took hold Tuesday night as the three winners of last month's council election — Sandy Genis, Allan Mansoor and John Stephens — officially took their oaths of office to a chorus of cheers and a standing ovation from the audience.
All three will serve four-year terms.
The first order of business for the reconfigured City Council was to name Councilwoman Katrina Foley as the city's new mayor and Genis as mayor pro tem.
"Really, this night is about all of you, and I'm so honored to be able to serve at this time in our city when we really have an opportunity to take what the residents wanted and do our best to try and serve you," Foley told the audience.
"I'm looking forward to working with every single one of our council members in a collegial way," she added later.
Foley, Genis and Stephens seem poised to form a new controlling council majority following the recent election, which saw former Mayor Steve Mensinger fall short in his reelection bid and the departure of Councilman Gary Monahan due to term limits.
Each of the newly seated council members took time Tuesday to thank their supporters and express their hope that the council and residents will work together to address the pressing issues facing the city.
Genis, a Mesa Verde resident who received the most votes in the Nov. 8 election, said she was "humbled that so many people worked so hard" during the campaign.
It's fitting that the council's changing of the guard comes shortly before Christmas, she said, as the spirit of the season could help heal the wounds of an at-times bitter election.
"At Christmas, it's always about 'peace on Earth, good will toward men,' and let that be true in Costa Mesa, too," she said.
New to the council this year is Stephens, an attorney who also lives in Mesa Verde. Stephens said he believes he and his colleagues on the dais are "going to come together as a team, as a unit for this community and we're going to do great things."
"This chamber is here because we love our city; we have a passion for our city that is unrivaled in Orange County or in California and there's a reason for that. It's because this is the best city and Costa Mesans know it," he said to raucous applause.
Mansoor previously served on the council from 2002 to 2010 before winning election to the state Assembly.
He said there are a number of issues he wants to get right to work on — such as addressing homelessness in Talbert Regional Park and complaints about local coyotes.
"I look forward to working with all the council on all these issues and I look forward to working with members of the public as well," he said Tuesday.
Former Mayor Pro Tem and now-Councilman Jim Righeimer congratulated Foley on being named mayor and said he looks forward to working with his new colleagues.
"I just think there's going to be a really good chemistry here to try and move everything forward," he said.
For all the talk of working together, however, it took only a few minutes for the new council to have a split vote. Mansoor broke with the rest of his colleagues and voted against naming Foley as mayor.
He did join in the unanimous vote to name Genis mayor pro tem.
Twitter: @LukeMMoney
---