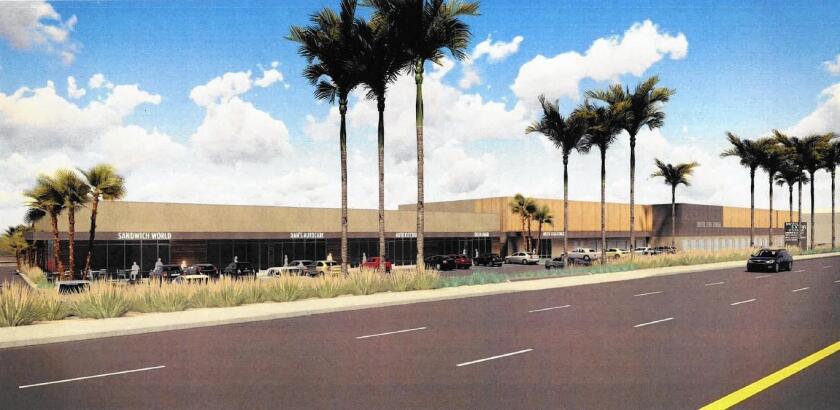 The second time was the charm for proponents of building a large self-storage facility on Bristol Street as members of the Costa Mesa Planning Commission unanimously endorsed a revised version of the project Monday night.
The project, which now heads to the City Council for review, entails demolishing most of the Autoplex strip mall at 375 Bristol to make way for 719 new storage units in a two-story building.
"I get what is happening to the site: it's dying a slow death," Commissioner Colin McCarthy said of the existing center, which was built in the late 1980s. "It needs to be reinvigorated. It needs to be redesigned and rebuilt, and I'm glad to see that they're moving forward with that."
The project that commissioners recommended for City Council adoption is markedly different from a proposal that all of them except Chairman Robert Dickson advised against in June.
That version called for leveling the entire strip mall on the 3.2-acre property and building 774 storage units and a freestanding 5,000-square-foot food hall.
The current plan, a joint venture of property owners Sanderson J. Ray Development of Newport Beach and Cardinal Development of Costa Mesa, reduces the number of proposed storage units to 719 and would retain 12,500 square feet — roughly one-third — of the existing retail space. It also scraps the food hall.
A major reason for the commission's opposition to the first version was that members thought the developers should do more to work with business owners who would be displaced.
Several Autoplex business owners strongly opposed the original project and lobbied the commission to turn it down.
Project spokesman Paul Freeman said Monday that he thinks the commission's earlier decision ended up improving the redevelopment proposal as a whole.
"I'm not sure my heart was filled with gratitude when I left here in June, but I have to concede the point that you directed us to make a more earnest effort to work with the tenants. We did that, we've worked with them and with some success," he told the commission. "We think it's a project that is better positioned for economic success, so thank you for your direction and your encouragement."
The project would reduce traffic in the area and significantly upgrade the look of the property, Freeman said.
Redeveloping the site is necessary, he added, because the current center is not economically viable in the long term. The site's proximity to John Wayne Airport also presents challenges in what can be built there, he said.
However, some Autoplex business owners said the changes to the project still don't address the issue that it would be difficult, if not impossible, for them to relocate if they're removed from the property.
Shuttering their shops, they said, would cause people to lose their jobs and could end up forcing them out of business because moving could be prohibitively expensive.
Other business owners, however, praised the project's applicants for being willing to work with them.
"I think this is a compromise, and it's probably the best compromise that we were going to come to if this project was going to move forward," said George Bean, owner of the Sandwich World restaurant in the Autoplex.
Sandwich World and another restaurant, Sushi Imari, are among the current tenants that would be allowed to stay. Some automobile-related businesses also are expected to remain.
Freeman said there's still some unclaimed retail space available in the new project and urged current business owners to see if they can work out an agreement with the property owners to stay on the site.
Though many of the commission's comments about the project were complimentary, Commissioner Tim Sesler said he was concerned that booting out businesses in favor of storage could cost Costa Mesa financially.
"We can have a more beautiful facility but lose sales tax and other revenue," said Sesler, who still joined his colleagues in voting for the project.
Commissioner Stephan Andranian said he thinks the project would be beneficial in the long run because the property "as it is now is not going to sustain itself."
"While we may see some short-term reduction in sales tax to the city, I think that in the long term it's actually going to be a net gain," he said.
Twitter: @LukeMMoney
---