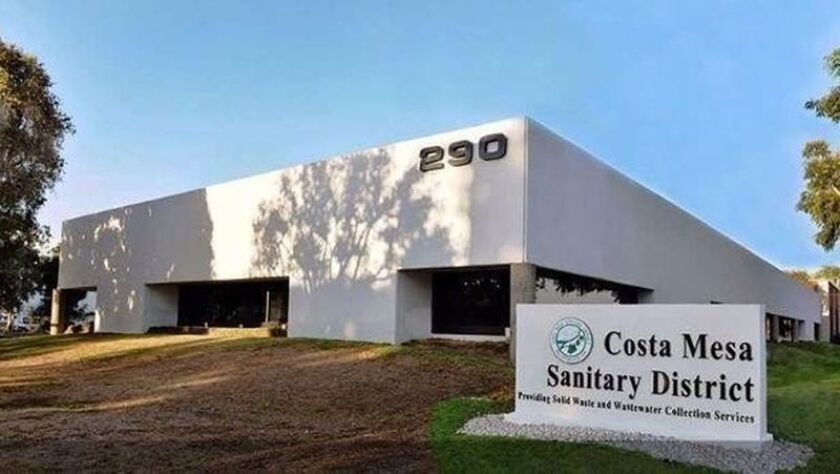 A months-long investigation into inspections-related billing submitted by the Costa Mesa Sanitary District's consultant engineer identified issues with oversight but did not unearth evidence that would support allegations of theft or embezzlement, according to findings released this week.
The law firm Best Best & Krieger LLP concluded in a report — which the Daily Pilot obtained Monday through a public records request — that "while billing was high and unrestricted, the work was, in fact, performed" and that "there is no evidence of intent sufficient to conclude embezzlement occurred."
However, the document chides Rob Hamers — an outside contractor who serves as district engineer — and his company, Robin B. Hamers & Associates Inc., for exercising "little to no control" over an independent contractor retained to perform inspections.
Scott Carroll, general manager of the sanitary district, said: "We're pleased with the findings that there was no fraud or embezzlement that occurred.
"The report did identify some things we can do better, and so we're going to do that."
After the investigation was launched in September, the district hired another firm — AndersonPenna — to take over inspection of the sewer system and capital projects. Carroll said the plan is to eventually bring those services in-house.
Hamers, a consultant with the district since 1981, continues to do engineering work. On Wednesday, he said he feels "very good" about the report's findings.
"I didn't see anything that said we did anything wrong, except they weren't happy with the fact that we worked over eight hours a day," he said. "We were just busy during certain times when a lot of projects happened to be going on at the same time."
He added that he doesn't think it's fair that the sanitary district "just took away the inspection," and he said he "would like to ask the board of directors to have it back, because I think it's better when the inspector works out of the engineer's office rather than a different office where there's less communication."
The investigation started after Carroll asked Finance Manager Steve Hodges to examine billing hours for inspections following termination of a district program that offered financial incentives to encourage residents to maintain their lateral sewer lines.
Hodges came to believe the sanitary district had been overbilled — potentially by more than $200,000 over the past five years.
A district-commissioned analysis from Crowe LLP, dated Dec. 3, determined that billing for inspection services was fairly consistent in four of the past five fiscal years, averaging 2,122 hours annually.
The outlier was 2016-17, when the district was billed for 2,468.5 hours. Given Hamers' rate of $70 an hour for inspections, the amount invoiced that year was more than $20,000 higher than any of the others reviewed.
Crowe also analyzed a sample of 10 months between October 2015 and June 2018. Inspections occurred on 222 days within the selected period. About two-thirds of the invoices for those days were for eight hours of work, but there were 65 instances when the district was billed for more than that.
However, according to the Best Best & Krieger report, Robin B. Hamers & Associates and inspector Joe Limon "were, in fact, putting in the time reported."
Carroll said one reason for the additional hours was that the inspector periodically pulled what were essentially double shifts so he could be present during projects requiring heavy night work, such as force main replacements.
The Best Best & Krieger report also states that Limon operated largely without oversight and that there was "no protocol for what [he] should do if there is no work for the district to be performed."
Hamers, though, said he personally went over plans with Limon ahead of inspections and that "Joe knew exactly what jobs were going on and he reported to those jobs."
Hodges referred questions about the Best Best & Krieger report to his attorney, Marlea Dell'Anno, who said Wednesday that she was "unable to comment" because she hasn't been able to get a copy of it.
Hodges said previously that when he raised the overbilling issue, Carroll told him "not to do anything because of Rob's relationship with the board" — an allegation Carroll denies — and said he was "extremely disheartened to see the district go to such extremes to cover up the possible misuse of public funds."
Though Hodges is still employed by the district, he has been on administrative leave since September for what Carroll described as an unrelated personnel matter. Carroll declined to elaborate, citing confidentiality concerns.
Carroll said an official determination on Hodges' job status could be made in the next few weeks.
Twitter @LukeMMoney
---