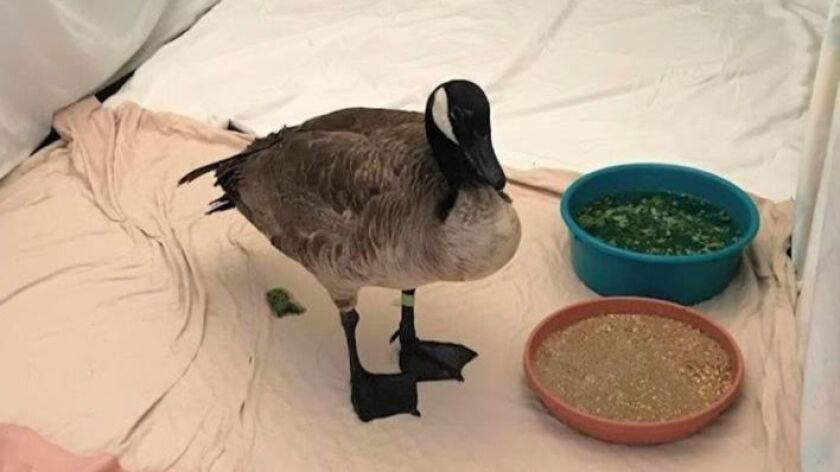 A Canada goose is back on its feet after being found with an arrow through its neck in Huntington Beach, a wildlife rescue group said Monday.
The bird was rescued by Orange County animal control on Thursday, more than a week after it was first seen with the wound near Carr Park.
At around the time the goose was first spotted, the Huntington Beach-based Wetlands & Wildlife Care Center learned that two birds had been found drugged after consuming pills scattered on the grass at the same park, at 16532 Springdale St.
"The [wounded] bird is improving today quite a bit and is starting to eat on its own now," said Lisa Peronne, wildlife manager at the Wetlands & Wildlife Care Center, where the bird was taken after it was rescued.
The goose was "very lucky [the arrow] didn't interfere with any vital organs in his neck or muscle composite," Peronne said.
However, "by the time we got him, a secondary infection had sent in" and the bird was showing signs of shock, she said.
The arrow — the kind used for recreational target practice, not professional hunting — was removed Thursday evening and the goose was given antibiotics, IV fluids and painkillers, Peronne said.
"Friday he wasn't able to stand," she said, "and Saturday he started to crash."
"When you get hold of a wild animal, they are going to fight you, attack you and try and get away," Peronne said. This bird did not, which she said was "a very obvious sign of being in shock."
The bird's rescuers allowed it to rest in a quiet area, where it began making a slow and steady recovery. By Sunday, the bird was eating and walking.
Peronne said rescuers don't know whether the arrow and pills incidents are related, but they are investigating.
The goose will stay at the care center until it has made a full recovery, Peronne said.
Sclafani is a Daily Pilot staff writer. Reyes-Velarde writes for the Los Angeles Times.
---