At Johnny's Saloon, veterans, community, charity and loyalty matter
All along, there were clues — about the kind of man his father was and what he wanted his business to do for the community, even if that business was a bar.
In fact, Johnny Nosich, the current owner of Johnny's Saloon — which was started in Hemet by his father, Johnny Sr., decades ago but is now in Huntington Beach — still marvels at the seemingly strange things that he, then a teenager, would see his father do, like snatch clothes from the son's closet and disappear or spend hours in the garage hammering away at some mysterious project.
Only later did Nosich — who formerly went by Johnny Kresimir, his middle name — realize that his father was doing something much more profound than his teenage mind could fathom.
After his father died in 1997 and Nosich took over the bar at age 20, he started to notice customers wearing the clothes he'd owned as a teen. He learned his father had given them the clothes when they were in need. Nosich also learned that his father had given people shelves, television stands and tables — all built with his own hands.
Nosich, 40, always knew his father was a generous man but never understood just how vast his charitable nature was until he took over Johnny's Saloon.
And the son has made sure that Johnny's Saloon never lost that special connection to community.
"Johnny's Saloon is more than just a bar," Huntington Beach resident Hector Valdez said. "It's a hub and a meeting place for like-minded individuals who want to get together to talk and brainstorm ideas for the sake of doing good in the community."
A history of helping veterans
It was 1982 when Johnny's Saloon opened in Hemet. Nosich says his dad named the bar after him, his first-born.
Nosich described the saloon as a neighborhood dive bar with rock 'n' roll vibes, but it was also a family- and community-driven business popular with war veterans.
One of Nosich's first experiences in the Hemet bar was when an elderly military veteran's mom died, and the entire room gathered together around the bar's old rotary phone and sang into it the man's favorite Merle Haggard song to cheer him up.
"Where else can you see a genuine outpouring of concern and love like that," Nosich said. "It happens all the time in neighborhood dive [bars]."
Just like the bar in Hemet, the current Johnny's is a favorite among veterans.
In fact veterans came to the bar's defense in 2013 when Huntington Beach code enforcement officials asked the owner to produce proper permits for a sign towering over the outside of the establishment or remove it and face a fine of nearly $1,000.
The sign — which is still there today — reads "Thank a Veteran for your Freedom!"
Nosich didn't want to talk much about the incident during a recent interview other than to say he "followed the steps" asked of him.
Meanwhile, speaking of signs, a few months ago the crew at Johnny's unveiled a sign reading "George's Corner," to mark the spot where 93-year-old World War II veteran George Roach is known to generally sit.
"It was a special moment," Nosich said. "It will read 'George's Corner' for as long as we own the saloon."
Roach regularly attends Johnny's Veteran Outreach, a program run by the bar to provide community support services and raise money and awareness for veteran's issues. The group holds a meeting every Thursday night at the saloon for veterans to meet and share stories.
The program was started by Tim Nabors and Felix Alvarez. Alvarez has worked at the bar for about four years; Nabors partners with it on various charitable causes.
"It is less a drum circle and more a group of friends coming together every week to connect with other vets," said Caleb McNutt, who has worked at the bar for about a year.
When Nosich took over the bar in Hemet following his father's death, he and his brother Bruno, now 35, wanted to maintain the atmosphere their father had instilled, but they did initiate some changes, like giving the bar a new slogan, "If you don't like Steak, Stiff Drinks and Johnny Cash... Don't let the door hit you in the ass!!!"
Eventually, tired of commuting to Hemet, the brothers and their partner, Johnny Marovic, also known as Tall Johnny because he stands about 7 feet, were able in 2003 to secure a new location, at 17428 Beach Blvd., near Nosich's home in Huntington Beach.
Unfortunately for them, the move didn't translate into immediate success. The team worked tirelessly for half a year but nobody showed up at the new place, Nosich said.
Then, in the summer of that year, a music festival called the Hootenanny was planned in Fullerton. Social Distortion and the Stray Cats, two of the Nosich brothers' favorite bands, would be playing. The team decided to take advantage of the event to do a little advertising.
They printed T-shirts and fliers with "Johnny's Saloon" emblazoned on them to distribute at the show, and the brothers even borrowed their mother's credit card to pay for a plane to fly an advertising banner.
"The saloon blew up after that," Nosich said.
The bar has since been involved with promotions for the Hootenanny. Nosich calls it "going full circle."
Today the bar is a favorite among locals, "a modern-day Cheers," Nosich said, referencing the television show of the 1980s and '90s.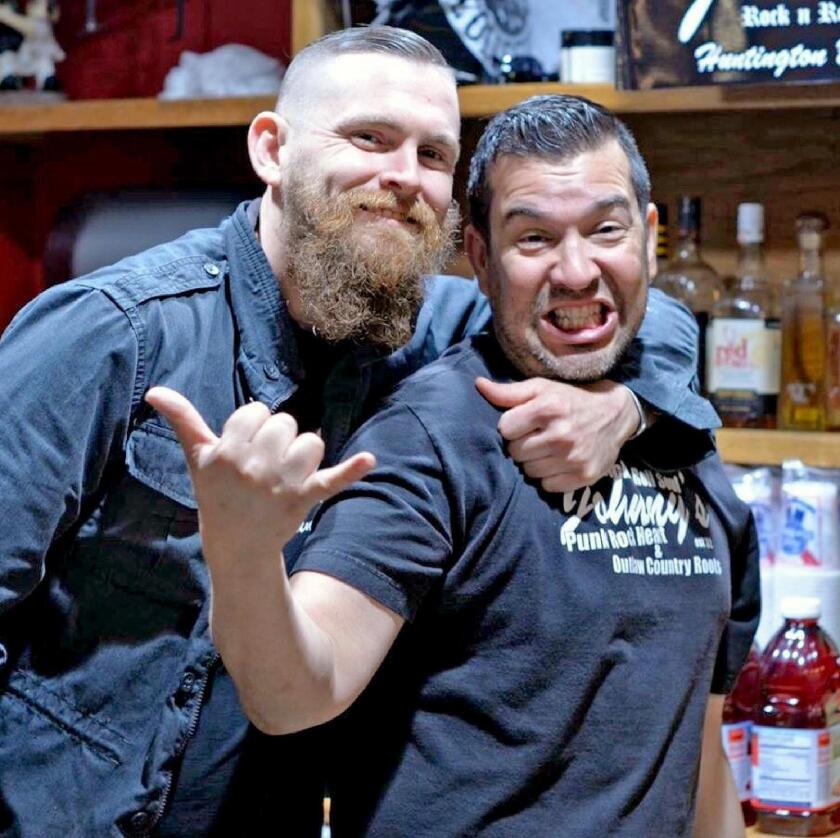 Pizza, whiskey and Johnny Cash
Nosich said Johnny's has one of the biggest whiskey lists in Orange County, with over 200 choices. He and Bruno named the Old Fashioned after their father, calling it The Johnny Sr., another way their father can be felt within the walls of the saloon.
Johnny's also serves pizza. Nosich said the bar sells out often because only the best ingredients are used. Paying homage to his family's origins, Nosich said each pizza is made from scratch with ingredients from Croatia, where his father grew up.
Each box is signed by the creators of the pizza.
Inside the hangout, the lighting is dim. A chandelier dressed in cobwebs hangs from the ceiling. The baritone vocals of Johnny Cash can be heard regularly over the loudspeaker. A pool table sits in the corner, a cello displayed on a pedestal next to it. The walls are adorned with music-related artwork, including a portrait of Cash with his guitar.
"It's a fun, friendly atmosphere that has people from all walks of life and different tastes and ideologies," Huntington Beach resident Ron Sterud said.
"You can have an old Vietnam vet sitting and drinking next to a CEO of a big company sitting next to a friendly homeless guy, and everyone is getting along having a good time," said Kyle Ennis, who also goes by the nickname Howdy Doody and has worked at the saloon for about six years.
Sterud said Nosich has even tried to get him his favorite beer — from Alaska.
The charity lives on
The charitable giving of Johnny Sr. can be seen today in the staff.
Bartender James Kutscher does a lot of work for the Huntington Beach Youth Shelter, which is an emergency crisis and intervention program for youths ages 11 to 17.
In December, he headed a Christmas fundraiser so the youngsters would have gifts.
In supporting Kutscher's work, the bar has helped out with fundraisers for the youth shelter.
Ennis started a charity group about two years ago called Howdy's Homeless Helpers with Kutscher and Nabors.
They can be seen delivering food to the homeless who line the streets of Huntington Beach.
"I feel like you haven''t truly lived until you have given something to someone that can't pay you back," Ennis said.
Nabors has partnered with Johnny's on numerous charity events, including raising money to bring a Marine combat veteran and his wife to Huntington Beach from Ohio to celebrate a honeymoon they didn't get to have because of his deployment.
Nosich said Johnny Sr. raised his sons in a way that generosity became like "second nature."
Because the elder Nosich grew up in Croatia, then part of Yugoslavia, during the communist era, he endured a lack of basic resources, including regularly going without shoes and food.
Nosich said that whenever he would tell his father that he was "starving" as a child, Johnny Sr. would respond, "You are not starving. You are hungry." He'd then buy as much food as Nosich could stuff in his mouth.
The son said that having so little while growing up, Johnny Sr. learned the value of hard work. Even while running the bar and raising a family, he put himself through business school. With what little free time he had, he'd donate to others, like building furniture for people in his garage or taking the kids from the neighborhood where they lived to the beach.
"His outlook influences everything we do with the business daily," Nosich said. "We didn't get to finish college. We didn't work our way up a corporate ladder. Everything we know about the bar and restaurant business started with [Johnny Sr.]."
***
Johnny's Saloon will be taking part in a 5K run in March to help raise money for the families of the city's adopted Third Battalion/First Marines.
The event will start at 8 a.m. March 11 at the parking lot along the beach at Beach Boulevard and Pacific Coast Highway.
The bar is helping to promote the run and plans to provide volunteers and a beer garden.
Twitter: @benbrazilpilot
---