Newport's Marian Bergeson, first woman to serve in both Senate and Assembly, dies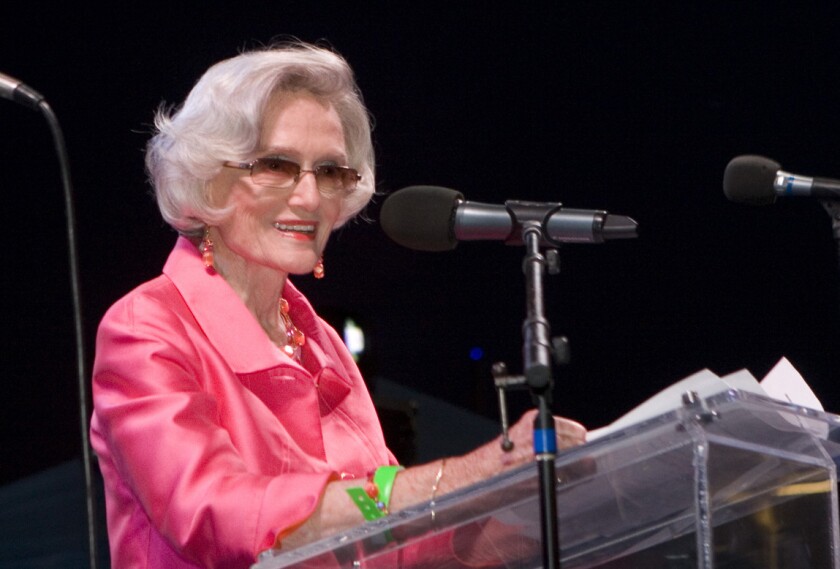 Marian Bergeson, the first woman to serve both in the state Senate and Assembly, has died, city officials confirmed. She was 90 .
Bergeson, whose long political resume also included state secretary of education, Orange County supervisor and Newport-Mesa school board member, died Wednesday morning at Hoag Hospital in Newport Beach, said former Mayor Evelyn Hart, a close friend.
Bergeson had been battling pancreatic cancer.
"Marian was a great lady, and she'll be missed, as she was an inspiration to women," Hart said. "My best memories of her were the love she showed back to this community of Newport Beach ... We all knew we could call on Marian when we needed her, even when when she was busy in Sacramento."
Join the conversation on Facebook >>
Hart, who was with Bergeson in the hospital not long before she died, knew Bergeson "before she was on the school board."
"We're looking at 60 years now," she said. "She is missed by a lot of people. My last comment about her is to love her back the way she loved other people."
Current Newport Beach Mayor Diane Dixon called Bergeson "an inspiration and a trail blazer" filled with optimism.
::
Bergeson was elected to the Newport-Mesa Unified School Board in the early '60s.
"She was the most gracious and strong woman that I think I've ever met," said Newport-Mesa Trustee Karen Yelsey, who remains appreciative of Bergeson's endorsement for office in 2006. "She was a leader, and she understood policy and what the role of the school board was."
Two years ago, the last time Yelsey was elected to the board, she remembers Bergeson arriving to swear in members after having come out of the hospital following a surgery.
"She came that night to swear us in," Yelsey said. "She just did things in such a classy way, from the way she governed to the way she talked to people."
Newport Beach City Councilman Keith Curry remembers Bergeson as a community leader who worked tirelessly to increase Orange County school funding and to protect the environment in Newport Beach.
"She was one of those people in politics who was respected and admired," Curry said. "She encouraged me to serve on the council, and she encouraged me to run for state assembly [in 2014]."
::
Bergeson was born in Salt Lake City. At three months old, her family moved to Westwood, where she was raised. For college, she went back to Utah to study education Brigham Young University.
------------
FOR THE RECORD
3:04 p.m.: A previous version of this story incorrectly stated Bergeson was born and raised in Salt Lake City. She was born in Salt Lake City and raised in Westwood. A previous version also stated she is survived by four children. She is survived by three children.
-------------
When she and husband, Garth, moved to Newport Beach in the late 1950s, she saw opportunity in the burgeoning community. In 1959 and '60, Bergeson raised $1,200, went to City Hall and got the ball rolling on getting Mariner's Library built.
She saw an opportunity to run for school board and became an expert in school finance and president of the California School Board Assn.
"People used to say, 'How can you deal with smoke filled-rooms?' I'd make them perfumed rooms," she told the Daily Pilot in 2015.
When Republican and Mercedes dealer Jim Slemons ran against Democrat Ron Cordova for the 74th Assembly seat in 1976, Slemons was accused of bringing pornography through U.S. Customs.
Bergeson, also a Republican, lost the primary that year against Slemons. Cordova later won the general election.
------------
FOR THE RECORD
1:15 p.m. July 7: A previous version of this story stated incorrectly that Bergeson won the 1976 primary against Slemons.
-------------
In 1978, she ran again for Assembly and won and, in 1986, won a seat in the state Senate. She was elected to the Orange County Board of Supervisors in 1994, serving two years until then-Gov. Pete Wilson named her education secretary. She went onto the California Board of Education.
Earlier in her career, in 1986, an elementary school in Laguna Niguel was named for Bergeson. The aquatics center at Corona del Mar High School is also named for her.
A Republican, she was known to work well with members of both parties.
"I was lucky," former Democratic political consultant Denny Freidenrich of Laguna Beach said in an email to the Daily Pilot. "I initially got to know Marian Bergeson as a wife, mother and local school board member before she ran for the Assembly and Senate. Every time she ran for reelection, here's what this lifelong OC Democrat would tell his friends: `If you want to go to heaven, vote for Marian.' RIP, dear friend. Here's hoping we meet again next to the big voting booth in the sky."
::
In Newport Beach, where Bergeson continued to live and remain active, she was seen all over town at community events and meetings, even as she struggled with illness.
"She was a bridge partner, a walker along Back Bay with her dogs (Chester, then Maggie), a frequent sight at water polo and swim events involving kids or grandkids (at both Newport Harbor High School and Corona del Mar High School – where her name graces the aquatic center)," according to a statement from City Hall. "And she was known to be quite fond of having a Ruby's burger and shake on the Balboa Pier."
In addition to her husband, Bergeson is survived by three children. A daughter, Nancy, died in an unsolved murder in 2009.
Daily Pilot Editor John Canalis and columnist Barbara Venezia contributed to this report.
--
alexandra.chan@latimes.com | Twitter: @AlexandraChan10
MORE FROM ORANGE COUNTY
Fourth of July arrests fall again in Newport, to 86, police say
Former Westminster planning commissioner charged with soliciting $15,000 bribe
Milan Dostal, ex-Newport mayor, dies at 87; service Thursday
---