Residents share concerns and ideas as Newport develops a Mariners' Mile master plan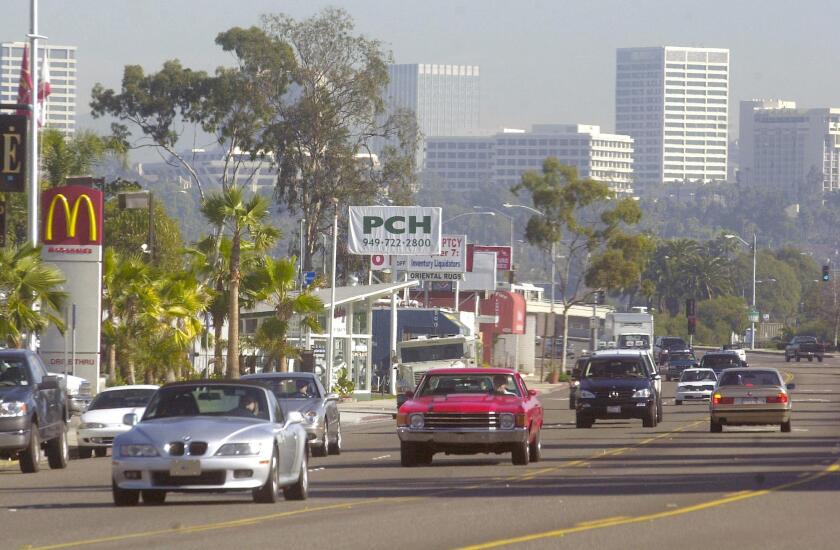 How to prevent traffic and parking issues along Mariners' Mile while maintaining Newport Harbor views and creating a pedestrian- and bicycle-friendly environment were among residents' concerns at a community meeting Monday night.
About 50 people split into groups and brainstormed ideas on large pieces of white paper to try to help the city of Newport Beach develop a master plan for the mile-and-a-half stretch of West Coast Highway between Newport Boulevard and Dover Drive.
Guests discussed their hopes for the area, as well as the potential challenges and opportunities of upgrading it.
The workshop was one of a few the city plans on the issue in coming months.
"We have an amazing piece of property that can be so much better than just another piece of asphalt," resident Tony Valentine said.
In 2011, the City Council identified Mariners' Mile as one of six zones in need of revitalization. Work in other areas, including Corona del Mar, Balboa and Lido villages, West Newport and Santa Ana Heights, has been underway for years.
However, a decision on how best to use the narrow Mariners' stretch, which is hemmed in by bluffs on one side and Newport Harbor on the other, has long eluded city leaders.
Mariners' Mile began as a nautical destination and has transformed over the past several decades into a haven for luxury car dealers, restaurants and yacht businesses.
Recently, landowners Manouch and Mark Moshayedi purchased Ardell Investment Co.'s property holdings along West Coast Highway. The purchase could play a major role in how the area changes, officials have said.
In all, the Moshayedis own about 8 acres along Mariners' Mile, much of which could be up for redevelopment in coming years.
Several groups spoke Monday in favor of building pedestrian bridges across West Coast Highway and a boardwalk along the harborfront to improve walkability.
The ideas of increasing the number of public docks and potentially parking cars underground also were met with widespread support among attendees.
Several groups also proposed low-profile landscaping that wouldn't affect views from the cliffs above Mariners' Mile.
Guests couldn't come to a consensus about the city's proposal — outlined in the general plan — to eventually expand Mariners' Mile to six lanes. The road currently has two to three lanes.
Some said expanding the highway would only bring more cars and exacerbate an already frustrating traffic problem, while others urged the city to do whatever is necessary to keep commuters from bypassing Mariners' Mile and using neighborhood streets.
The city's general plan, which guides local development, defines the area as appropriate for mixed-use residential and commercial development. Several residents were wary of adding homes there but suggested if that happened, they would prefer condominiums instead of apartments.
The information gathered at the meeting will be considered as city officials and PlaceWorks, a consulting firm, begin to put together a draft master plan. The document is expected to go to the Planning Commission by October and the City Council by the end of the year.
---