Family fights to get 'nuisance' pine tree removed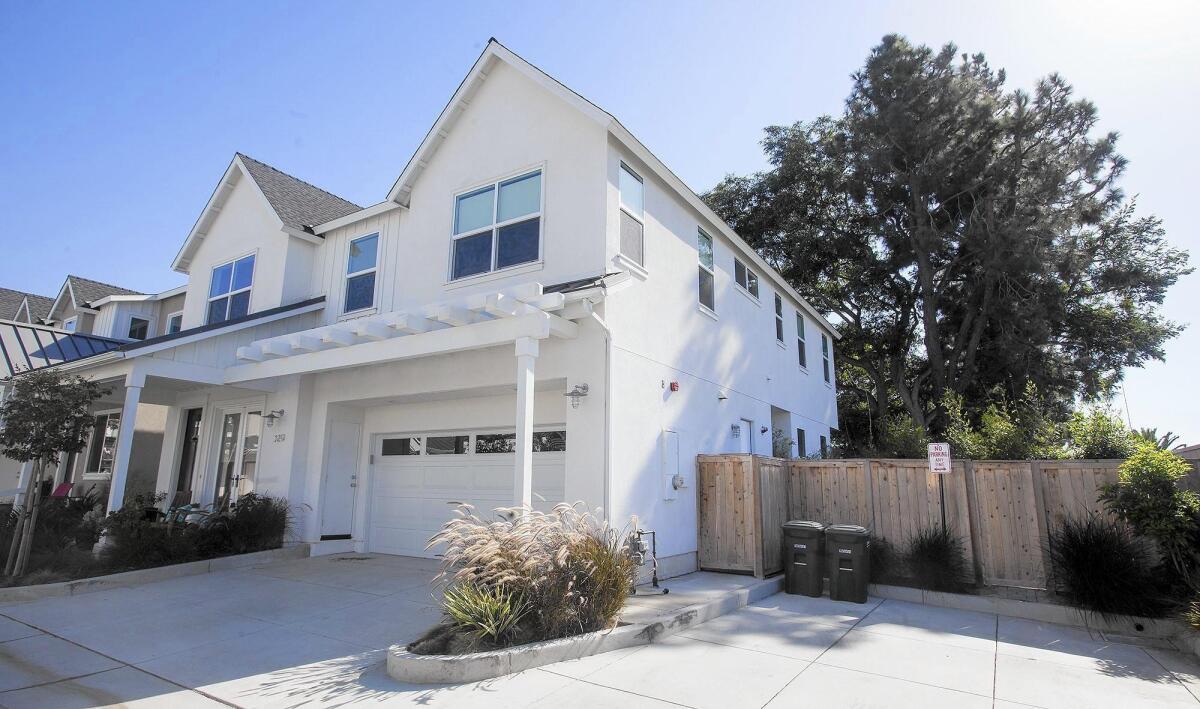 The 55-foot culprit with its stocky trunk lurks high above the block wall separating their home from a neighborhood park in Eastside Costa Mesa. It makes a sticky mess of their backyard, kills their plants and destroys thousands of dollars worth of patio furniture.
It's even a potential threat to their children, they insist.
The culprit's name is Pinus canariensis, more commonly known as the Canary Island pine. It's endemic to the outer Canary Islands, but this particular pine has put down 30-year-old roots in Jordan Park. And, following a decision reached Thursday by the city's Parks and Recreation Commission, that's where it will continue to grow for the foreseeable future.
But for Jonathan and Michelle Knox one word sums up their thoughts about the pine: nuisance.
In August, the Knox family, who live in the East Haven tract off Tustin Avenue, sent a request to city officials asking that the pine, valued at $14,740, be replanted somewhere else.
"The Canary Island pine is a nuisance tree species, as it overproduces tree waste in the form of sap, needles, pine cones and branches and should be reconsidered and categorized as a problem tree species," the Knox family wrote in a letter to city staff.
In response, the city examined the tree's health, considered moving it but ultimately decided against doing so, ruling that it was best to keep it in Jordan Park. When the matter came before the Parks and Recreation Commission on Thursday, the panel agreed.
"The city has done its due diligence by cutting it back," Commissioner Kim Pederson said. "If we took every request that came to us, we'd be taking out trees all the time because there's a little bit of inconvenience. That tree and what it brings to the community outweighs the inconvenience."
This isn't the Knox family's first battle with the Canary Island pine since they moved to their Anderson Lane home roughly 18 months ago.
Jonathan Knox called City Hall in August 2015 to request that the city arborist trim the tree because of its needle droppings. So that October, crews performed a crown reduction, which involved removing a higher percentage of branches and foliage than traditional pruning. City staff said crown reductions have been done in recent years to address frequent resident complaints generated by the tree's needles and cones.
Michelle Knox told commissioners on Thursday she worries about falling pine cones injuring her infant and toddler sons. Her older son, who is 2 years old, often comes in the house with tree sap all over his hands after playing in the backyard. She said she's tasked with collecting the dead pine needles that blanket her property.
"There's a bag every day of pine needles and droppings," Michelle Knox said. "It's crazy. It's not providing much of anything to the park, except for the pine needles falling all over."
Even though the Knox family lost its request this week, they can approach the commission in one year to again request the tree's removal. Michelle Knox said after the hearing they will most likely will be back.
Twitter: @HannahFryTCN