In SCR's 'Flora & Ulysses,' a girl and a squirrel form a dynamic duo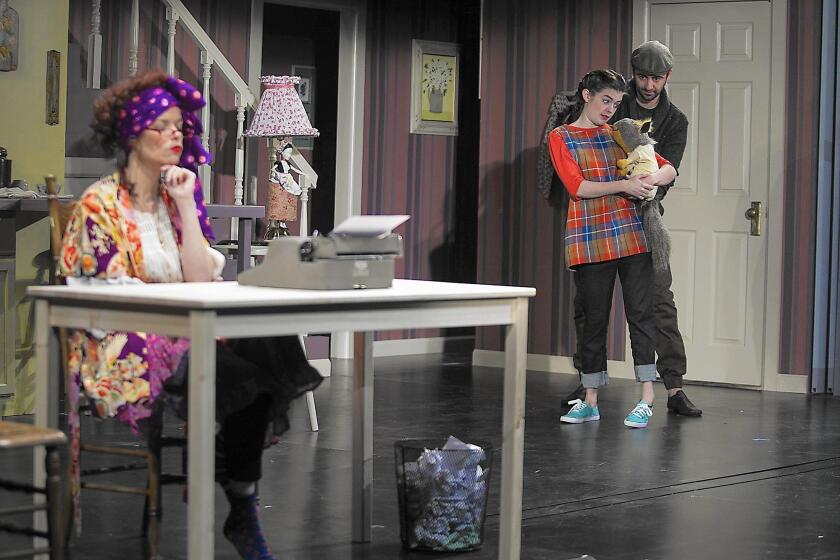 She is a 10-year-old cynic and avid comic book reader.
He is always hungry, understands human speech and types poetry.
And he's a squirrel.
They are Flora and Ulysses, fictional counterparts and stars in the namesake children's book by Kate DiCamillo who join forces to overcome the rodent's arch-nemesis, Flora's mother, and encounter a quirky cast of characters.
The novel won a 2014 Newbery Medal — a distinguished literary award given by the Assn. for Library Service to Children — and the stage version is making its world premiere at South Coast Repertory this month.
"It's very funny and delightful while also addressing real-life difficulties," said playwright John Glore, who has been South Coast Repertory's associate artistic director since 2005. "We all have times when we feel lonely, but the story helps us understand that we're not alone. You need to open your heart in interacting with other people."
The plot follows Flora, who spends her time reading comic books and struggles to understand her parents' recent divorce. When a neighbor runs over a squirrel with a vacuum cleaner, the critter's brush with death creates superpowers. Flora befriends the animal, and together the two embark on righting wrongs.
"Flora & Ulysses" was written in a split-narrative format — when two or more main characters take turns narrating — and incorporates illustrations, all of which Glore worked to capture in his stage adaptation.
After reading the book a second time, Glore wondered how he could show a character's thoughts or feelings on stage, so he decided to use projection screens liberally on set. There, words and images could show what was surfacing on Flora's or Ulysses' mind.
He also had to imagine how a squirrel — who is capable of lifting objects and flying — could move through the air.
The title character needed to be a puppet, he thought.
So he collaborated with Lynn Jeffries, a member of the Los Angeles-based Cornerstone Theater Company who has designed sets, costumes and puppets for more than 30 years.
Jeffries, who also performs in nightclubs as a shadow puppeteer, first drew a sketch of the squirrel. She said she didn't need much research since her neighborhood is full of the bushy-tail rodents. To simplify the mechanics, Jeffries imagined a fabric head so the model wouldn't weigh too much and would be easier to lift.
As for determining the specific fabric and texture choices, that would take a bit longer.
Jeffries spent four hours in Los Angeles' garment district trying to find the right shade of gray for the squirrel's face.
Ultimately, disappointed with the material choices, she opted for the faux fur that she'd also use for the squirrel's tail. When molded to the squirrel's face, the synthetic fibers could be shaved and trimmed to show a gray that imitated squirrel hair.
"It's trial and error," Jeffries said during a play rehearsal.
Jeffries would make four versions of the squirrel and two cats for the production.
The puppets needed to be able to sit, stand and be cuddled, so she had to approach each animal with the least amount of hard inner workings. To be able to have an animal "walk," she attached two sticks to the puppet's body.
Also, a puppeteer could hold a model of the squirrel upright and slip a hand through a cut portion of the tail to make it shake back and forth.
Cute puppets don't stay long at the theater after a show's run, Jeffries said with a smile.
An actor has requested to keep one of the models, and Jeffries said she'll keep a few for her collection — which, she added, already clutters her house.
A 6-foot-long crow head for a past production adorns her living room and makes for a great Halloween decoration — and children love it, she said.
Making children happy is among the reasons she and Glore liked working on this play, which falls under the aegis of South Coast Repertory's Theatre for Young Audiences.
Glore, who has worked on a few plays for children, said he enjoys the young-adult literature. He believes it helps the readers gain knowledge that could play an important role in their lives.
"Theater is a way to have a communal experience and celebrate collective values and differences," Glore said. "Kids nowadays don't get a lot of arts education, so it's really important to see young people engaged in the forms of entertainment."
*
IF YOU GO
What: "Flora & Ulysses"
When: 7 p.m. Fridays; 11 a.m., 2 and 4:30 p.m. Saturdays; and 2 and 4:30 p.m. Sundays until Feb. 19
Where: South Coast Repertory, 655 Town Center Drive, Costa Mesa
Cost: Ticket prices vary
Information: (714) 708-5555 or visit scr.org.
Twitter: @KathleenLuppi
---