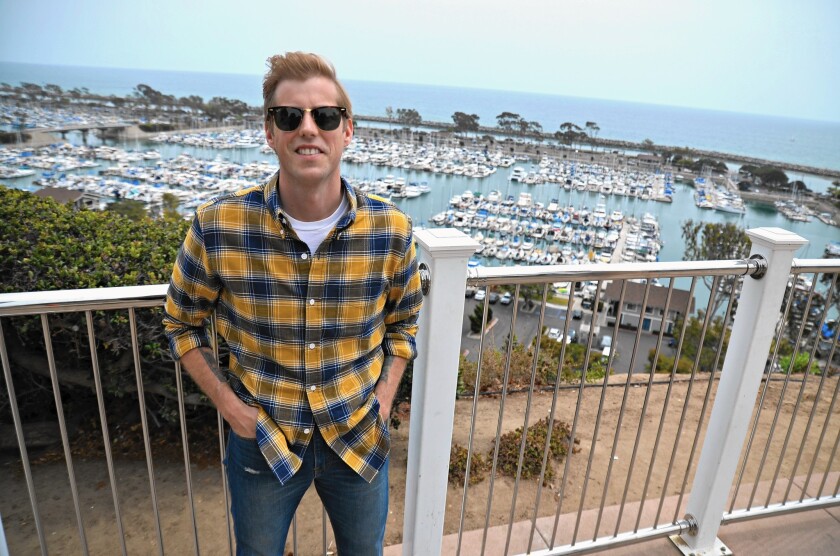 Andrew McMahon stares out the window of his Audi Q5 SUV at Dana Point Harbor. The vehicle is clean, with an empty car seat in the back for his 15-month-old daughter. NPR plays quietly on the stereo.
"Dana Point Harbor was always my favorite place," he says as he gets out of the car and walks toward a lookout point. "A lot of my early days were centered around here."
On this warm Wednesday afternoon in May, a few weeks after McMahon's performance at Coachella, the harbor is busy with boat traffic. It's also flush with memories for the singer-songwriter.
Back in his high school days, the harbor was where he got into trouble with friends. In his 20s, it was one of the places he relied on when he needed inspiration for his music projects: the bands Something Corporate and Jack's Mannequin and the solo project Andrew McMahon in the Wilderness. Now it's where he walks with his wife, Kelly, while pushing daughter Cecilia in a stroller.
Having a child hasn't forced the 32-year-old to put music on the back burner. His songwriting inspiration is just a little different now.
The songs are no longer immature paybacks, like "If You C Jordan," Something Corporate's KROQ hit about a bully at Dana Hills High School, McMahon's alma mater. They also don't focus on fantasies about an alternative life, like "Cavanaugh Park" does. The song, which came out in the early 2000s, is named after a real Lake Forest recreational area where McMahon pictured playing during a fictional childhood.
Nowadays his real life influences much of his sound.
While mastering Jack's Mannequin's first record, "Everything in Transit," in May 2005, McMahon was diagnosed with leukemia. He chronicled his battle with cancer in the documentary "Dear Jack," which was narrated by friend and Motley Crue dummer Tommy Lee. In August 2005, he received a stem cell transplant, with his sister Katie McMahon serving as the donor.
After his recovery, McMahon moved from San Clemente to L.A., which he says in hindsight probably wasn't the healthiest place for him, physically or emotionally. He returned to south Orange County four years ago.
Nowadays, a song about his baby girl, "Cecilia and the Satellite," is filling local and national airwaves. It placed in the top 10 of Alternative Radio last month.
The song is the first single off McMahon's solo debut, "Andrew McMahon in the Wilderness," which was released in October. He played a national tour last fall promoting the album and has future dates set, though he said he can't disclose details.
"I wrote [the] record between here and L.A.," he said. says. "It's truthfully about a time that came from a place where I was so fed up with L.A. that I had to get out."
McMahon grew up in Ohio, but moved to Orange County as a teenager.
After his recovery from cancer, he rediscovered his connection to the area.
"I found myself saying, 'Where do we go?' And my wife and I decided we had to go back to South County," he recalls. "I'm glad I took that chunk of tricky years and left them in L.A. and saved South County for a time where I was a little more connected and doing some good soul-searching."
In his early days with Something Corporate, McMahon often relied on Dana Point for song ideas.
"We moved into this little apartment, and I lived in this little back bedroom with just a curtain for a door," he says. "But I was so happy. Moving to Dana Point was everything I hoped California would be. I wrote all the early songs for Something Corporate in that apartment."
Before he was selling out concerts all over the world and playing big-name festivals like Coachella, McMahon was slamming on his grand piano on the stage at Dana Hills High with Something Corporate.
On this recent Wedneday, after visiting Dana Point Harbor on a driving tour of his hometown, he parks his Audi in the busy lot at Dana Hills High, which has just let out for the day. McMahon stands out a bit among the students because of his tattooed arms. But his clothes, a yellow plaid shirt, blue jeans and black Converse Chuck Taylors, fit right in.
Walking up to a small stage in the center of the school, he recalls the confused looks on high schoolers' faces in the late '90s when they noticed his piano during a Battle of the Bands event. But once Something Corporate started playing, the audience caught on. McMahon pounded out rock 'n' roll riffs as he sang songs about adolescence and love.
Something Corporate got its first big break at the Coach House in San Juan Capistrano. McMahon drives his SUV to the venue and parks in an empty lot. He walks toward the building but finds it closed.
"Gary Folgner, the owner of the Coach House, was sort of the band's benefactor early on," McMahon says, resting his arm on the concert hall's sign. "I tried all through high school to try to get them to let me play shows there. They'd say no because I didn't have a demo tape."
Something Corporate eventually caught Folgner's attention after the group played a sold-out show at the nearby El Camino Real Playhouse. Folgner lent the band money to record its demo EP, "Ready…Break" at the Coach House and Galaxy Theater, now known as the Observatory, in Santa Ana.
"Andrew is a very talented young man," Folgner says later by phone. "He writes good songs, plays well and, on top of everything else, is just a very nice man. Ever since he played here, he's worked hard to develop an audience."
Something Corporate was signed by Drive-Thru Records the same year McMahon graduated from high school. McMahon moved to San Clemente in 2001, when he began touring with the band.
"Once Something Corporate was signed and we put out our first record, when I got my first publishing check, I bought a condo in Talega in San Clemente before it was even built," he says. "I moved in there with my two high school best friends, and I would be there in between tours with Something Corporate."
His new home is not far from that condo, he says.
As he sits in his Audi near his parents' home in Dana Point, McMahon smiles.
Now that he's back in South County, he says he feels settled and believes it's the perfect place for him to write new music and raise Cecilia — something he shares in the lyrics for "Cecilia and the Satellite."
"Through all the things my eyes have seen, the best by far is you," he sings on the track. "…For all the places I have been, I'm no place without you."
---