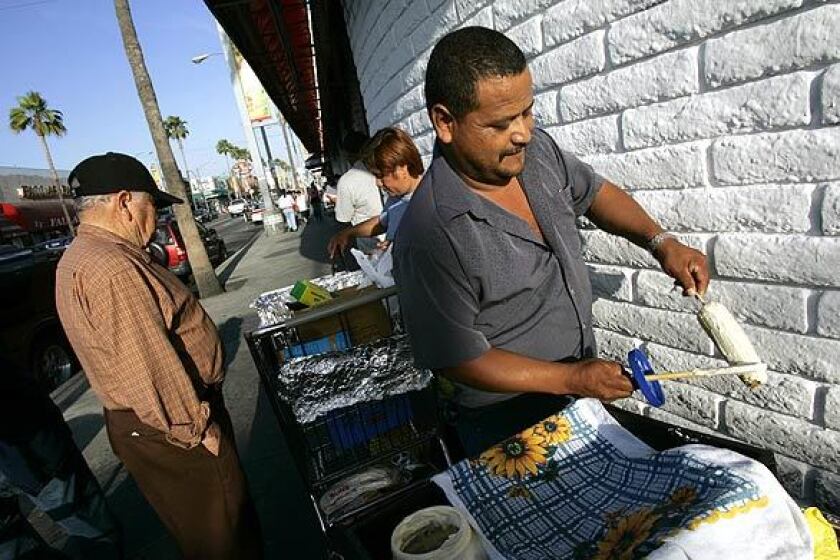 Glendale officials are hurrying to establish rules regarding how street vendors can operate within the city by the upcoming holiday season when local business leaders anticipate a hike in activity.
Last Tuesday, Glendale City Council members voted to draft an ordinance defining where and when sellers of hot dogs, hats and other goods can peddle their wares. It could go into effect in just over two weeks.
Following a state law that went into effect Jan. 1, California cities are prohibited from banning street vending as well as slapping vendors with criminal penalties.
Cities and counties can still adopt local regulations — including some aspects of permitting requirements, acceptable hours of operation and where in the city they can sell — within the framework outlined by the Safe Sidewalk Vending Act, or SB 946.
Los Angeles, Pasadena, Santa Monica and West Hollywood have adopted ordinances in the wake of the law.
By Nov. 15, about two dozen vendors are expected to arrive in the heart of downtown Glendale, according to Rick Lemmo, executive committee chairman with the Downtown Glendale Assn. Currently, there are a handful of known vendors operating in that area, he said.
The anticipated increase in vendors has galvanized some local business leaders and council members to call for an ordinance sooner rather than later.
"Business owners spend tens of thousands of dollars trying to maintain their business, their investments. They pay taxes, they do everything, and then, all of the sudden, someone's getting into the same business, not following the same rules," said Councilman Vartan Gharpetian, who advocated for strict rules.
"That is not fair. It's flat out not fair," he added.
Currently, the city foots the bill for cleaning up after vendors, Lemmo said.
Councilman Frank Quintero said he sensed an overreaction.
"I don't think Christmas is going to be ruined by a bunch of vendors suddenly descending on Glendale," Quintero said during the council meeting.
"Here are people just trying to make a living, and we're making it out like they're out to steal from us. They're not out to steal anything," he added, pointing out that vendors don't receive subsidies like some other local businesses.
With the business association urging action, council members decided to introduce an ordinance on Nov. 5, at which point specific details are expected to emerge. A tentative vote is set for Nov. 19.
Drafted as what's known as an emergency ordinance, it requires at least four-fifths of council's approval. If approved, it would go into effect immediately.
"Drafting the legislation is one thing, and then actually going out and making sure that the folks out there are coming in and getting the permits and having the staff available to actually process it — that's probably the biggest challenge," City Atty. Mike Garcia told the council.
Despite arguments over the spirit of the ordinance, Council members seemed to agree on much of its substance, including requiring vendors to pay taxes; observe certain distances from farmer's markets, playgrounds and each other; operate within time frames similar to other businesses in the city; and allow pedestrians to walk on the sidewalks with ease.
There was also consensus that vendors selling food should be required to obtain health permits from L.A. County and that stationary vendors should be barred from residential neighborhoods.
A fee schedule for violating the permitting requirements and operating without a permit is built into the state law, Garcia said during the meeting. Those cited can request a fine reduction or alternative punishment if they can prove they are significantly under the federal poverty level.
Support our coverage by becoming a digital subscriber.
---