After years of debate, L.A. legalizes sidewalk vending: 'This means freedom'
Capping years of protests and debate, the Los Angeles City Council on Wednesday passed an ordinance legalizing and regulating vending on city sidewalks.
In Los Angeles, they have long been a familiar sight: the vendors who hawk ice cream from pushcarts in Echo Park, sell bottled water to sweaty tourists strolling in Hollywood, and show off their wares under rainbow-y umbrellas in the Fashion District.
Now, after years of protests and packed hearings at City Hall, Los Angeles leaders have passed a law to legalize and regulate vending on its sidewalks.
The decision Wednesday was the culmination of a long and persistent campaign by vendors, many of them immigrants and Spanish speakers, who erupted in cheers and applause after the unanimous vote at City Hall. Tens of thousands of vendors are estimated to sell food and goods on L.A. sidewalks, a practice that has been illegal yet all but ubiquitous.
"This means freedom," said Aureliano Santiago, who sells ice cream and hot dogs in MacArthur Park. "The police won't pester us anymore. They'll go after delinquents instead."
Los Angeles politicians first proposed legalizing and regulating sidewalk vending more than five years ago, but council members sparred over where and how it should be allowed. Brick-and-mortar shops had raised concerns about blocked sidewalks, trash and unfair competition.
After President Trump was elected, the council quickly moved to decriminalize vending, fearing that criminal charges could put some vendors at risk of deportation as the federal government cracked down on immigrants living in the country illegally. But sidewalk sellers still could be ticketed and fined for violating the municipal code.
L.A. leaders were still working out how to allow vending when a state law forced their hand. Under Senate Bill 946, local governments had to make sure that their rules lined up with new restrictions on how they could regulate vending — or lose their ability to enforce those rules beginning in January.
That law prohibited cities from limiting where or how vendors could do business or capping the number of vendors allowed unless such restrictions were tied to "objective health, safety, or welfare concerns." It also barred cities from requiring sidewalk vendors to get approval from a neighboring business, an idea that L.A. had debated in the past.
As the council prepared to vote to legalize vending, City Councilman Bob Blumenfield dubbed it a "banner day" for the city but complained that the Senate bill "ripped away our local control."
Under the new rules passed Wednesday, vendors must pick up trash; ensure that people can pass on the sidewalks; and do business at a minimum distance from fire hydrants, driveways, curbs, building entrances and other street features. They must have any business and health permits required by the city, county or state.
And if they set up shop next to another vendor, they must leave at least 3 feet of space in between.
Those rules will go into effect by January, city officials said. Parks will have their own restrictions: Only two vendors are allowed per park acre, and they cannot operate within 25 feet of each other, or within 100 feet of any park buildings or playgrounds. If a park has an exclusive concession agreement, vendors cannot set up stationary stands there to sell food or merchandise.
Los Angeles plans to eventually start handing out permits, which could authorize vendors to set up shop at specific spots, but the city still has to work out the details. Vendors and their advocates have pushed for a permit system, arguing that it will give them more certainty about where they can do business and save them from having to stake out desirable spots early in the morning.
In the meantime, vendors will be able to do business legally anywhere that meets the new requirements.
For a decade, Edgar Suy said, sidewalk vendors like him were treated like rats. "That's how they treated us — the government, the police, the business owners," said Suy, who sells corn and churros in Hollywood and downtown, earning money to support his mother and children in Guatemala. "Now we can come out of the shadows. … We aren't a menace to society."
Sidewalk sellers will still be barred from hawking food or goods around busy venues such as the Hollywood Walk of Fame, Universal Studios and El Pueblo de Los Angeles monument. They will also be prohibited near Dodger Stadium and nearby Elysian Park, Hollywood Bowl, Staples Center and the L.A. Coliseum on days when events are being held.
In addition, Leimert Plaza Park will be off limits to vendors because commercial activity was prohibited there when the park land was provided to the city, according to the parks department. That frustrates vendors such as Kevin Wharton Price, who has sold red, black and green flags there on Sundays, when a drum circle and vendors draw people to the park.
If vending is halted there, "it takes away the cultural essence of that area," Wharton Price said.
Even in those banned locations, however, vendors can still sell "expressive items" that are protected under the 1st Amendment, such as art or music made by the seller, officials confirmed.
Business groups had pushed for such restrictions, particularly along the Hollywood Walk of Fame, arguing that such areas are too congested to safely accommodate vending. Vendors and their advocates argued that the city should instead pass rules tailored to such areas, and have challenged whether excluding Leimert Park is legal under SB 946.
Despite such concerns, the Los Angeles Street Vendor Campaign hailed Wednesday's vote as a monumental victory. Isela Gracian, president of the East Los Angeles Community Corporation, said vendors had been fighting for a decade for legalization, well before politicians signed on. Hundreds of vendors clad in black T-shirts showed up at City Hall for the vote.
Grinning politicians, city staffers and vendors lined up for free tamales, taquitos, aguas frescas and churros after a euphoric news conference on the steps of City Hall.
"When I began this campaign, no one thought it would happen," said Caridad Vasquez, a Boyle Heights vendor who helped kick off the movement, and who was escorted up among council members before the vote to be feted by Councilman Joe Buscaino. "This is a triumph."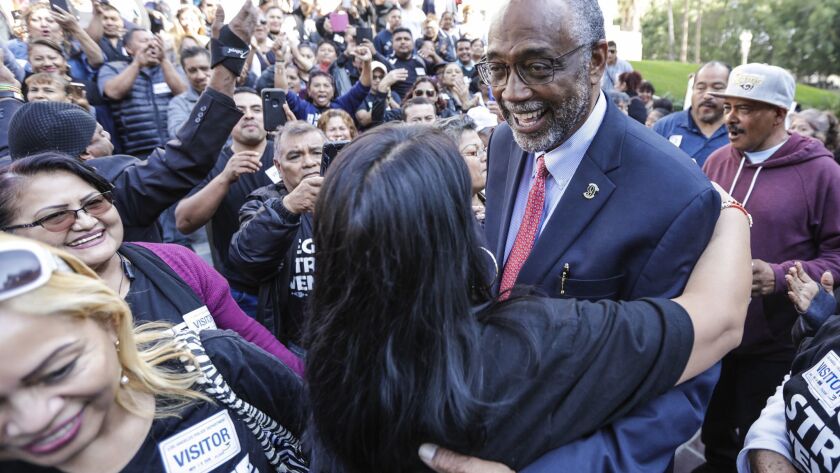 Councilman Curren Price, one of the politicians who first called to legalize vending five years ago, was greeted after the vote by a sea of cheering vendors who hugged him and chanted, "Si se pudo!"
"Sweet success after five long years of challenges, right?" Price said to the crowd, calling it a win for "the American dream."
For brick-and-mortar businesses and their advocates, the question is how strictly L.A. will enforce its new rules. "The language in the ordinance would mean nothing without enforcement," said Armando Flores, legislative affairs manager for the Valley Industry & Commerce Assn. "How are we going to pay for that? That's a question that still needs to be answered."
The Bureau of Street Services has suggested that in addition to escalating fines for scofflaws under the vending rules, the city could enforce other codes that restrict what can be left on sidewalks. City staffers have laid out a proposal to hire 22 more inspectors, plus a handful of administrative staffers to oversee the program, at a cost of nearly $3.6 million.
Twitter: @AlpertReyes
---
UPDATES:
2:10 p.m.: This article was updated with additional reaction and background.
This article was originally published at 10:25 a.m.
---
The stories shaping California
Get up to speed with our Essential California newsletter, sent six days a week.
You may occasionally receive promotional content from the Los Angeles Times.