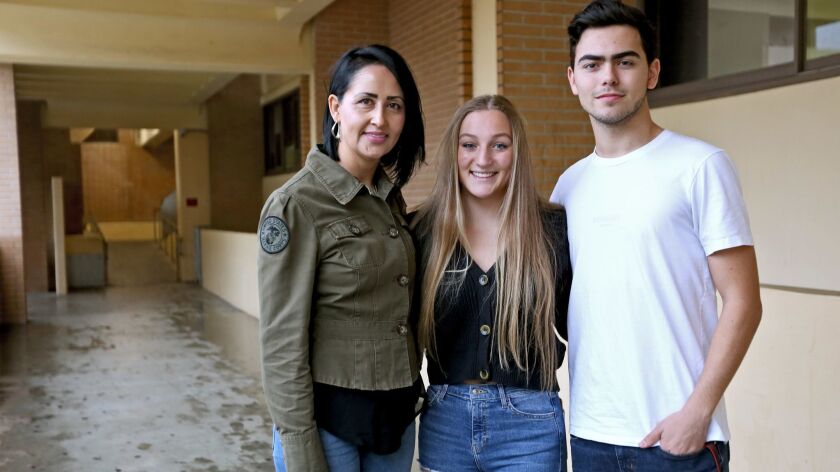 'Tis the season for sharing or at least that's the wish of Glendale High School student Jamie Fritz.
The teen with the generous heart and her school's Adopt-A-Family Club, of which she is president, are hoping city residents and beyond are in the giving mood because the senior is trying to raise $2,000 this holiday season to purchase gifts for underserved area children.
Fritz and her group created a GoFundMe page to collect monetary donations, and set a campaign deadline of Dec. 13. As of Tuesday, the 35-member club had raised $690.
Donations will be used to purchase holiday gifts for selected children from Los Angeles County's Department of Children and Families.
"We've doubled the goal this year to $2,000 to serve even a larger number of kids," Fritz said. "We truly want to give kids, all kids, a full and happy Christmas and that's been our goal the last two years."
Fritz and club vice president Michael Dadayan founded the Adopt-A-Family Club last year and aimed to collect $1,000 in their first-ever gift campaign.
The student group easily surpassed that mark, collecting $1,910 in donations, which Fritz said ended up totaling around $1,850 after fees.
Last year, Adopt-A-Family set a somewhat large cap of $200 in gifts per child, which club members said allows the club to fulfill a child's holiday wish list.
"It's not necessarily about getting better, quality gifts," Dadayan said. "We set a high limit that we don't even tell the kids about because we want to be able to get, basically, whatever they ask for."
According to Dadayan, the children's age range is roughly between 6 and 17 years old.
Unlike more well-known programs, such as the Marine's Toys for Tots, Adopt-A-Family has purchased gifts beyond traditional requests, such as make-up, art supplies, bicycles and karaoke machines. Fritz said the group may consider expanding to winter coats this season.
If the club fulfills a child's gift list with less than $200, the remaining balance will still be donated to the child and their family in the form of Target gift cards.
One lesson Fritz learned from last year was how to best work with local large corporations. After being shutout from solicitations last year, Adopt-A-Family returned to big businesses with a different approach.
The organization asked to post several fliers around area stores and restaurants, such as Starbucks and Coffee Bean & Tea Leaf, with QR codes that, when scanned, link to the club's GoFundMe page.
"With big corporations, you have to go through so many online requests to ask for donations," Fritz said. "But to ask them to hang something in their store or business is pretty easy."
Charity is an important part of Fritz's life as she is also chair of a similar Adopt-A-Family group for the all-girl aide association called the Glendale Assisteens, a branch of the national volunteer Assistance League.
"I remember as a little girl running downstairs on Christmas and opening up my gifts with my family," Fritz said. "I want other kids to experience that, too, and to have those memories."
Dadayan called the process the "perfect way to give back."
"I've done other clubs on campus and have done cancer walks and AIDS walks," Dadayan said. "I've never felt as connected to who I'm helping as I am with this."
---