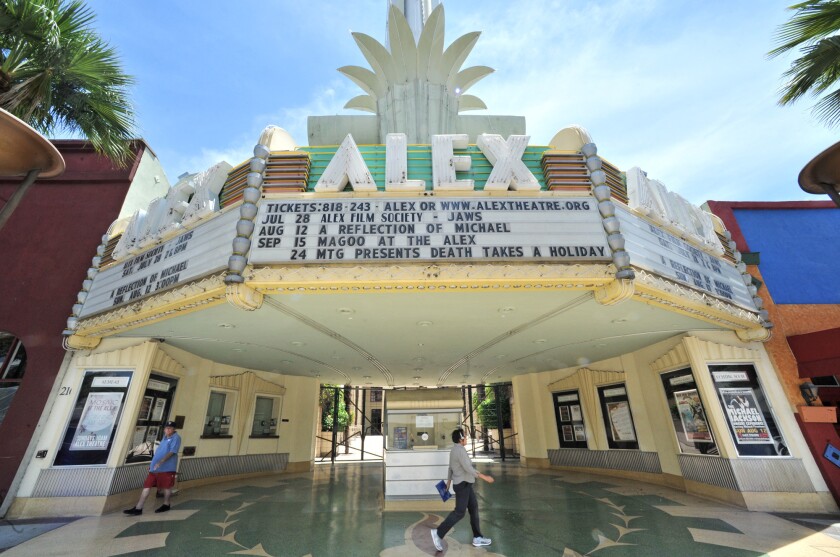 The show, for now, will not go on, with the words of Shakespeare and music of Strauss taking second seat to escalating fears of the novel coronavirus.
Yesterday, two of Glendale's prominent arts and entertainment venues — the Alex Theatre and Antaeus Theatre — canceled cultural performances for at least the month of March.
All Glendale city-sponsored events have been canceled through the month, as of yesterday. Private events at city facilities with more than 50 people have also been canceled.
Just hours before the local announcements, Gov. Gavin Newsom recommended the cancellations of large gatherings of more than 250 people and encouraged social distancing.
Glendale has no current confirmed cases of the virus, also known as COVID-19. Pasadena reported its first case yesterday. Los Angeles County has 32 confirmed cases, and there are a total of nearly 200 confirmed cases across California.
More than a dozen events in Glendale will be nixed or postponed, as efforts have turned to containment.
A Los Angeles Chamber Orchestra concert scheduled for the end of the month at the Alex will not go on. Antaeus' current production of Shakespeare's "Measure for Measure," that had been slated to run from Feb. 13 through April 6, is being halted for the time being. An annual Cherry Blossom festival at Brand Park planned for this Sunday has met a similar fate.
"After discussing the safety of our artists and audiences, we have made the incredibly hard decision to cancel all remaining performances…and to suspend all activities in our building until the end of March," Antaeus executive director Ana Rose O'Halloran said in a statement. Antaeus' Glendale theater seats 99.
Elissa Glickman, chief executive of Glendale Arts, the nonprofit that runs the historic Alex venue, said she's never witnessed anything comparable in her 16 years with the organization.
"I've seen my entire industry almost decimated overnight," Glickman said hours before the theater made a public announcement that it would be suspending operations through April 5.
Within the past week, arts and culture Goliaths like SXSW and Coachella have been canceled and postponed, respectively. News of resulting layoffs and revenue loss followed in the wake.
While it's not a local-only problem, the effects are being felt locally.
Glendale Arts is projected to lose roughly $250,000 if the closures last through May, Glickman said.
Much of the theater's business is made from renting out the space. Besides the nixed Chamber Orchestra performance, the venue lost a Disney corporate meeting that was scheduled for this week, a project planned by a performing arts school planned for the end of the month, and a pair of performances by the Gay Men's Chorus of Los Angeles slated for early April.
The venue is still available for film and TV shoots and small events that don't conflict with safety guidelines, Glickman said.
"We're hopeful all of this frenzy is in an effort to contain the problem," Glickman said. "My hope is that it will pay off, and we'll start rebuilding consumer confidence."
"My fear is now we're creating a culture that does not necessarily need to interact with the world," she added.
Judee Kendall, president of the Glendale Chamber of Commerce, agreed that she would like to see business-as-usual resume as soon as possible.
While headlines have been centered on the financial effects on large industry players, she said it's the small businesses, including many restaurants and service-oriented shops, that may not be able to weather the disruption.
"Even a day of shutdown is a problem for them," Kendall said. "They live month-to-month — probably week-to-week. It could be disastrous for them."
The Chamber — which has also closed its offices — has been fielding inquiries from concerned business owners and is working to gather information for them, Kendall said.
Glickman said it will be up to the community and elected officials to "rally for the arts."
Practically, that could mean stimulus money from the government and patrons donating to the arts or foregoing refunds, she said.
State Assemblywoman Laura Friedman (D-Glendale) said she is concerned about the impacts on the bottom line for businesses and nonprofits, as well as people's ability to pay their rent and mortgages because they're sick or money isn't coming in.
"The first order is focusing on public health. Next we need to look at the impacts on the economy and individuals," Friedman said in a statement.
"We are in uncharted waters," Friedman said.
---