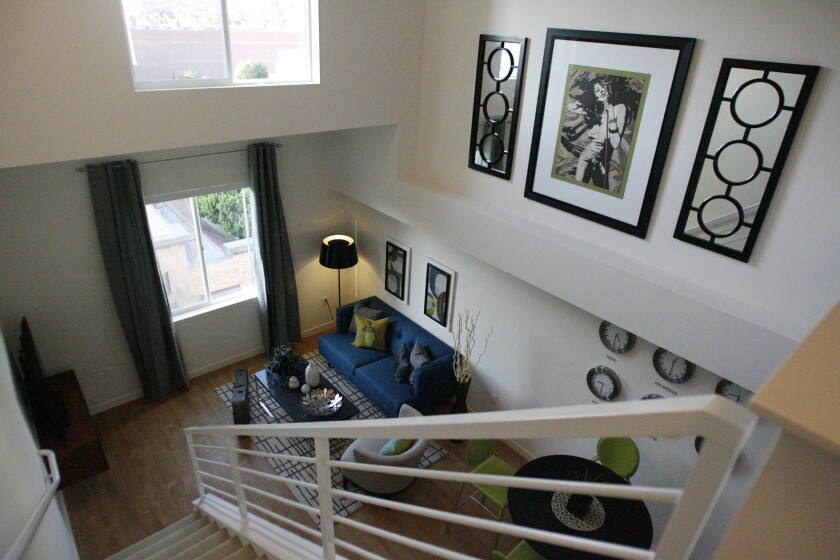 Glendale has banned all residential rent increases as long as the city remains in a state of emergency, adding another protection for tenants struggling financially due to the novel coronavirus but stopping short of rent forgiveness called for by some residents.
Effective Tuesday evening, following a unanimous vote by City Council members, landlords of residential properties are prohibited from implementing rent increases through at least April 30.
Rent hikes that went into effect before the moratorium was adopted will still be valid, as per a recommendation by City Atty. Mike Garcia.
Increases noticed by landlords prior to the order, but that have not gone into effect, are prohibited from going forward, according to city spokeswoman Eliza Papazian.
Last week, the city halted evictions of residential and commercial tenants who can show they are unable to pay rent because of economic hardship related to the coronavirus that causes COVID-19 during the emergency period. Tenants will still have to pay any rent they missed but will have a six-month period to do so.
This past Friday, Gov. Gavin Newsom halted evictions of renters affected by the virus statewide.
Glendale's emergency period was previously extended until March 31. That date was extended to the end of April on Tuesday during a council meeting, which was held as a teleconference.
"People are very scared, [council members] are at least aware of that. That's a good first step," said Karen Kwak, a renter and member of the Glendale Tenants Union.
"It's still not going to be enough, and I hope that they consider further action," Kwak said.
Kwak surmised that thousands of local residents might not be able to pay rent come April 1 or the following month, depending on how the crisis develops and individual circumstances.
There is understanding from the California Apartment Assn., a large trade group representing the rental housing industry, that there is a need for protections applied specifically to those who suffered economic setbacks related to the virus, according to Fred Sutton, who handles the group's public affairs for L.A. County.
"We're all impacted in some way by the virus, but we're not all impacted financially the same way," Sutton said.
He said the group supported renters providing proof of economic hardship, something the city requires for tenants to receive the emergency eviction protection. The rent increase moratorium applies to all residential units in the city, according to Papazian.
Council members adopted the moratorium after a stream of residents called in asking city officials to consider rent forgiveness, or what many called a rent freeze, while residents grapple with new unemployment or increased medical bills in the wake of the pandemic.
Some called for a freeze of mortgages and utility bills as well.
Glendale has 29 confirmed cases of the coronavirus, according to county health officials. The virus has claimed one local resident's life. Countless others are dealing with jobs lost due to nonessential business closures mandated by the city and county last week.
Haley Hopkins, a 23-year-old Glendale resident, told the council that she lost her job as a self-described blue-collar worker in the arts industry as a result of the pandemic.
According to Hopkins, the renter protections offered by the city are not sufficient to meet the crisis at hand, echoing several others who called into the virtual meeting to advocate for rent forgiveness.
"I'm truly wondering how any one of you think I'm supposed to pay my rent without being able to earn an income," Hopkins said during the public comment portion of the meeting.
She surmised that many residents will have trouble paying back missed rent and that landlords might be able to find loopholes in the rules.
Kwak is continuing to work from home as a freelance editor and proofreader but said she lost a part-time contract job with a law firm that was essential for making ends meet.
While she has savings to last through April, she worries about what will happen in May if she can't find a way to supplement her income.
Exempting struggling residents from rent is not as simple as declaring it so, according to several Glendale officials.
Implementing a rent freeze could violate state law and the Constitution, issues that would need to be addressed before a proposal could be considered, according to Garcia.
It might take federal action — such as a one-year mortgage forgiveness or stimulus funding — to make such a measure feasible, Mayor Ara Najarian said during the meeting.
On Wednesday, Newsom announced that several major banks and institutions had agreed to a 90-day grace period for mortgage payments.
Families should not lose their homes because of COVID-19. Very pleased that Wells Fargo, Citi, JPMorgan, and US Bank have agreed to a 90 day grace period for mortgage payments for those impacted by #COVID19.

A big sigh of relief for millions of CA families.

— Gavin Newsom (@GavinNewsom) March 25, 2020
Councilwoman Paula Devine said she was worried about the domino effect that rent forgiveness could have, pointing out that landlords might consequently be unable to pay their mortgages, which could then have a negative impact on lenders.
"We need to be fair to both the renters and the landlords," Devine said.
Sutton called the proposal "reckless and naive," adding that workers connected to the property business — like management companies, plumbers and gardeners — would suffer serious losses as well.
Glendale Tenants Union members are aware that there's no simple solution to the problem but that tenants are feeling desperate, Kwak said.
She's heard "buzz" about attempting a rent strike, something the tenant's union hasn't advocated.
"This is the mood of a lot of tenants across the city," Kwak said.
---