City Council approves funds for CicLAvia event in Glendale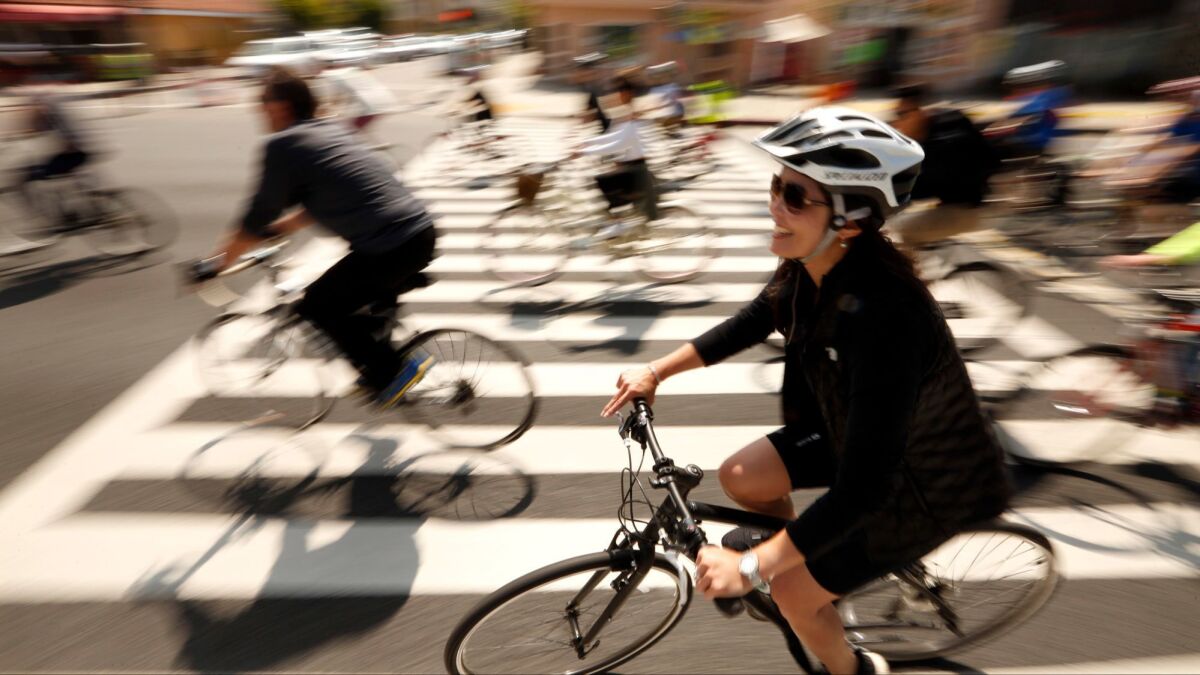 On Tuesday, the Glendale City Council approved funding the city's first-ever CicLAvia — a large-scale, open-street event that replaces motor vehicles on about 3 miles of streets with human-powered transport such as biking, skating and walking.
City Council members gave their unanimous approval to appropriate $301,420 toward the open-street event, with $179,520 contributed by a grant from the Los Angeles County Metropolitan Transit Authority, known as Metro. The city's Economic Development Department will cover an additional $45,000, leaving $76,900 as the only newly allocated funds from the city.
"I'm very happy that staff has [worked on CicLAvia] and that council has expressed an interest in this for several years," Councilman Ara Najarian said. "I'm happy to support it."
The proposed event, called Glendale Meets Atwater, will be planned and managed by the nonprofit group CicLAvia, which has previously staged more than 20 open-street events in L.A. County during the last four years.
Join the conversation on Facebook »
The CicLAvia route will connect Glendale's Brand Boulevard at Doran Street to Atwater Village on Glendale Boulevard to the south. Although the various streets will be closed to motor vehicles, all major intersections will be open for traffic and controlled by the Glendale Police Department.
The car-free route is meant to encourage the use of more sustainable means of transportation, promote public health and allow residents to explore neighborhoods at a different pace, according to Jacqueline Bartlow, economic development coordinator with the city.
Bartlow said that officials with the Brand Boulevard of Cars, Glendale Galleria, Americana at Brand and the Downtown Glendale Assn. each expressed some concerns about the potential loss of customers because of street closures.
Glendale city staff and CicLAvia officials met with those stakeholders to choose routes with the "least-impactful option" that still retain the program's civic-engagement goals, Bartlow said.
A UCLA study found that a June 2013 CicLAvia event along Wilshire Boulevard boosted local business sales by 10% on the day of the event when compared to a non-CicLAvia Sunday earlier that month.
Glendale will join neighboring Burbank and other cities in inaugural open-street events, according to a $4-million Metro grant program designed to help stage 17 car-free experiences in L.A. County.
According to Burbank spokesman Drew Sugars, Metro has offered a grant for Burbank to hold an open-street event in March 2018, but the proposal has yet to be considered by the City Council.
"To me, it's more than just an event that opens up streets to people and families," said Romel Pascual, executive director of CicLAvia. "It's really an opportunity for us, not only as a city but as a region, to come together as a community."
The CicLAvia event in Glendale is scheduled from 9 a.m. to 4 p.m on June 11. There is no start or end point along the route; participants will be allowed to enter the designated streets anywhere they please.
Twitter: @JeffLanda
---