Twin brothers identified in possible Glendale murder-suicide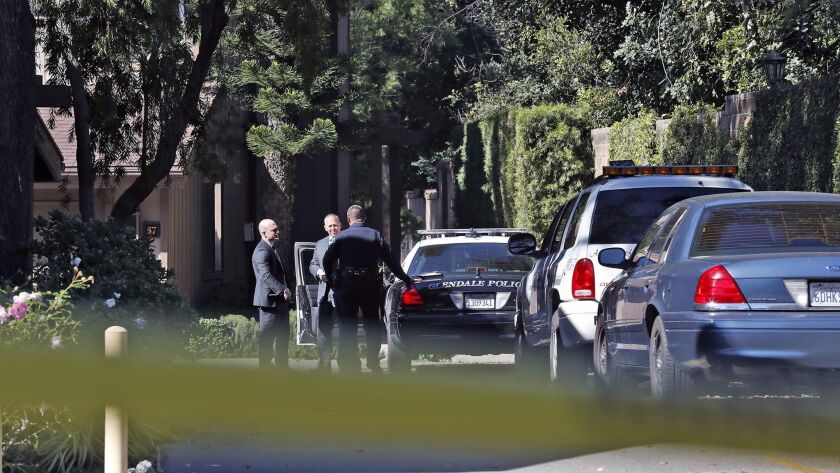 Authorities have identified twin brothers who were found dead in Glendale on Wednesday in what police believe was a murder-suicide.
The deaths of Carl Ora and David Cirilo Cervantes, both 60, were reported within 40 minutes of each other, according to the Los Angeles County medical examiner's office.
David Cervantes was the first to be found after officers with the Glendale Police Department responded to a call about an injured person at a condominium in the 50 block of Northwoods Lane around 3:30 a.m. He was found dead inside.
An official cause of death has not been determined pending an autopsy, authorities said.
Officers soon received word around 4:20 of a possible suicide on the 134 Freeway.
Sgt. Dan Suttles, a police spokesman, previously said a man had appeared to jump from the 2 Freeway interchange onto the eastbound 134. While Suttles said investigators think the deaths were the result of a murder-suicide, he said it's possible the incidents were a double suicide.
"We have no motive yet because there are only two witnesses, and they're both deceased," he said.
Witnesses told officers the brothers lived together in the condo according to Suttles.
Property records list their father, 88-year-old Carl Cervantes, as the condominium's owner. It also shows a 64-year-old Nikki Cervantes living in the Northwoods Lane home as well.
Attempts to reach Carl or Nikki Cervantes were unsuccessful.
Twitter: @Andy_Truc
---