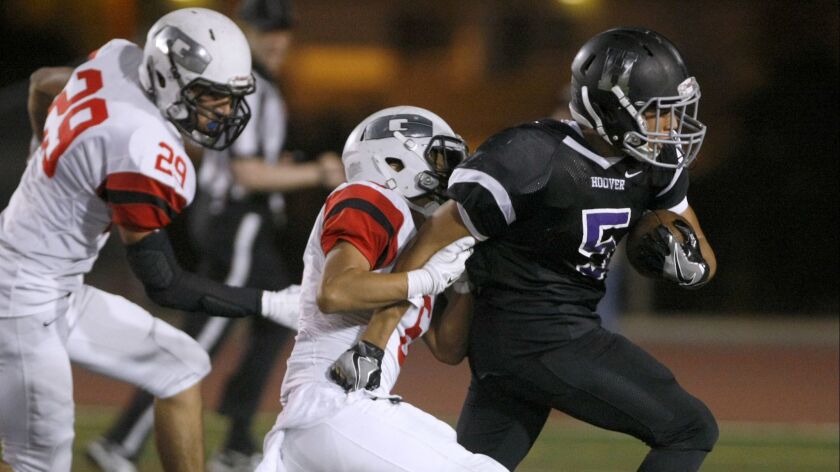 A high school football rivalry game born in the days of the Great Depression, inaugurated during the presidency of Herbert Hoover, played during World War II and Vietnam, did not survive the aftermath of a Hoover High campus brawl that occurred Oct. 3.
The Glendale Unified School District canceled Thursday evening's scheduled cross-city rivalry game, dubbed the "Battle for the Victory Bell," between Glendale and Hoover high schools a little past 4:30 p.m. out of concern for safety, according to a district statement.
"We have heard increased rumors of possible disruptions at the homecoming game that put student, employee, and spectator safety at risk," according to the statement. "The GUSD is legally and ethically obligated to prevent foreseeable risks to its students, and we believe this obligation extends to everyone in attendance at tonight's game."
The statement was issued jointly by Hoover High principal Jennifer Earl, Glendale High principal Benjamin Wolf and district Supt. Winfred B. Roberson.
It added, "We understand that sentiments around this game run deep and, while it was our wish that our students were able to finish the season on the field, we will not run the risk of hosting an event with threats of disruption that potentially puts all involved at risk."
The announcement came as fans were lining up to enter Glendale High's Moyse Field for the season finale.
The stadium had banners for both squads, while balloons and various other homecoming decorations had already been put in place the night before for a game that almost always goes over the stadium's 6,600-spectator capacity.
In addition to the statement, the district sent out robocalls alerting parents and fans of the predicament.
Glendale High School's Associated Student Body Twitter account offered condolences and said that the homecoming king and queen will be announced at a school dance Nov. 3.
homecoming game was canceled kiddos 😔 king and queen will be announced at the dance on nov 3 on behalf of us we're sorry for the inconvenience.

— Glendale Nitros (@glendalenitros) October 25, 2018
Some Glendale High players were left in disbelief, including seniors who will never get another chance to play in the city's showdown.
"We were all looking forward to it, but it's just been canceled," Glendale High senior wide receiver/defensive back Alex Apcar said. "I don't know. It definitely, completely killed all our energy, killed our vibe, you know."
Thursday's cancellation is the first in a city rivalry series that dates back to 1930.
The cancellation is the fourth and final in a messy 2018 campaign for Hoover High, which forfeited all contests after a campus brawl on Oct. 3.
The fight involved members of the football team and allegedly began after an Armenian student bullied a special needs student. Members of the football team defended the special needs student, which led to a melee.
District officials have repeatedly said that version of the story is "only conjecture." While many parents have pointed to racial differences as the main reason for the fight, the district has stressed that's not the case.
It released a two-page info sheet at a Hoover PTA meeting, instead claiming the brawl was started because of "a lack of communication."
The cancellation ends a bizarre week for Hoover, which had its football practice disturbed by hecklers on Monday.
Members of the football team also contended that the previous forfeit on Oct. 19 versus Crescenta Valley High was not a cancellation, as the district contends, but a boycott over the squad's perceived mistreatment by the district.
In the immediate aftermath of the brawl, members of Hoover's football coaching staff were placed on administrative leave pending an investigation. That action offended many on the team who said they did not understand why any staffers were suspended because the incident happened during school hours, while coaches were not on campus.
Roberson said Tuesday, "My office has no knowledge of an alleged boycott. GUSD and the CIF expect 'honorable and good will' competition/play from coaches and student athletes."
The district release Thursday afternoon included similar phrasing.
"In addition, all who have the honor of representing their school colors on fields or courts are expected to uphold the GUSD and CIF commitment of pursuing victory with honor," according to the statement. "There is evidence that this high standard will not be upheld. Out of an abundance of caution, we [will]… cancel tonight's homecoming game."
Reporters Vincent Nguyen and Charles Rich contributed to this story.
---