In an era of soaring graduation costs, perhaps the area's best-kept secret is as quiet as a tomb.
For years, Providence High School, Glendale Adventist Academy and other small organizations have benefited from the generosity of Forest Lawn – Hollywood Hills.
The cemetery, located just outside Burbank at 6300 Forest Lawn Drive, Los Angeles, has offered its 1,264-seat auditorium — known as the Hall of Liberty — at no cost to local nonprofits for various events.
"We've had several groups use the facility for concerts and practices and graduations," said Yazmin Salas, a senior client representative and events coordinator at Forest Lawn. "For the most part, we've worked very well with our community partners, and we try to be as flexible as possible."
The Burbank Community Theatre, Burbank Community Band and Glendale Youth Orchestra have utilized the venue, with the Burbank Community Band hosting its "Shining Stars" concert there this past March 2.
"Forest Lawn's founder, Dr. Hubert Eaton, was a big benefactor of the arts and education, dating back to the early 1900s," Salas said. "His mission to support the community continues."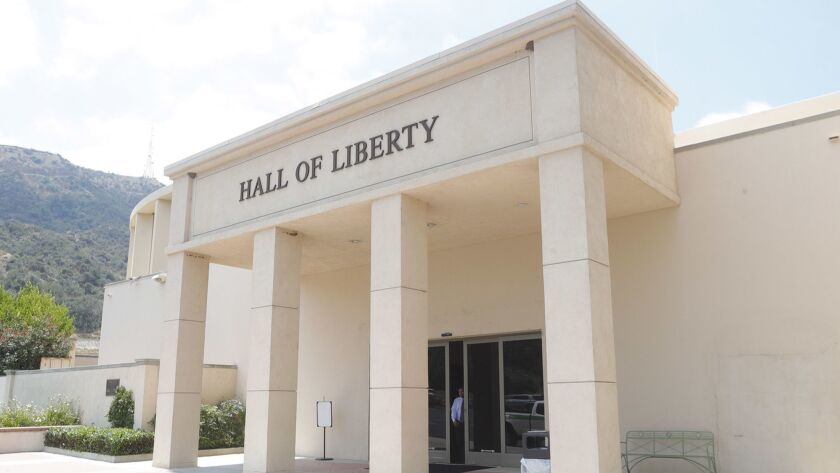 Salas said between five and 10 schools annually book the hall for graduations.
Count Providence and Glendale Adventist as beneficiaries of the auditorium.
"You can't beat the price tag — it's free," said Ernest Siy, Providence High's dean of students. "When you're at a private school and always fundraising, this is something that definitely helps."
Providence held its 61st annual commencement ceremonies on June 1 for 99 students, with nearly 1,000 spectators in attendance.
Though it may seem odd to host a lively celebration at a place usually known for final farewells, there was nothing eerie about the experience, said Joe Sciuto, former eight-year head of school at Providence.
"The staff at Forest Lawn has been first class, and this has been a great event here," said Sciuto, now the new head of school at Mayfield Junior School. "It's a wonderful, big and beautiful location. You don't even realize you're right next to a cemetery."
Providence held its first graduation at the Starlight Bowl in 1959 and has considered moving back, only to realize the Hall of Liberty is difficult to top financially.
"We've gotten quotes before from the Starlight Bowl and Hollywood Bowl, and it gets into the tens of thousands of dollars," said Siy, who added that he sympathized with Burbank High School parents who raised $36,000 in just over two months for an on-campus graduation this past May, estimated to cost from $68,000 to $70,000.
"I remember the story that parents were raising money, and they just made it," Siy said. "It's a lot to ask."
Like Providence, no one at Glendale Adventist was sure how many consecutive graduations the institution held at the Hall of Liberty.
The school's registrar is confident it's "over 25 years," said Israel Olaore, Glendale Adventist's principal.
"It was a wonderful graduation ceremony, and the hall is very commodious and big enough for our crowd," Olaore said of his school's June 9 graduation of 22 seniors. "It was wonderful and efficient."
Olaore said he was not only grateful to Forest Lawn for the graduation, but for its help in the event's lead-up.
"Forest Lawn let us have the hall a few days before graduation for 90 minutes for a rehearsal and then for the day of the graduation," Olaore said. "If we had to pay, I have no idea how much that would cost."
Forest Lawn officials would not disclose the facility's internal costs to host graduations or if the events qualify as tax write-offs.
Salas did say the Hall of Liberty will undergo renovations next year, which will likely move next year's graduations to Glendale Forest Lawn's Hall of Crucifixion-Resurrection, located at 1712 S. Glendale Ave., Glendale.
That venue has a capacity to seat 868 people.
"I know it's a little smaller, but it should still fit the needs of most community members," Salas said. "The important thing is the community still has a place to go."
---