Renegade Animation celebrates 25 years, plans original content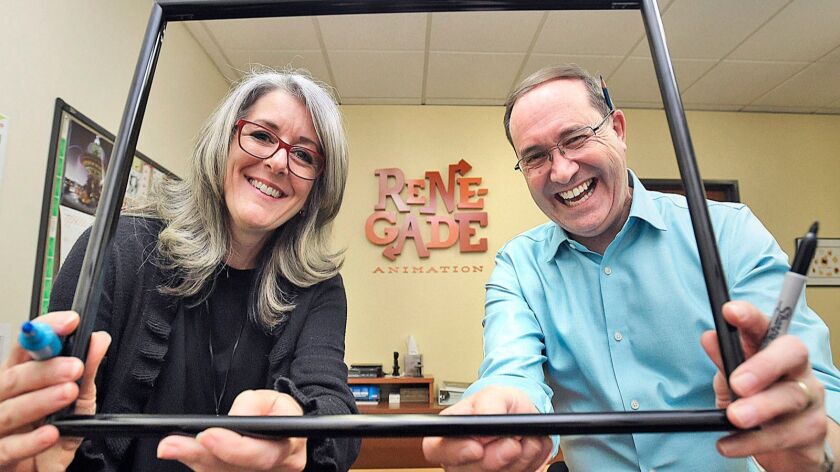 Originally based in a Burbank garage converted into an art studio, Renegade Animation, now based in Glendale, celebrates its 25th anniversary this month, a feat its founders said is due to "tenacity."
In 1992, cartoon animator Darell Van Citters and producer Ashley Postlewaite drafted a six-month business plan overnight to open an independent animation studio that recruited local talent.

For the record:
8:45 PM, Jan. 16, 2018This article previously misspelled Ashley Postlewaite's last name. It is Postlewaite, not Postelwaite.
Both Van Citters and Postlewaite, who together previously worked at Warner Bros., said they got tired of the corporate world and wanted the flexibility of owning their own company doing contract work for major studios and networks.
Renegade relied mostly on a large pool of local freelance animators and took almost three years to hire its first permanent employee. The studio has now expanded by as many as 65 employees and moved three times before arriving to its current Glendale location on Broadway.
"Our initial goal was to just do TV commercials and retire doing that," Van Citters said. "After 10 years, we went from 100% commercials to mostly episodic television."
The studio's biggest transition was around 2003 when, according to Van Citters, the commercial animation work all but died and its employees began to work on a small cartoon series.
Although the studio initially resisted working on a series because it usually meant some work was done overseas, Renegade has since produced a number of shows for Cartoon Network and done contract work for Warner Bros. Animation, PBS and Disney.
Also, Van Citters and Postlewaite have earned several Emmy Award nominations.
Teams of writers, designers, editors and storyboard artists now populate the once-small studio, working quietly on computers. Renegade performs preproduction work and polishes completed animation sent back from another studio in Canada.
Renegade is today experiencing what Postlewaite called a "positive time" for the animation industry.
With the recent growth of streaming networks such as Amazon, Hulu and Netflix, the studio is currently developing original content while still pursuing contract work.
"All of these outlets want new content, and we are the company that makes it," Postlewaite said. "It's unusual for a customer base to ostensibly double after being in business for 25 years."
Twitter: @JeffLanda
---