State Sen. Portantino on shelving SB 50: 'Don't punish cities by taking their land-use control'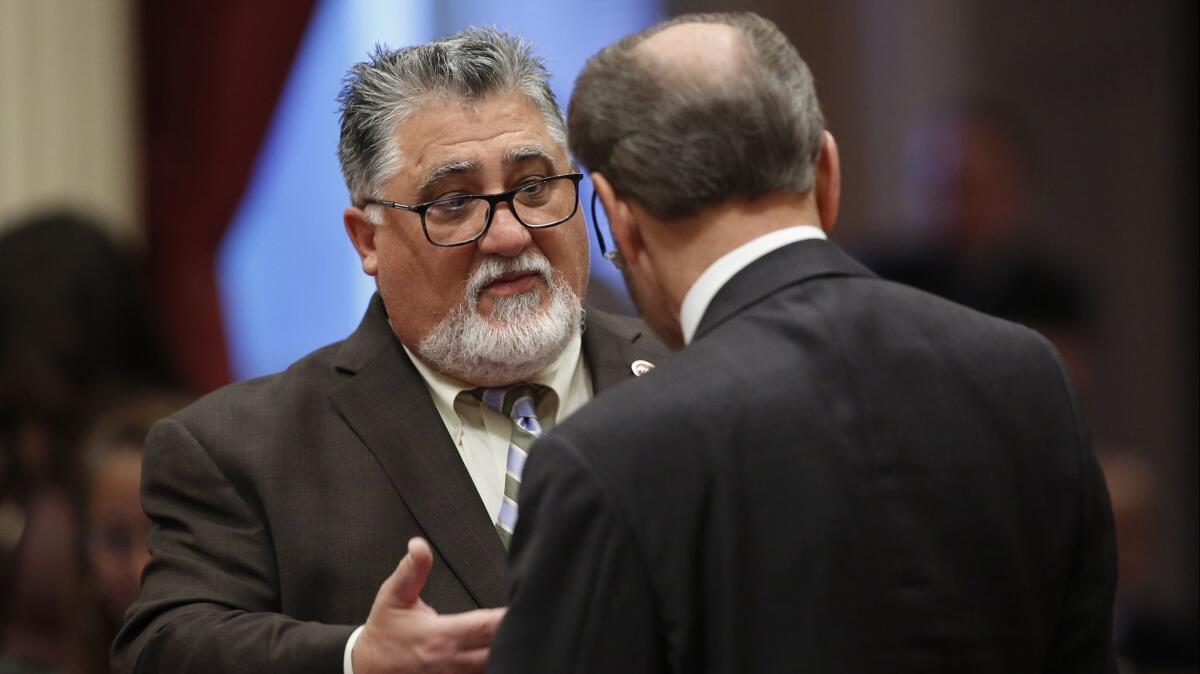 State Sen. Anthony Portantino (D-La Cañada Flintridge) said he shelved Senate Bill 50, which would have increased housing around mass transit areas and in single-family home neighborhoods across California, in part, because it's punitive to cities that are already working to increase housing production.
He singled out Glendale and Pasadena as examples.
"We should be rewarding the cities that are doing good work [with affordable housing], not saying to those cities, 'We're going to take all your land-use authority,'" Portantino said about a week after it came to light that he decided to kill the bill for the year, thereby catapulting him into the center of a debate over how to best solve the state's housing crisis.
While the bill's author, Sen. Scott Wiener (D-San Francisco), agreed some cities are producing more housing than others, he said they are the exception, not the rule.
"It's not about who's a good actor and who's a bad actor, it's about how do we create 3.5 million homes and where's the most sustainable place to put them," said Wiener, citing the state's reported housing deficit.
According to Wiener, the bill wouldn't eviscerate local land-use authority but reshift the balance between the state and cities.
Under the proposed legislation, cities would need to allow at least four homes on plots designated for single-family homes, but it would still keep in place local height, setback and design standards in those areas.
Around mass-transit hubs, cities would be required to allow four-to five-story apartment complexes.
Glendale Mayor Ara Najarian, who applauded Portantino's decision, said he's committed to maintaining the city's single-family home zoning as well as working to produce affordable housing.
Earlier this month, Glendale adopted an inclusionary zoning ordinance, requiring developers of new rental projects with more than seven units to earmark 15% of those apartments for low-income tenants or pay a fee.
"We are going to great extents to do our planning to make sure that the housing that we do permit is built in the appropriate areas, and we do take into account public transit," said Najarian, who is a Los Angeles Metro board member and vice chairman of Metrolink.
"The presumption behind SB 50 is that cities are not doing their proper urban planning and they're not doing enough to create housing. At least for the city of Glendale, nothing could be further from the truth," Najarian added.
Glendale needs to create 2,017 more housing units than it had in 2014 by 2021, including 508 units of very-low-income housing, under a Regional Housing Needs Assessment, or RHNA, by the Southern California Assn. of Governments, or SCAG, in 2011.
A RHNA progress report showed Glendale had issued 3,291 total housing-construction permits by 2017 since the goals were set in 2014. More than 3,100 of those permits were for above-moderate-income level permits, accounting for 360% of the city's above-moderate-income unit goal for 2021.
According to the report, the city still needs to build 969 more units across all other income levels in order to meet its goals. Glendale has completed 17% of its very-low-income unit goal, with a total of 88 units built since 2014, the report showed. It has met .3% of its moderate-income unit goal, with only one unit reportedly added since 2014.
This year, the city is holding a housing lottery for 30 very-low-income units and one low-income unit.
So far, city officials have received 18,000 applications, according to Pamela Jackson, an administrative analyst with the city.
According to Portantino, the answer to spurring housing production is offering cities financial incentives.
Currently, he is co-spearheading a bill to bring back a dedicated state funding source for affordable housing, akin to California's now-shuttered redevelopment agencies.
Senate Bill 5 cleared the state Senate's appropriations committee last week and will now head to the Senate floor for a full vote.
Another bill that would allow Glendale officials to repurpose $27 million in bonds originally intended for redevelopment projects to build affordable housing cleared the Senate this week. Senate Bill 532 is sponsored by the city of Glendale and authored by Portantino.
While Wiener supports SB 5, he said, "It's is absolutely inaccurate to claim that redevelopment will solve California's housing crisis."
SB 50 is expected to come back before the state legislature in January, barring unforeseen circumstances, Wiener said.