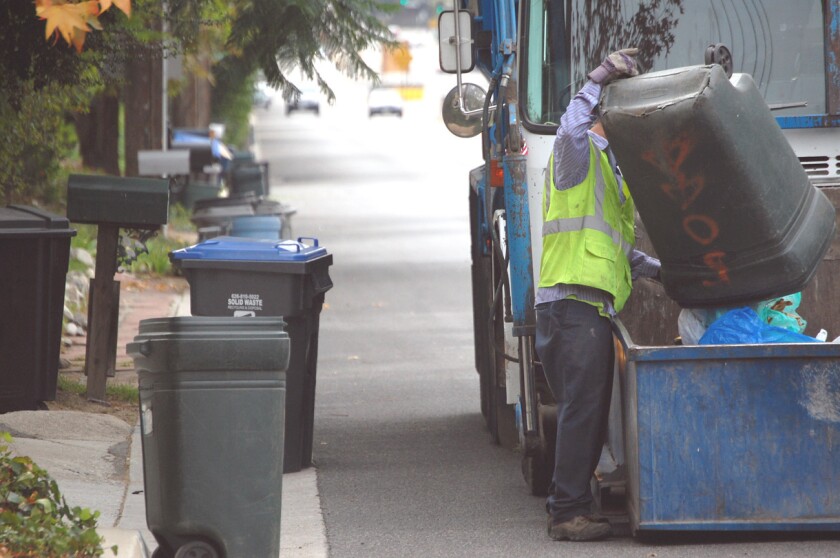 I am responding to a recent letter to the editor ("Hauler plan should be trashed") because it lacks details and may be misleading. Here are some points to consider:
1. The franchise pertains to "solid waste handling services," including trash, recyclables and yard trimming collection.
2. Californians produce an increasing amount of trash each year, throwing away 6 pounds of trash daily, or almost 2,200 pounds annually, according to a study released in November 2018 by the Calpirg Education Fund. The state's goal for 2020 is 2.7 pounds per person per day.
3. According to calrecycle.ca.gov, the commercial sector (including multifamily buildings of 5-plus units) generates about 75% of California's solid waste, much of which is recyclable or compostable, hence commercial recycling mandates (AB 341 and AB 1826). SB 1383 requires a 75% reduction in statewide disposal of organic waste by 2025. This is because when put in a landfill, organic materials generate methane, a greenhouse gas that contributes to climate change.
4. In reality, nothing is "free." All collection programs require bins, trucks, staff and processing facilities. China's National Sword Initiative slashed revenue earned from recyclable materials and the amount of U.S. recyclables China will import.
5. Materials that cannot be recycled or reused must be disposed. All county municipal solid waste landfills may be at capacity by 2030.
6. A franchise system is the most efficient mechanism for ensuring that the entire commercial sector manages rather than disposes recyclables and organic materials, that haulers submit detailed tonnage reports required by the state and that edible food is rescued for those in need.
7. Recycling is essential but insufficient. We must shift our focus "upstream" to prevention, by purchasing durable products with minimal packaging that can ultimately be reused or recycled.
As to "sustainability," it is a real thing. Per the U.S. Environmental Protection Agency: "… as the ability to maintain or improve standards of living without damaging or depleting natural resources for present and future generations." That's surely something we should all aspire to.
Jennifer Pinkerton
Glendale
***
As a former trustee of Glendale Community College who loves and treasures it, I strongly and enthusiastically cast my vote for Desiree Portillo Rabinov to serve on the GCC Board of Trustees in District 1. I have known Desiree for almost 25 years and know the dedication and discipline she applies to her professional and community service.
When I hear Desiree talk about her journey from community college to university and her degree in business, I hear gratitude for an educational system that allowed her to get a degree without a large financial burden. She went on to a career with the L.A. County Metropolitan Transportation Authority. Desiree is an experienced planner, project manager and community development professional with nearly 30 years' experience.
A vibrant community is important to Desiree. In Glendale, she has worked toward developing Bike Lanes, a Safe Routes to School Plan, Complete Street Plans for Foothill Boulevard and adjacent streets and worked on trail links to Two Strike Park. Desiree has lived in our community for 30 years, raising a beautiful family with husband Paul and has been involved in many organizations.
As a member of the CV Town Council, she serves as treasurer and, over the last few years, she has been responsible for financial management and audits to assure compliance with county and state funding requirements. Her credentials as an ethical and dedicated public servant have been well-documented. I know that Desiree's passion, energy, her public and private sector experience will be extremely valuable on the GCC Board of Trustees. As trustee, she will contribute greatly to the fulfillment of our college's mission and to the evolving needs of our community.
Anita Quinonez Gabrielian
Trustee, 2002–17
Glendale Community College
****
I was driving down Central Avenue today and passed the Sears store that is closing, banners announcing everything must go including the fixtures. It made me sad.
The only thing I could think about was how many times I had gone into that store to buy a washer, dryer, vacuum cleaner or a tool, and then all I could think of was how many apartments could be built on that property. It made me even sadder.
I could almost feel the drool as developers started to lust after that property. How many units? 500? 600? The traffic. The parking. The water usage. The electricity required. The sewage disposal. It never ends.
It sure looks like a great place for a park, but we all know that won't happen.
Jim Kussman
Glendale
***
Why doesn't the developer just leave the affordable Burger King in place on the ground floor of any new, upscale Indigo hotel — one that low- to moderate-income residents and visitors alike can continue to enjoy?
After all, the nearby McDonald's at 500 N. Central Ave. was constructed by the Howard-Platz Group of Glendale, circa 1991 and it has nine stories of offices over it. The idea back then was to show that a McDonald's restaurant could fit in with an upscale office environment. Well, it obviously has! Why couldn't a fast-food business do the same in an upscale hotel environment?
With at least four new hotels already under development, this would seem to be a good time for the Glendale City Council to "revisit a 2015 study and reassess demand," as Glendale Mayor Ara Najarian has suggested.
Harvey Pearson
Los Feliz
---