Majority of Anaheim council doesn't support 'hero' pay for grocery workers
A majority of Anaheim's City Council members are not in favor of approving hero pay for local grocery and pharmacy workers who many argue have put themselves in harm's way during the pandemic to provide essential services to the community.
The council discussed the issue on Tuesday night at the request of Councilman Jose Moreno. Members did not vote on the matter, though the item will be brought back before the council at the next meeting.
Orange County cities that have approved hazard pay for grocery workers include Irvine, Santa Ana, Buena Park and Costa Mesa. Those cities mandated hero pay for a temporary period starting in February and March.
"We are still in the midst of the pandemic, we are still in the midst of folks struggling to work with customers on the front line who may not believe in vaccines or masking," Moreno said. "We do know that for 14 months there has been one industry that has been open, that has been a savior to many of us. We've all highlighted the incredible heroic efforts beyond our healthcare workers is those in our grocery stores. Because essentially the most important aspect of our society is making sure that we can have access to goods that we depend on.
"Many of them have had to defer their rent, credit card bills, car payments, forbearance on mortgages. And while there may be some federal and state support, that tends to focus on those who are unemployed. So I really believe that it's an economic hazard that our employees and our community members and our neighbors are facing. They are still likely the few who are working in their household in an already-stressed rental environment."
Several cities — including Oakland, Seattle, Santa Monica, San Jose, Montebello and Long Beach — have adopted hazard pay for grocery and pharmacy store workers, though the ordinances have not been without controversy. The California Grocers Assn. has sued many of these cities, including Irvine and Santa Ana.
Supporters of hero pay argue that grocery store workers deserve a wage hike due to the hazardous conditions they've endured over the last year. They also suggest the grocery industry should share some of its profits made during the pandemic with employees.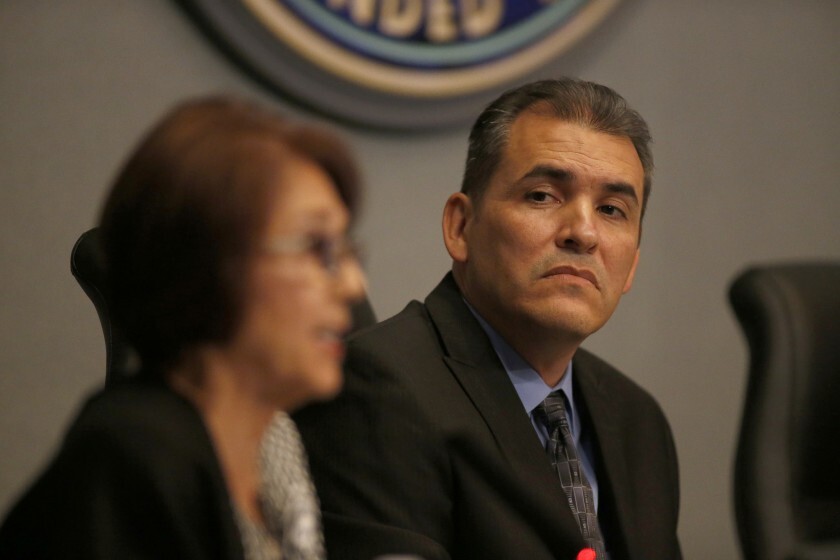 Those in opposition to hero pay contend that the government shouldn't be determining raises, and cities may face costly lawsuits.
Councilman Avelino Valencia generally agreed with Moreno but said he would like any hero pay ordinance to be a $3 hourly bump in pay for 60 days. Moreno and Councilman Jordan Brandman were open to Valencia's proposal.
As the discussion progressed, Mayor Harry Sidhu and council members Trevor O'Neil, Jose Diaz and Stephen Faessel expressed opposition to hero pay.
Diaz said he doesn't support it because "the market" should determine how much an employee gets paid, not the government. Sidhu said it's unnecessary to adopt hazard pay because the state is set to fully reopen next month. He also said raising grocery worker pay could lead to a rise in grocery prices.
O'Neil said he didn't support hero pay because many industries have suffered during the pandemic, and the city shouldn't single out a single profession.
"We have thousands and thousands of Anaheim workers that have lost their jobs during the pandemic, and here we are talking about higher wages for a small group of workers who were fortunate enough to keep their jobs," O'Neil said. "I certainly understand the value of these workers and I appreciate their service of the community in doing their jobs. But every one of us has, in some way, been impacted by the pandemic.
"There are many different types of essential workers, yet here we are talking about one narrow class of workers. All of these workers should be thanked for the work that they've continued to do during the pandemic."
A few Anaheim grocery workers showed up to the meeting to voice their support for the wage hike. Many described the harsh conditions they have had to endure and the risk to their health and that of their families.
Gladys Gonzalez, a pharmacy technician at a CVS in Anaheim, said she couldn't visit her mother during the pandemic because she didn't want to expose her to the virus. Her mother ended up passing away. She urged the council to approve hero pay.
"No money will ever bring back the time I lost not seeing my mom before she passed away," she said.
Brenda Ruiz, who works at El Super, said she wanted to stop going to work and risking the health of her family, but she didn't have a choice because she needed to pay rent. She ended up contracting the coronavirus last year and had to be confined away from her son.
Noah Stevens, who works at Ralphs, said grocery stores have become greedy and need to provide extra pay to their employees.
"I want to be able to feel physically safe as well as financially secure," he said.
---
All the latest on Orange County from Orange County.
Get our free TimesOC newsletter.
You may occasionally receive promotional content from the Daily Pilot.