On a recent Sunday in Los Angeles, O.C. celebs mingled with the Hollywood crowd at the 16th annual Gala in the Garden in the open air courtyard in the center of the handsome Hammer Museum in Westwood. The event, sponsored by South Coast Plaza, welcomed more than 500 guests greeted by Hammer Museum Director Ann Philbin and patron-sponsors Elizabeth, Anton and Jennifer Segerstrom. More than $2.6 million was raised in support of the Hammer's exhibitions and public programming, which is all free to the public.
Front and center in the glam-assemblage was museum founder Armand Hammer's actor great-grandson (and namesake), Armie Hammer, with Elizabeth Chambers. Artist Catherine Opie and Julie Burleigh chatted with celeb chef Wolfgang Puck while the never-to-be-forgotten Katharine Ross ("The Graduate") and LACMA's Michael Govan were spotted with Zoe Saldana and Marco Perego.
Honored guests included author Margaret Atwood and artist Glenn Ligon, who introduced Pulitzer Prize-winning author Michael Chabon joined by Bryan Stevenson. Recording artist Leon Bridges entertained. Chef Suzanne Goin of Lucques created dinner and event co-chairs Elizabeth Segerstrom, Solange Ferguson and super-creative producer Darren Star ("Sex In The City") took a bow for raising an amazing bottom line.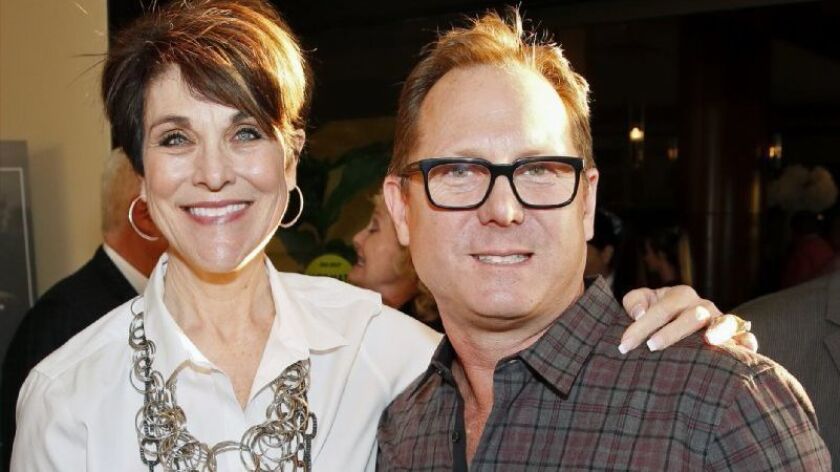 Fleming's celebrates Newport Beach Film Festival's 20th anniversary
It was Kismet. In 1998, Paul Fleming and Bill Allen opened their first Fleming's flagship restaurant in Fashion Island. That same year Greg Schwenk and Todd Quartararo launched a then-fledging film festival in town. Twenty years later, Fleming's is a household name for fine dining in a prime steakhouse and wine bistro, and the Newport Beach Film Festival has gained serious international attention.
Fittingly, the two joined together for a bit of wining and dining for an early fall celebration on the terrace adjacent to the recently remodeled Fleming's, Fashion Island. Invited guests sampled an outrageous seafood bar, toasting with champagne and wine flowing from the restaurant's acclaimed cellar. Hand-carved tomahawk steak was carved by chef-partner Kevin Monahan while Gary Sherwin, president and chief executive of Visit Newport Beach, joined Janice Arrington, Orange County film commissioner, in welcoming the crowd.
Making the event possible was Fleming's operating partner Sanjiv Gupta, who was spotted with PBS SoCal's Maria Hall Brown and Tanya Thomas, vice president and general manager of Fashion Island. Also front and center was Stefani Farnsworth Salem, founder and CEO of the Newport Wine and Food Festival, which recently closed a very successful series of events in the community.
Harvesting hope for the hungry
One million dollars buys a lot of food. And every bite taken, every cent of the million, will be needed to deliver those bites. Hunger is shameful in an abundant society. At one time in America, even the poorest of the poor seemed to put some sustenance together for their families. Church, government and all kinds of organizations stepped in to aid those unable to find any kind of help themselves. Today, the causes of hunger are multi-layered, complex and, in too many cases, difficult to fix.
For the past 26 years in the O.C., a group known as The Harvesters in support of The Second Harvest Food Bank of Orange County has stepped up to raise money for the basics. Has it made a difference? Indeed, it has. Is the situation improving? No, it's not. Some say it's worse. Homelessness and near-homelessness is a serious issue but there is no giving up.
The 2018 Harvester's Fashion Show and Luncheon unfolded at the Reneé and Henry Segerstrom Concert Hall in Costa Mesa. It was chaired by a dedicated Lauren Wong and attracted some 400 women for the hands-down, most fabulous fall fashion show of the season presented by major Harvester's underwriter/sponsor, South Coast Plaza.
Since its outset, founders Jennifer Van Bergh and Jill Johnson Tucker, and their close-knit confederation of friends who have rallied around the hunger problem in the O.C., have used the concept of "Fashion Meets Philanthropy" to raise big money for the food bank. Since 1992 millions have been raised (more than $8.5 million). Wong reports that the money has served some 25.5 million meals and continues to aid more than 300,000 citizens of the O.C. dealing with hunger on a daily basis. Making the success real, in partnership with Wong, was co-chair Lori Anderson, greeting sponsor/donors Julia Argyros and daughter Lisa Argyros, Debra Gunn Downing and Katherine Cenci of South Coast Plaza, Gloria Jetter Crockett of Second Harvest Food Bank and Sean Lawrence, recipient of the inaugural Harvester's Service Award.
It's all happening at the zoo
They called it a "wild jungle adventure." Very creative, not really so wild, but there was plenty of love going around for the critters at the Santa Ana Zoo. Especially for all the primates, a hallmark population living there.
Now in its 26th year, the annual Zoofari sponsored by the citizens behind Friends of the Santa Ana Zoo (FOSAZ) continued to garner serious dollars for all of the needs, allowing the zoo and its residents to thrive. Reportedly, the effort brings in at least a half million dollars each year. 2018 was no exception.
KTLA's Henry Di Carlo served as emcee of the evening chaired by the dedicated Cathi Decker, event hostess and chair of FOSAZ. Parties by Panache catered the affair serving the cocktail of the night "The Blue Parrot." The crowd was introduced to a few residents including a Ball Python, a Spectacled Owl and a French Rooster welcoming the crowd to the "wild" jungle adventure.
B.W. COOK is editor of the Bay Window, the official publication of the Balboa Bay Club in Newport Beach.
---