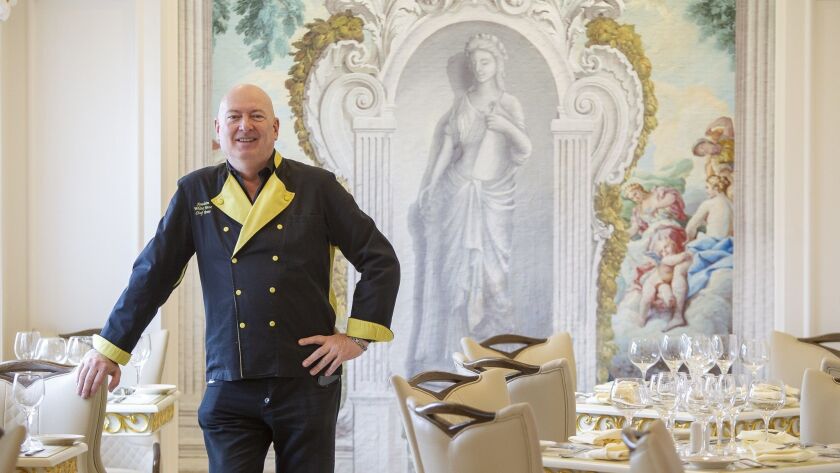 "Your restaurant is on fire."
At 4:38 a.m on Feb. 4, 2017, Bruno Serato, owner of the Anaheim White House restaurant and a celebrated philanthropist, heard those words on a voicemail left by an Anaheim Fire & Rescue official.
Serato's beloved restaurant, the scene of posh feasts for celebrities and dignitaries, and the place where 4,000 meals a day were prepared for needy children, was destroyed by a fire.
The aftermath was both gut-wrenching and uplifting.
Gut-wrenching because the 1909 colonial-style mansion Serato converted to an Italian steakhouse 30 years earlier was in ruins.
Uplifting because of the groundswell of support and encouragement Serato received from around the world.
"It was overwhelming — the love I received," Serato said. "A lot of love from people from all over the world. I feel like I have so many new friends that I never knew I had."
Inquiries also poured in regularly from supporters asking when the restaurant would reopen.
Finally, Serato can tell them.
With an infusion of high-end accoutrements, the 180-seat, 5,600-square-foot restaurant hosted private events May 5 and opened to the public Tuesday, close to 15 months after the blaze.
Among the design elements are polished resin flooring, French provincial dining tables and chairs, and hand-painted frescos and mosaics on the walls.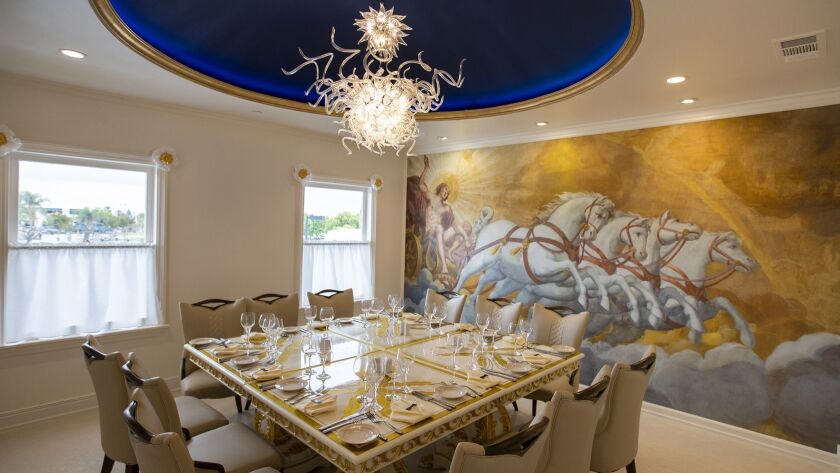 "It's not a museum but I want people to come to enjoy and feel like they are in a museum and a place they have never been before," Serato said. "I haven't seen a restaurant like this yet. It's been a lot of hard work."
Upstairs has been converted into a cocktail lounge, featuring an international appetizer menu.
"Because I want the world to get together," Serato said.
The main dining area features 11 rooms, eight of which may be closed off for private functions.
The $2.5 million cost of rebuilding the restaurant came from insurance proceeds and contributions from the public, Serato said.
But with all the lavish elements, the most valuable piece is the framed photo of Serato's mother, Caterina. The picture is displayed at the base of a stairway, visible to all guests.
In 2005, Caterina and Serato were visiting the Boys & Girls Clubs of Anaheim — in the same neighborhood as his restaurant — when she noticed a 6-year-old boy eating potato chips for dinner.
When she learned the boy's family couldn't afford a meal for the child, Caterina told her son to make some pasta for him.
They discovered there were dozens of other underfed and undernourished children living in nearby motels.
Serato launched the "Feeding the Kids in America" initiative, where he fed 72 children a night, five nights a week.
"Feeding the Kids" morphed into Caterina's Club, which now feeds more than 17,900 children a week.
Serato's efforts have been noticed worldwide.
He was given a CNN Hero award in 2011, received a blessing from Pope Francis, was knighted by the Italian government and featured in publications and on TV programs around the world.
Serato lost income while the Anaheim White House was rebuilding, but his greatest concern in the aftermath of the fire was how he would continue Caterina's Club without a kitchen to prepare the meals.
He received many offers and was given permission from officials at Christ Cathedral in Garden Grove to use their commercial kitchen on campus.
"I feel like it was a gift from God, to give me a church, to cook for the kids," Serato said.
The meals are now prepared at the Anaheim White House again.
Serato recently wrote a book titled "The Power of Pasta," which is part biography and part cookbook, and all book sales support Caterina's Club.
"I want it to be read by grandmothers and moms to their own children to know that a lot of kids are starving out there," Serato said. "Because it could inspire their own children."
Business and city officials penned editorial reviews.
Anaheim Mayor Tom Tait called Serato a "treasure to our city and to our nation."
Of the outpouring of support Serato received after the fire, one call in particular stood out to him, he said.
That call was from Italian actress Sophia Loren.
"She called me because she was sad for me," Serato said. "She called to inspire me to keep going."
Loren also shared her sentiments on the first page of his book, calling Serato "Italy's most famous culinary export."
She added: "Bravo, Bruno."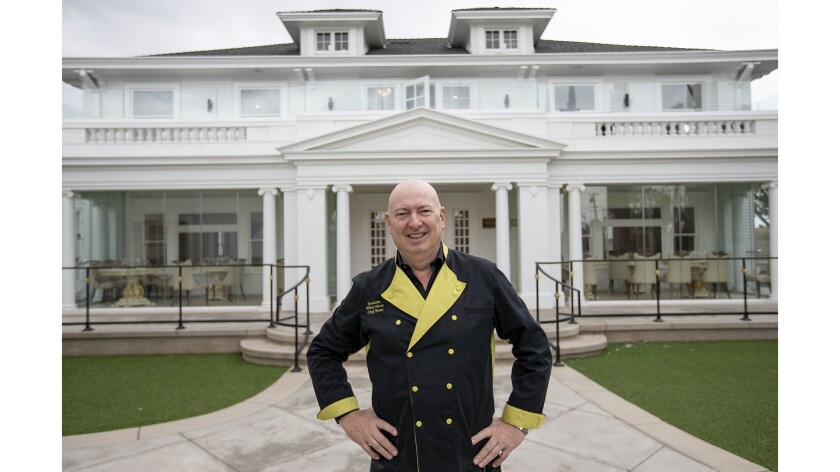 Lou Ponsi is a contributor to Times Community News.
---