Hilbert Museum spotlights groundbreaking work by Disney artist Mary Blair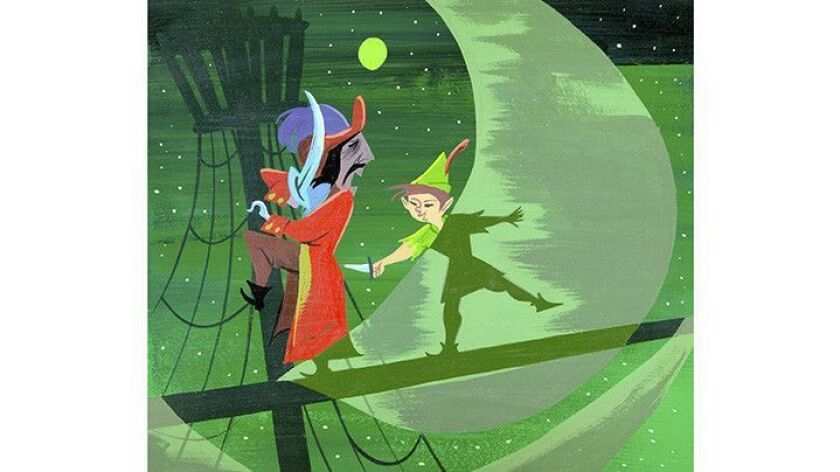 She was a woman way ahead of her time and a trailblazer within the world of Disney.
Mary Blair, an artist, animator and designer, served as the lead concept artist for the animated films "Cinderella," "Alice in Wonderland" and "Peter Pan," among others. She also contributed art to the 1941 animated movie "Dumbo."
Blair worked on art and designs for a pavilion benefiting UNICEF at the 1964 World's Fair in New York, which became the model for "It's A Small World" at Disneyland in Anaheim — and later at Disney World's Magic Kingdom in Florida, as well as Disneylands in Tokyo, Paris and Hong Kong.
Through Oct. 19, the Hilbert Museum of California Art at Chapman University is featuring "The Magic and Flair of Mary Blair." The exhibition includes more than 20 of her original works, all of them culled from the museum's permanent collection.
"Mary Blair is one of the great geniuses in California art," said the Hilbert Museum's director, Mary Platt, who also curated this show. "She's not unappreciated, I mean the Disney fans know her, but the general public may not."
The exhibit is arranged chronologically, starting with her early work for "Dumbo" and watercolor paintings inspired by a 1941 trip to Latin America with Walt Disney and other artists. The "El Grupo" trip, sponsored by the U.S. government as a goodwill gesture, left a lasting impact on Blair and her art, which became brighter and more abstract after her travels.
"She really blossomed as a result of the South America Good Neighbor travels they experienced," said Mindy Johnson, author of "Ink & Paint: The Women of Walt Disney's Animation," published by Disney Editions in 2017. "She was the only woman [artist] on that particular trek. It transformed her artistry; it was pivotal for her."
The exhibition continues with concept art, mostly gouache on board, for the Disney films "Melody Time" and "The Adventures of Ichabod and Mr. Toad," and the classics "Cinderella," "Alice in Wonderland" and "Peter Pan."
"It really is through the artistry of Mary that formed the essence of 'Cinderella,' " Johnson said. "'Cinderella' is a tried and true fairy tale, but it was her interpretation, her sense of color and style, that really brings that story into its own."
Blair was a favorite of Disney, which apparently caused some jealousy among her predominantly male colleagues at the studio. Disney appreciated her futuristic, conceptual approaches, as well as her color choices.
She once said, "Walt said that I knew about colors he had never heard of before."
Many of Blair's original concepts and designs were not used in films she worked on. Other artists and animators said her work and characters were too flat and abstract, and they reverted back to the rounded characters and stylized backgrounds that had proven successful before.
However, her work really comes through in "Alice in Wonderland," which was "a tour de force for her," Johnson said.
"Wonderland is such a vibrant, colorful world," Johnson added. "You get the whimsy, and the topsy-turvyness through Mary's work, sometimes just within the simple, elemental strokes. But there's nothing basic about them. Mary demonstrated great sophistication there."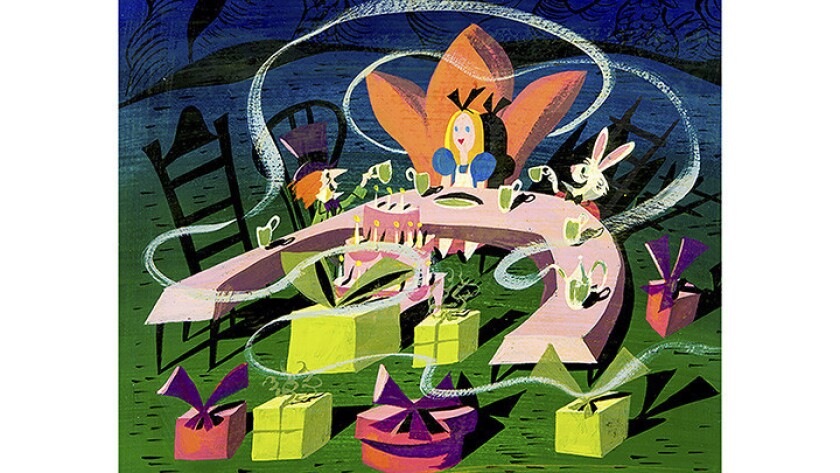 One of the paintings in the show, "Alice on Trial" from 1951, depicts the climactic scene where the Red Queen denounces Alice in a courtroom in front of a host of playing-card soldiers.
"In 'Alice on Trial,' you can see echoes of Escher and Picasso," Platt said. "That might be the scene, because it's so fantastical, where maybe her vision was best realized."
The exhibit ends with concept art for "Peter Pan" and "It's a Small World," which may be Blair's best known and loved work. A gouache painting (circa 1963) depicts a joyous array of gold-topped steeples, which looks remarkably like the façade of Disneyland's "It's A Small World" today.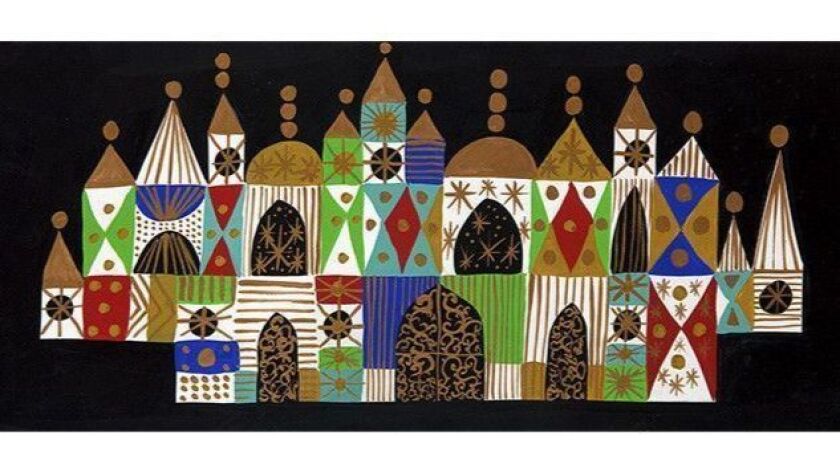 Though she parted ways with Disney a couple of times, Blair also had a successful career as a freelance illustrator and designer. She created dozens of memorable advertising illustrations, murals, tiles, fabric and fashion designs, as well as sets and backdrops for TV commercials and theatrical productions.
She created murals for Disneyland and Disney's Contemporary Resort hotel at Disney World. She is credited as the color designer for the 1967 film "How to Succeed in Business Without Really Trying," and she also created a "Small World"-inspired mural for the Jules Stein Eye Center at UCLA, which still decorates the Pediatric Waiting Room.
In addition, Blair illustrated several Little Golden Books, some of which are still in print.
Blair died in 1978 at age 66. In 1991, she was named a Disney Legend, and in 1996, the International Animated Film Society honored her with its Winsor McCay Award. In 2011, Google celebrated her 100th birthday with a Google Doodle.
Despite her accomplishments and honors, Blair still flies under the radar, and many believe she has not received the recognition she deserves.
"She is definitely under-rated, under-exposed and under-valued," Johnson said. "It was tough for Mary, particularly as a woman. If she were a man, we would have been well-informed of her work."
John Canemaker, who wrote an appreciation book on Blair, "The Art and Flair of Mary Blair" (also on view at the Hilbert), said the artist was brilliant for her imagination and empathy and "her influence continues in the many designers who admired her work."
"There are a lot of Mary Blair-wannabes," said Canemaker, an Oscar and Emmy-winning professor who heads the animation program at New York University. "What she did is going to live on."
"Mary Blair is definitely a role model," said Platt. "In a time where the women at Disney were basically being relegated to the copy work, she broke through and through sheer talent, showed to Walt Disney and the others that she could be a visual leader.
"That really is something that I think all women artists can look toward and thank her for."
IF YOU GO
What: "The Magic and Flair of Mary Blair"
When: Through Oct. 19; hours are 11 a.m.-5 p.m. Tuesdays through Saturdays
Where: Hilbert Museum of California Art, 167 N. Atchison St., Orange
Cost: Free
Information: (714) 516-5880 or hilbertmuseum.com
Richard Chang is a contributor to TimesOC. Follow him on Twitter at @ricardo77 and follow @timesocofficial for more news and features about Orange County.
---
All the latest on Orange County from Orange County.
Get our free TimesOC newsletter.
You may occasionally receive promotional content from the Daily Pilot.