Luxury watch enthusiast builds a Rolex empire in Huntington Beach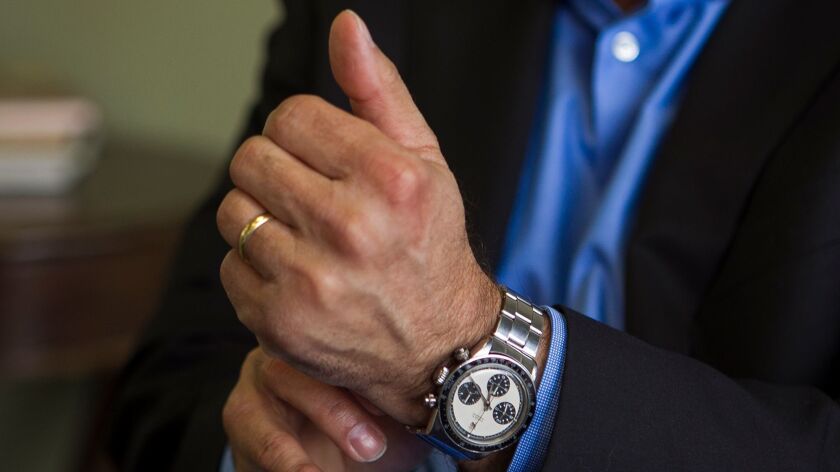 The luxury watch connoisseur opened a rectangular green leather box and slipped one of the world's most-recognized timepieces onto his fingers.
The Rolex Cosmograph Daytona watch, introduced in 1963 and designed to meet the demands of professional race car drivers, was made famous by actor Paul Newman — who reportedly wore his all the time — and is among the most desired and talked about vintage timepieces on the market.
"It means something more than telling time. It's a symbol of achievement," Paul Altieri said of the Swiss luxury watchmaker. "And the older ones always keep me excited."
Altieri is founder and CEO of Huntington Beach-based Bob's Watches, the world's largest online specialty retailer of pre-owned and vintage Rolexes.
If scarcity increases desirability, Altieri knows collectors are quick to hunt for pieces that differ from the standard catalog.
But not all consumers, he learned, were receiving a fair price for their used watches online, and the true market value needed to be disclosed.
Too often he learned dealers would sell a $5,000 watch for $8,000 after buying it for $2,000. Online commerce sites, such as eBay, were plagued with fake timepieces or watches altered with aftermarket parts.
Altieri thought both figures, including both the buy and sell numbers, should be listed for each watch.
Such transparency has set him apart from other pre-owned online watch sellers.
Altieri's Kelley Blue Book-style model online garnered trust from watch enthusiasts around the world, and the business expects to do $24 million in sales this year.
Altieri, who founded the company nearly a decade ago, relaunched Bob's Watches after buying the domain name from a retired North Carolina dealer.
He, his wife, chief operating officer Carol Altieri, and a team of 21 employees operate in a 5,000-square-foot space in a nondescript Goldenwest Street shopping center that neighbors 405 Tropical Fish and Plato's Closet.
There, certified watchmakers quote, service and identify every Rolex within a transaction. Marketing and commerce specialists build an online presence for the site, as Bob's consistently pops up as one of the top results on search engines. Sales representatives are responsible for customer service. Others load product pictures online.
Defined as at least 30 years old, vintage Rolexes generally appreciate.
The Swiss manufacturer founded in 1905 produces more than 2,000 watches a day, doing $4 billion in annual sales.
It's a company that is known for many firsts. Rolex was the first to offer a wristwatch that would automatically change the date and day on the dial. The first to market a watch case waterproof up to 100 meters. The first to display two time zones at once. The first to earn chronometer certification.
It's also a brand that's become iconic through cinematography.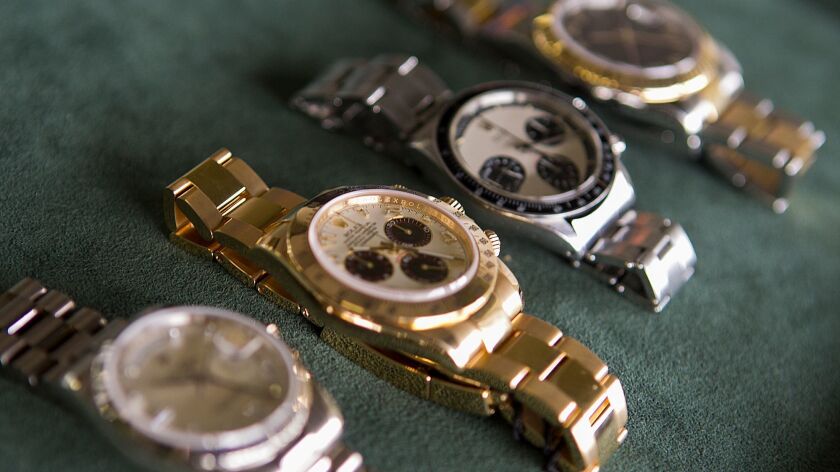 In 1962, when Sean Connery made his debut as James Bond in "Dr. No," he wore a "Big Crown" Submariner as he held actress Ursula Andress.
Roger Moore, who played Bond in 1973's "Live and Let Die," sported a Submariner 5513; Steve McQueen, a Submariner 5512 in 1980's "The Hunter."
Bob's Watches also carries timepieces by Patek Philippe, Omega and Cartier, but Altieri said Rolex drives the resale market.
Altieri, who has 300 Rolexes in his personal collection, said the brick-and-mortar location is near the Los Angeles-Orange county line since several buyers and sellers from around the world fly into Los Angeles International Airport or drive down from L.A.
A man who flew in from Mexico City brought in a Rolex Daytona Cosmograph 6240 valued at $200,000.
Another seller brought in a 1958 James Bond Big Crown Rolex Submariner 6538. The bezel insert is faded lightly but is in excellent condition, as is the pearl at the 12 o'clock. It's valued at $500,000, but would've fetched $1 million without slight cracks on the dial.
Men's watches aren't just for men, Carol Altieri said.
Women are buying men's Rolexes, as many prefer the bold designs over the delicate, bright or feminine designs marketed to women, she said.
Since Rolex appreciates, the staff is finding shoppers interested in gifting watches for high school graduations and other rites of passage.
It can be an emotional moment for those selling watches. Altieri has witnessed customers finding it difficult to release a piece of sentimentality. He always offers to let the seller keep the watch, but most don't.
"People know that it's going to a home and that someone else is going to enjoy it," Altieri said. "It's like buying history."
Bob's Watches is at 15176 Goldenwest St., Huntington Beach. For more information, call (800) 494-3708 or visit bobswatches.com.
Twitter: @KathleenLuppi
---
All the latest on Orange County from Orange County.
Get our free TimesOC newsletter.
You may occasionally receive promotional content from the Daily Pilot.