The Dirty Cookie is making treats that make you think twice. A cookie shot glass? How does that work?
Apparently it's pretty simple. It begins with putting cookie dough into a mold. After it's baked into a shot glass-shaped cookie, a layer of Belgian chocolate is applied to the interior, creating a lining that holds whatever is inside — milk, ice cream, cold-brew coffee, toasted marshmallow, Bailey's, Kahlua — so it doesn't get absorbed by the cookie.
And yes, this cookie shot glass holds a true shot's worth: 1.5 ounces.
The cookies come in flavors like chocolate chip, churro and red velvet. Gluten- and dairy-free options are available, as are themed cookies. I found particular humor in the smiling poop emoji cookie shot.
Dirty Cookie founder Shahira Marei grew up in Egypt and Foothill Ranch. She got the idea while on maternity leave from her job at Boeing, where she was a project manager.
Marei has long had a sweet tooth.
"I was always a milk and cookies person," she said.
As for the name? Marei says to think of a dirty chai latte, which is chai tea with a shot of espresso. These cookies are kind of like that: they have a little something extra inside.
"We wanted a really fun name," Marei says. "The whole company is about being fun and sassy."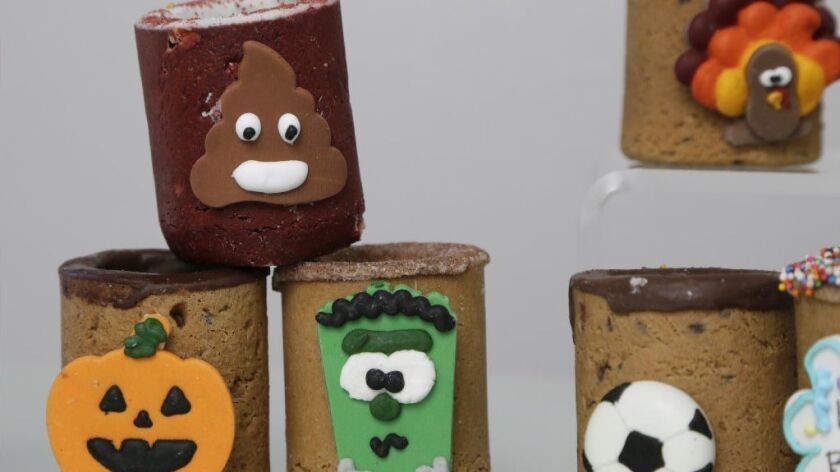 When she was starting out, Marei asked a former colleague, a Boeing engineer, to make a mold using a 3-D printer. About six months later, the Dirty Cookie was ready for prime time. In July 2015, Marei opened a storefront at The District in Tustin. It stayed open until December.
Since then, Marei has been focusing on Dirty Cookie's rapidly expanding online retail side, as well as large orders for parties, events and corporate clients. Her company also makes a variety of cookie butters.
"We're becoming an online gifting company," Marei said.
Future plans include adding natural preservatives to give the cookies an extended shelf life so they can be sold in retail stores. Marei is also finding time to give back in her native Egypt, sponsoring students to help with their education. She dreams of one day opening a school.
Until then, when she goes to Egypt, does she bring along some Dirty Cookies to share?
"A whole suitcase," Marei said with a smile.
IF YOU GO
What: The Dirty Cookie
Where: 17881 Sky Park Circle, Irvine (pickup location only)
Information: thedirtycookieoc.com
Bradley Zint writes about food for TimesOC. Follow him on Twitter at @bradleyzint
Support our coverage of Orange County by becoming a digital subscriber.
For more news and features about Oran=ge County, visit TimesOC.com or follow us on Twitter @timesocofficial.
---