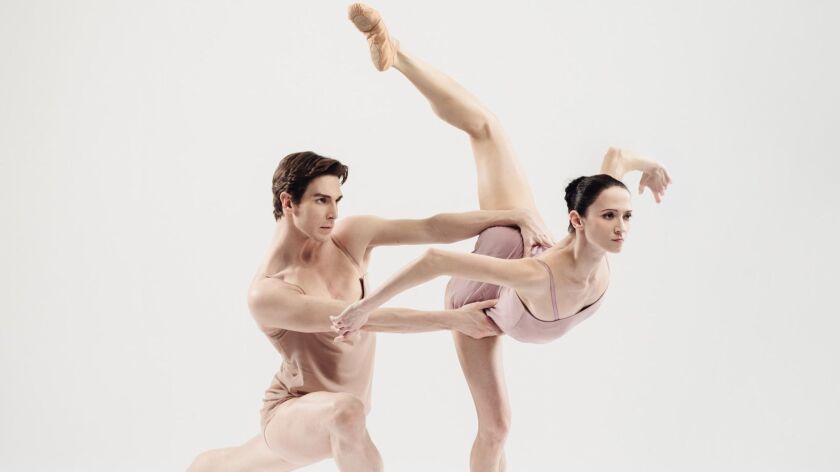 Orange County's Festival Ballet Theatre is presenting its 11th annual Gala of the Stars, bringing together dancers from some of the world's most-acclaimed ballet companies for a night of impressive performances at the Renée and Henry Segerstrom Concert Hall.
The Aug. 17 gala will feature performances by a number of guest artists, including Sarah Lamb, principal dancer of the Royal Ballet; Matthew Golding, former principal of the Royal Ballet; Svetlana Lunkina and Evan McKie, principals of the National Ballet of Canada; Sasha De Sola and Vitor Luiz, principals of San Francisco Ballet; Skylar Brandt and Aran Bell of American Ballet Theatre; Morgan Lugo and Juliano Nunes of Royal Ballet of Flanders; and Beckanne Sisk and Chase O'Connell, principals of Ballet West.
As in years past, dance students selected from around the world will join young aspirants from Festival Ballet Theatre's dance school and its International Summer Intensive for an Act 1 opening performance.
"It is a celebration of ballet," said Salwa Rizkalla, founder and artistic director of Festival Ballet Theatre (FBT). "People come from different areas of the country — they come and fly in especially to see this show."
It's also a great learning opportunity for students of Festival Ballet Theatre, founded as a nonprofit in 1988 to present classical and contemporary ballet performances, provide a nurturing environment for dancers and choreographers and offer stimulating educational outreach programs.
Southland Ballet Company, also founded by Rizkalla with branches in Fountain Valley and Irvine, is the official school of FBT.
The protégés coming from outside FBT were selected by Rizkalla; Christopher Powney, artistic director of the Royal Ballet School; Larissa Saveliev, artistic director of Youth America Grand Prix; and Patrick Armand, associate director of the San Francisco Ballet School. All young dancers participated in an intensive two-week session to prepare for the program.
The master of ceremonies for the 2018 gala will be Mark Walberg of PBS's "Buried History with Mark Walberg." The program will include fresh, new works, such as "Back Forward Back," choreographed by Nunes and performed by Lugo and Nunes of the Royal Ballet of Flanders, and "Sospiri Duet," again choreographed by Nunes and performed by Lunkina and McKie of the National Ballet of Canada.
The show will also feature some favorite classical duets, such as the pas de deux from "Gisele," "La Sylphide," "Swan Lake" and "Don Quixote."
To help support this show financially, FBT is hosting a post-gala "Dinner with the Stars" at Café Rouge, located in the same building as the Segerstrom Concert Hall. Patrons are invited to enjoy an exclusive dinner with the show's dancers at Leatherby's Café Rouge. Tickets, $250 each, can be purchased by visiting festivalballet.org/gala-of-the-stars.
In addition, FBT is sponsoring a "Welcome the Stars" dinner cruise the evening before, Aug. 16. The event will take place on the Icon, a Newport Beach luxury yacht, and participants will dine with the dancers as the ship sails the Pacific Ocean. See the above site for details.
Finally, Dawson Cole Fine Art of Laguna Beach will present a collection of ballet-themed works by sculptor Richard MacDonald in the concert hall lobby during the show.
If You Go
What: 11th annual Gala of the Stars
When: 6 p.m. Aug. 17
Where: Renée and Henry Segerstrom Concert Hall, 600 Town Center Drive, Costa Mesa
Cost: $55-$95
Information: (714) 556-2787 or visit festivalballet.org
---