Nonprofit delivers 3-D-printed hearing aids to kids in the Middle East
Jason Szolomayer was living what many would consider the typical Orange County lifestyle.
After graduating from Newport Harbor High School, and then earning a bachelor's degree in finance from Cal State Fullerton in 2002, the longtime Costa Mesa resident worked for a commercial banking firm in Newport Beach.

For the record:
4:00 PM, Nov. 14, 2018This story has been updated with a more in-depth explanation of the 3D ear scanning technology.
Szolomayer eventually became disheartened by the greed he said permeated the profession.
"My parents had always taught me to work hard and to serve other people," Szolomayer said, "so that was always part of my DNA."
Szolomayer, 40, wound up in Jordan, where he taught English to middle-aged men in Amman, with the goal of improving their employment prospects.
Szolomayer was doing volunteer work at the Holy Land Institute for the Deaf and Blind in the city of Salt, when he witnessed the laborious process the institute went through to provide hearing aids for its clients.
Citing a 2013 report from the World Health Organization, an agency that works with the United Nations on international public health issues, less than 3% of people in developing countries who need a hearing aid are believed to have one.
"I thought there was a more efficient way of doing this," he said. "My business mind went to work, and that is where I started to brainstorm on how we can do this well."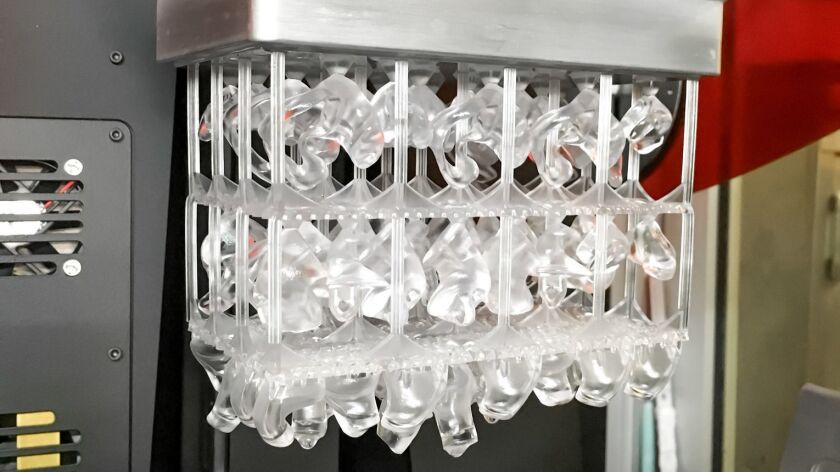 Szolomayer learned it was possible to use 3-D technology to efficiently produce hearing aid molds.
The new 3-D ear scanning technology from Lantos Technologies allows medical personnel to scan a patient's ear and use the measurements to create a silicone mold.
The 3-D ear scanner collects over 100,000 data points, creating a 3-D image of the unique geometry of the client's ear to make sure we get a perfectly tailored and comfortable fit.
Szolomayer formed a nonprofit called 3dp4me, which stands for "3-D Printing for the Middle East," and partnered with World Wide Hearing, a nonprofit that provides hearing aids to children in underserved regions at a drastically reduced cost.
"If children can get a hearing aid before they go to school, they can communicate, and they can learn," Szolomayer said.
Together, 3dp4me and World Wide Hearing are hoping to set up a 3-D printing lab in either Salt or Amman, with the goal of providing 12,000 hearing aid molds over four years.
"They have the auditory expertise, and we have the technology," Szolomayer said of the partnership.
The long-term vision is that the project can serve as a model for providing the gift of hearing around the world, he said.
Szolomayer has spent 14 months laying the groundwork. He found a company in Germany that will produce hearing aids and built a relationship with a 3-D scanning company. He recruited a group of volunteers in the U.S. and enlisted the help of audiologist Dr. Brian Fligor of Boston.
Fligor, an audiologist and Harvard Medical School assistant professor who is now chief development officer for Lantos Technologies of Woburn, Mass. (a forerunner in developing ear scanning technology), said he was inspired by Szolomayer' s enthusiasm for his mission.
"I'm humbled by the fact that he is looking to do something outrageously good," said Fligor, who serves as an advisor for 3DP4Me. "They're doing hearing health care [for] people in [difficult] circumstances. I'm so excited about what they are doing. I'm very confident they will be successful at this."
Fligor will help set up the clinical protocols once the brick and mortar lab is built. Szolomayer figures they'll need about $200,000 — which includes fees for equipment, staffing and training — to get the lab up and running.
"Very few things are as important [as] our connection with other people," said Fligor. "Hearing loss cuts off our access to other people. When you provide hearing aids that are perfect for that person, then they are now reconnecting with other people."
3DP4ME is holding a fundraising event at 6 p.m. Nov. 16 at Rock Harbor Church, 345 Fischer Ave., Costa Mesa. The event will feature entertainment, appetizers, a raffle and silent auction, where prizes include golfing at the Newport Beach Country Club and El Niguel Country Club, a custom surfboard with lessons, and a gift basket of wines.
To RSVP for the event or get more information on 3DP4ME, go to 3dp4me.org.
Lou Ponsi is a contributor to Times Community News.
---
All the latest on Orange County from Orange County.
Get our free TimesOC newsletter, coming in August.
You may occasionally receive promotional content from the Daily Pilot.