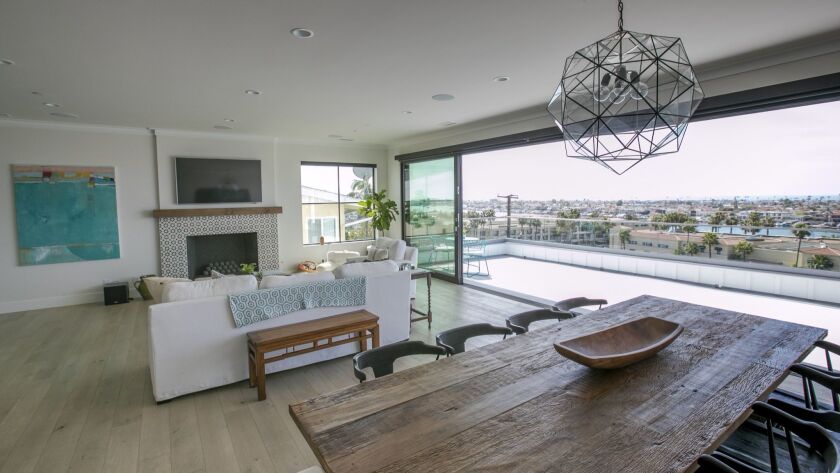 Home improvement projects, renovations, new planting.
Those in search of inspiration can find it in the houses and gardens open to the public May 17 during Newport Harbor High School's 21st annual Home and Garden Tour.
Six Newport Beach homes will be open to residents from all over Orange County.
Among the spotlighted residences are architectural and interior styles by local designers, including Raili Clasen, Jodi Fleming, Gregory Builders and Ashley Clark of Skout.
Clasen, whose Lido Isle home features a "Count Your Blessings" wall, purchased the 1950s original cottage and took it down to the studs for a year of restoration.
To fill a soaring 20-foot hallway, Clasen and her husband stumbled upon an Instagram post of a tally and phrase, "Count Your Blessings," by Costa Mesa artist Matt Allen. After contacting him, Allen hand-painted the illustration.
Chelsea Gregory, a wife and mother of three, said she had attended prior Newport Harbor Home Tours for personal inspiration. This year, her Newport Heights home overlooking the Balboa Bay Resort will reflect a mixed collection of family friendly home decor and diverse materials constructed by her father-in-law, Craig Gregory, of Newport Beach-based Gregory Builders.
Newport Harbor Home Tour co-chairs Marena Padden and Gina Donald said the fundraiser has evolved from a grassroots effort to a national event, drawing visitors from South Carolina, Florida and Texas.
The tour benefits the Newport Harbor Educational Foundation, which provides funding for items and services such as computers, tutoring and Advanced Placement classes at Newport Harbor High.
Last year, the group raised $175,000, Padden and Donald said.
The committee likes to feature an eclectic mix of model and lived-in homes and often relies on referrals — or they knock on doors, asking homeowners if they would like their home featured on the tour.
The event will kick off at 9:30 a.m. with a reception at Balboa Bay Resort, 1221 West Coast Hwy., where guests will eat breakfast and have the opportunity to tour the docked boat "Magnanimous" and its sister Duffy boat, "Watter Ranger," before heading out on the self-guided home tour.
Plums Cafe & Catering will donate a lunch at the Newport Theatre Arts Center on Cliff Drive. The tour will conclude with wine and hors d'oeuvres at Barclay Butera Interiors' Newport Beach showroom.
This year marks Butera's 21st year participating in the tour. Guests will see his newly designed showroom and lifestyle collection.
Tickets are $85. For information, visit newportharborhometour.com.
Twitter: @KathleenLuppi
---