OC Parks continues to use Roundup weed killer in backcountry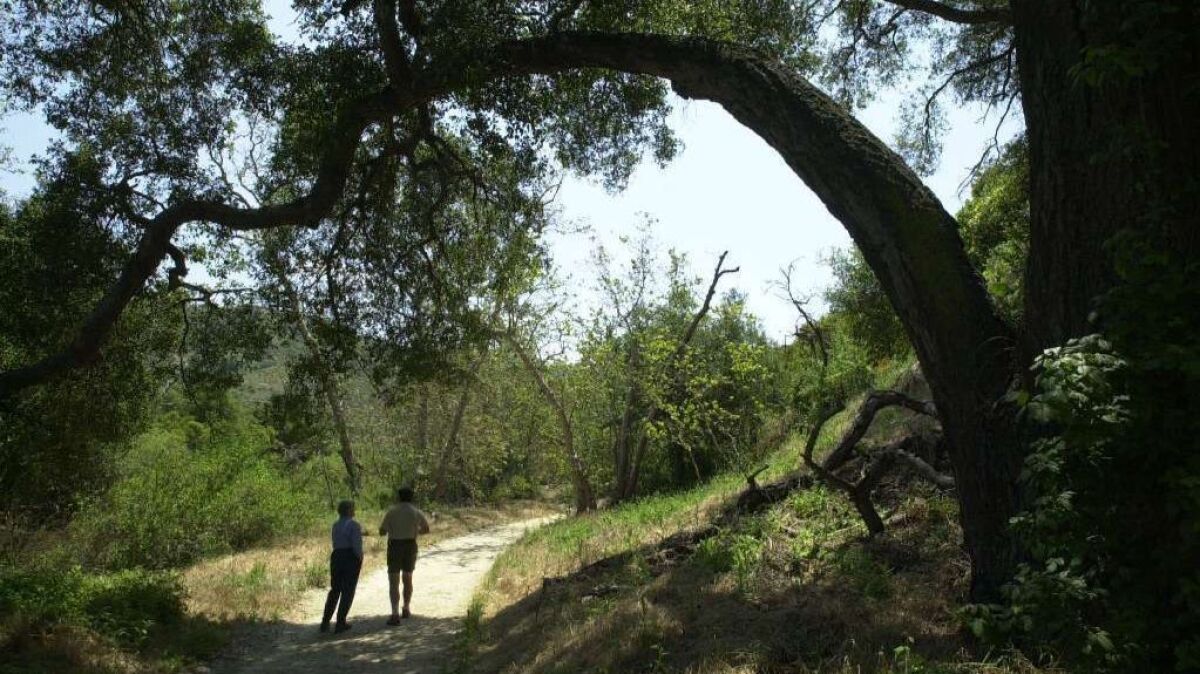 In the wake of last winter's storms, the Orange County parks system is grappling with an explosion of invasive plant growth, much like the super bloom that drew thousands of gawkers to the foothills to take selfies among beds of golden California poppies.
To control some of that growth, the Orange County Board of Supervisors extended a contract through June 2020 with an Anaheim-based pest control company to spray non-native plants with glyphosate herbicide, a controversial ingredient used in the Roundup weed killer.
The herbicide is at the center of a May jury decision in Alameda County, where jurors found the manufacturer, Bayer, liable for marketing Roundup to a couple who contracted non-Hodgkin's lymphoma. The product was initially made by the Monsanto Co., which Bayer acquired in 2018.
After hearing the public's concerns about glyphosate, OC Parks decided late last summer to ban its use from playgrounds, picnic shelters, trails and campgrounds, said Bill Kirk, system and resources division manager for OC Parks.
However, the chemical is still used off-trail to control troublesome, invasive weeds.
"Simply, we would not be able to do the amount of work or quality of work using other means," Kirk said. "These are areas that are not accessible to the public. These are back hills areas."
OC Parks' decision to eliminate the use of glyphosate herbicides from publicly-accessible areas has cut the sprayed area from 401 acres in the 2017-18 contract year to 132 acres in the 2018-19 contract year.
During this same period, record rains have pushed OC Parks to drastically step up its habitat restoration program by replacing blooms of invasive plants with native plants.
During the 2017-18 contract year, 1,598 acres of habitat were rehabilitated. That number shot up to 2,325 acres by March 21 — part of the 2018-19 contract year.
Kirk said OC Parks has added new ecologists to its staff and pursued more habitat restoration in the last year.
"We try to improve these areas and try to control the non-native [plants] until the native [plants] are fully established," he said. "The record rains have made it more of a challenge."
Non-native plants are detrimental to an ecosystem's health because they crowd out native plant species and often don't provide any nutrition to the animals that live there. For example, Arundo donax is a bamboo-like reed that thrives in creek beds and grows a dense root system that prevents other plants from reaching groundwater.
"It's a very invasive and destructive plant because it outcompetes everything else," said Celia Kutcher, conservation chairwoman of the Orange County chapter of the California Native Plant Society. "It's basically a desert as far as other life is concerned."
Arundo is on OC Parks' kill list with artichoke thistle, iceplant, poison hemlock, pampas grass, ivy, non-native salt brush and other invasive species.
Kutcher said land managers face a tough balancing act between their natural aversion to introducing chemicals into the environment and the need to remove plants that are harming the ecosystem.
In the case of Arundo, it's nearly impossible to remove manually without using herbicide to attack its resilient root system because it will immediately grow back after rain, she said.
"I'm sure OC Parks is doing it the right way," Kutcher said.
The county's contract with Pest Options places limits on how glyphosate herbicide is used so it follows federal and state laws, which are enforced by the California Department of Pesticide Regulation and the Orange County Agricultural Commissioner, Kirk said.
For example, pest control companies are prohibited from spraying herbicide when rain and wind is in the weather forecast. This rule is supposed to prevent herbicides from entering the watershed during storms, which harms plants and animals downstream.
"We're conscious of people's concerns about glyphosate and that's why we've taken the action that we have," Kirk said. "We employ technical means to reduce the use of glyphosate when we can."
Sandy DeSimone, director of research and education at the Audubon California Starr Ranch Sanctuary in Trabuco Canyon, disagrees with OC Parks' argument that it's not cost-effective to remove non-native plants by hand.
"It's unbelievable to me that my colleagues, who I respect, aren't recognizing the negative effects of herbicides," DeSimone said. "There are other ways to do it and we have done it for 20 years here."
Starr Ranch is able to afford to cut, pull, and dig weeds by hand because it employs the graduate students it houses on a seasonal basis, DeSimone said.
She estimates the Ranch spends between $300 and $800 per acre to use these non-herbicide methods for weed removal.
"With persistence and consistency a non-chemical approach works but you have to be serious about it and dedicated to it," DeSimone said. "That's a problem when people see herbicides as their primary methods."
Support our coverage by becoming a digital subscriber.
Daniel Langhorne is a contributor to TimesOC. Follow him on Twitter at @DanielLanghorne.
For more news and features about Orange County, visit TimesOC.com or follow us on Twitter @timesocofficial.
---
All the latest on Orange County from Orange County.
Get our free TimesOC newsletter.
You may occasionally receive promotional content from the Daily Pilot.