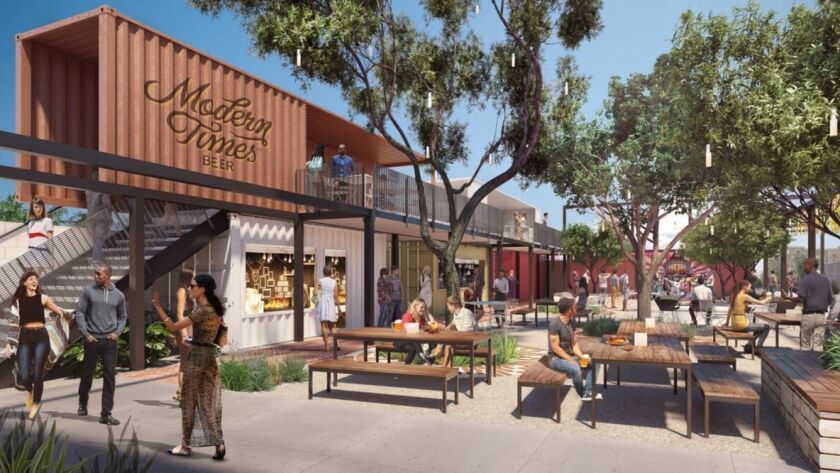 Using steel shipping containers as an alternative to traditional construction materials has become such a trend in urban development that it has led to the coining of the word "cargotecture."
Examples can be seen in commercial and residential building throughout Orange County, where several container-centered developments have been opening in recent years — with more on the way.
Leisuretown, a 32,000-square-foot complex in Anaheim's historic Colony District scheduled to open in summer, integrates a restored 1911 Craftsman home, two vintage commercial buildings and four shipping containers. The containers will be repurposed into pop-up shops.
There will be a poolside bar and outdoor courtyard. Modern Times Brewery, a craft beer tasting room will be the centerpiece of Leisuretown, which is steps from the Anaheim Packing House, a food hall constructed within a re-purposed and refurbished citrus packing warehouse once used by Sunkist.
Shaheen Sadeghi, president and founder of Costa Mesa-based LAB Holding and developer of Leisuretown and the Packing House, said the use of shipping containers as an alternative structure represents a refreshing step away from cookie-cutter development.
"As an industry, we've become so homogenized," said Sadeghi, who became a prominent builder after developing the LAB Anti-Mall in Costa Mesa in 1994. "So these alternative materials have become not only user-friendly but a greater value.
"But it all goes back to storytelling. Our company does a lot of adaptive re-use. Every building comes with a story. So when you preserve them you have this authenticity, which is a big deal for us and a lot of our tenants."
Anaheim, the home of family friendly Disneyland, now wants to draw adults to its new breweries »
"We're finding that the price of containers is a little cheaper than conventional construction," said architect Michael Bohn of the Long Beach firm Studio One Eleven, which designed Leisuretown. "You can do a lot of the work [to make the shipping containers] off-site while you are doing the site work, and then you just drop them in in a day, and you're done. The schedule speeds up by maybe 40%."
Bohn said that in Southern California, the trade imbalance has, in part, led to a surplus in shipping containers. A used, bare-bones container runs about $2,500, he said, but containers improved for food and retail can increase the costs by $10,000 to $50,000.
In Garden Grove, Studio One Eleven is working with contractor Howard CDM on a 20,000-square-foot outdoor eating space constructed from 21 shipping containers that is scheduled to open in late spring.
SteelCraft Garden Grove, one of three so-named complexes founded by Long Beach businesswoman Kimberly Gros, and built with repurposed shipping containers, will include 10 food and beverage tenants and an organic farm, which will grow produce for the onsite eateries.
Each reconfigured shipping container in SteelCraft comes with a fully built kitchen, customized for each tenant.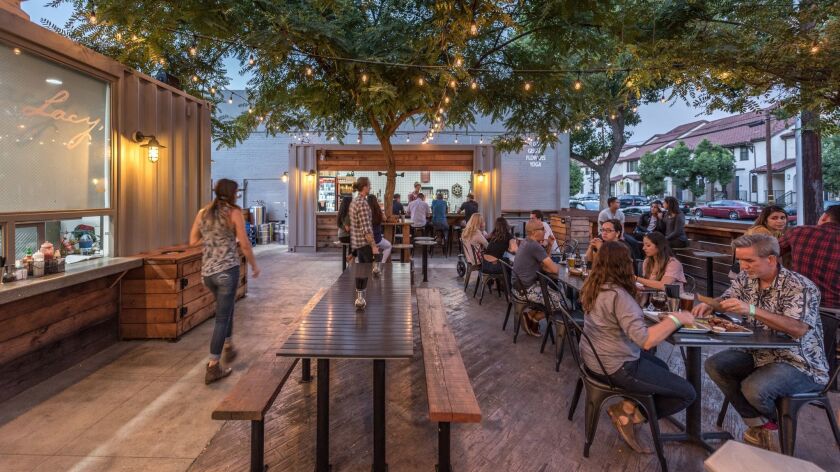 Studio One Eleven also designed The Roost in Santa Ana, which opened in 2015 and is home to Scoops OC, Lavenders Flowers and an eating establishment named Dear Lucy.
It features cargo containers along with a 1920s commercial structure, a renovated Craftsman bungalow and renovated two-story barn.
Sadeghi said that leveling existing properties and building from scratch might be an easier build than adaptive reuse of existing buildings. But then the "soul and personality of the city gets wiped out."
"They have an honesty about them," he said. "We say we want to use the past to build the future. It's a challenge to restore it. A lot of it is labor of love. I do think that long term, it's the right decision."
Lou Ponsi is a contributor to TimesOC. Follow him on Twitter at @louponsi and follow @timesocofficial for more news and features about Orange County.
---