Anaheim, the home of family friendly Disneyland, now wants to draw adults to its new breweries
Anaheim may have a reputation as a wholesome family playground because of its famous theme park, but off-duty adults have always long been able to find a cold brew in places such as Disneyland Hotel or Angel Stadium.
Now a movement is afoot to add beer taps and bring locals and tourists together outside Disneyland.
City officials, led by the mayor, have rolled out the barrel for beer producers by making Anaheim one of the easiest places in the region to open a craft brewery.
"We want to be the center for brewing in Southern California," said Mayor Tom Tait, who hopes his city can get an economic lift from beer like the one the Central Coast saw from wine in recent decades.
In embracing beer, the mayor is betting on its improved reputation among many young people as a sophisticated beverage that can be enjoyed in family-friendly pubs and not just swilled at baseball games and louche fraternity parties.
Leisuretown is the latest Anaheim brewery to be created in a non-rowdy image, with its backyard-like garden setting, vegan Mexican food cafe, coffee bar and food stalls. There will be a movie screen next to a swimming pool stocked with toys so patrons can bob about while watching a show.
The brewery operated by San Diego brewer and coffee roaster Modern Times Beer will open in the spring in the Anaheim Colony Historic District, where its developer, Shaheen Sadeghi, hopes it will become a neighborhood institution.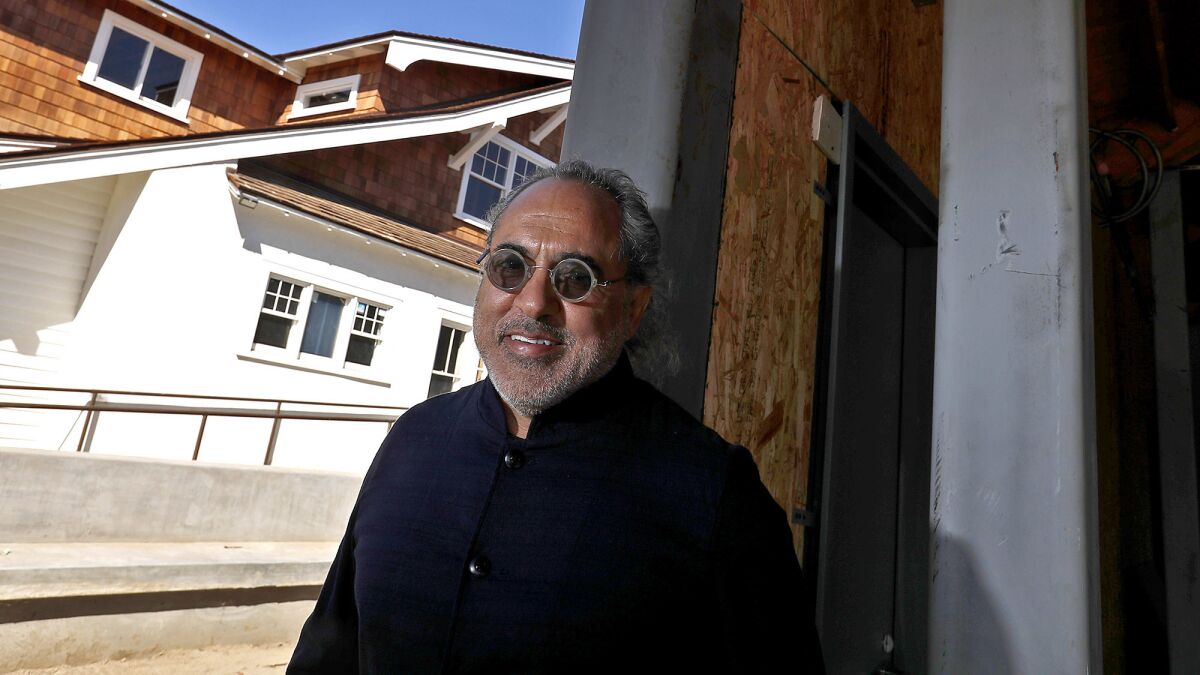 "We didn't design this for people from L.A. to come," he said. "This is for locals."
OK, and maybe some of the 25 million people who come to Anaheim every year to visit Disneyland, attend an event at the state's largest convention center or watch the Angels or Ducks play.
Not many of those visitors travel the two miles to the heart of Anaheim settled by German immigrants, perhaps because they don't know it's there. For a time, a Google search for downtown Anaheim would land first on Downtown Disney, an outdoor shopping center next to Disneyland, Sadeghi said.
Anaheim, like other American cities including Los Angeles and Long Beach, has been working to rejuvenate its old downtown with new housing, restaurants and shops.
One of the most popular retail additions has been the Anaheim Packing District, an upscale food hall with more than 40 restaurants and bars in a renovated citrus packinghouse built in 1919.
Leisuretown will be a short walk from the Packing District and near other breweries and restaurants in the historic district that the city has encouraged to open. Among them are Anaheim Brewery and a food and beverage hall called Make.
"We had to give people a compelling reason to live here and to stay and linger," said John Woodhead, Anaheim's economic development director.
Tait, who was elected mayor in 2010, saw how popular brewing was in cities such as San Diego, Portland, Ore. and Denver, where beer tourism has been a boon to the local economies.
In 2013, the City Council approved the Brew City Initiative intended to streamline the permit process for setting up alcoholic-beverage manufacturing, making it cheaper and faster to get a brewery started in Anaheim than in other cities.
It's possible to get a brewery permitted for about $10,000 in Anaheim, the city said, compared with as much as $100,000 in nearby cities that require brewers to lease or buy their brewery buildings before they can start the permit-application process.
There are 16 breweries in Anaheim now, with three more including Leisuretown under construction and an additional six in planning stages, the mayor said.
Leisuretown is being built by Sadeghi's Costa Mesa company LAB Holding, which is behind the Packing District and other food, retail and residential developments in Anaheim.
Sadeghi, 64, had an earlier career in the action sports fashion industry, including stints as president of Quiksilver sportswear company and executive vice president of Gotcha.
When it comes to beer, he's noticed that many young people today are knowledgeable about the elements of beer and brewing.
"My generation drank beer," he said. "The new generation wants to know how to make beer — and drink it, of course."
Still, how much suds-for-sale can the market bear? The American craft beer revival began in the late 1970s and many liquor stores, bars and restaurants are already stocked with multiple styles of IPAs, stouts and other upmarket brews.
Craft brewery overload does exist on the macro level, real estate researcher Jared Dienstag of JLL said, but he thinks local brewers can flourish in Anaheim.
"Saturation is going to hit other markets before it would hit Orange County," Dienstag said, "because a lot of them have seen a big ramp-up already."
Anaheim has a large inventory of older industrial buildings suitable for breweries in Orange County, he said, and they can be rented more cheaply than those around John Wayne Airport or in the south part of the county.
Breweries also stand to enhance the city's bottom line. Although tax revenue from Disneyland Resort generates about half of the city's general fund, residents and elected officials in Anaheim say the city needs additional revenue to pay for more police, recreational programs for kids and a plan to deal with a stubborn homeless problem.
Craft breweries that serve beer and food are increasingly considered neighborhood amenities that raise desirability of nearby properties such as office buildings, apartments and hotels as they try to attract tenants and guests, Dienstag said.
Breweries also feed off one another as a group attraction, said Greg Gerovac, who co-founded Anaheim Brewery with his wife, Barbara, in 2010.
"You don't go to Napa to go to one winery," Gerovac said. "It's the same thing."
And brewers, he insists, are collegial. "Most are small, family-owned businesses, and that creates a culture where we're all in this business together."
There is historical precedent to relying on the beer industry to boost local development.
The Gerovacs resurrected the Anaheim Brewery brand, which dates from 1870 under different ownership but was discontinued when Prohibition was enacted in 1920. And beer was perhaps the first alcoholic beverage made in Anaheim, said local historian Jane Newell of the Anaheim Heritage Center.
The city's founding German-immigrant families relocated from San Francisco in the 1850s to establish a wine-making colony, but they made beer for themselves in part because alcoholic beverages were often considered safer to drink than water.
"They drank beer with their meals," Newell said. "Culturally, that's what Germans did."
»
Twitter: @rogervincent