Deidre and Albert Pujols will bring their 'Strike Out Slavery' cause to Angel Stadium Sept. 16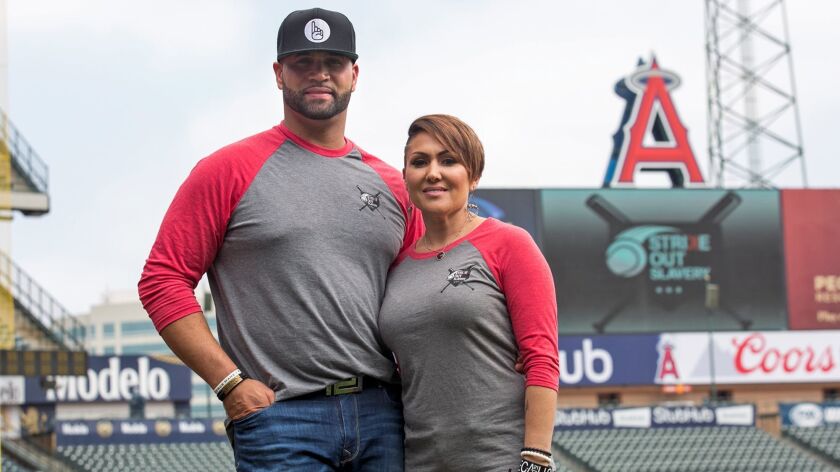 She was a 12-year-old immigrant from Egypt, living as a domestic slave for a family in a gated Irvine community.
She helped the youngest children get ready for school, washed clothes, cleaned the Mediterranean-style house and prepared food.
Following up on an anonymous tip in 2002, police found the girl living in the squalor of a 12-by-8-foot converted area of the family garage.
This example of modern-day slavery is one of many in the growing human trafficking epidemic, a crime wave the U.S. Department of Health and Human Services labels the world's fastest-growing criminal industry.
Deidre Pujols, wife of Angels slugger Albert Pujols, felt compelled to act.
It's why the mother of five — who also supports causes for Down syndrome and impoverished people in the Dominican Republic — wanted to raise awareness about forced labor and sex trafficking and help an international network of nonprofit organizations to rally against it.
She and Albert will take the message to fans Sept. 16 during "Strike Out Slavery" at Angel Stadium in Anaheim, an event that will raise money and awareness in the battle against human trafficking and sexual exploitation.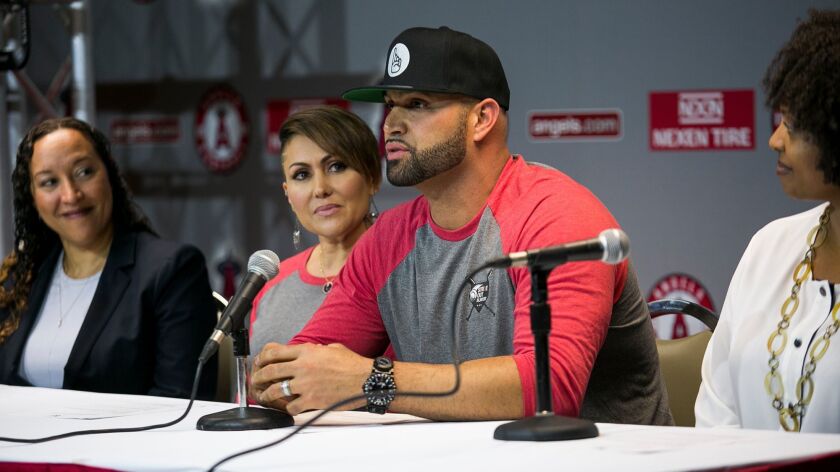 "It's a passion," Deidre Pujols said during an Aug. 24 news conference at the stadium. "Apathy is repulsive and expensive."
Information about trafficking may prove startling to families who want to enjoy America's pastime, Deidre said, but she wants to encourage fans not to be afraid and hopes the knowledge will compel them to do more.
The event includes a pregame expo featuring displays by local nonprofits that battle human trafficking and opportunities for fans to get involved.
"I'm so proud of her," Albert said. "I'm really excited because I see her heart is in this. She makes the time to care for people and since I met her that's what she's been. That's why I call her Wonder Woman."
Following the game, recording artist Nick Jonas will perform a free concert to support the effort.
Human trafficking involves recruiting, harboring, transporting or obtaining a person through the use of force, fraud or coercion for the purpose of commercial sex and forced labor.
The $32-billion-a-year industry enslaves 45.8 million people as young as 4 in 167 countries, according to the Global Slavery Index.
The crime is on the rise nationwide, particularly in California, Florida, Texas and New York, according to UNICEF.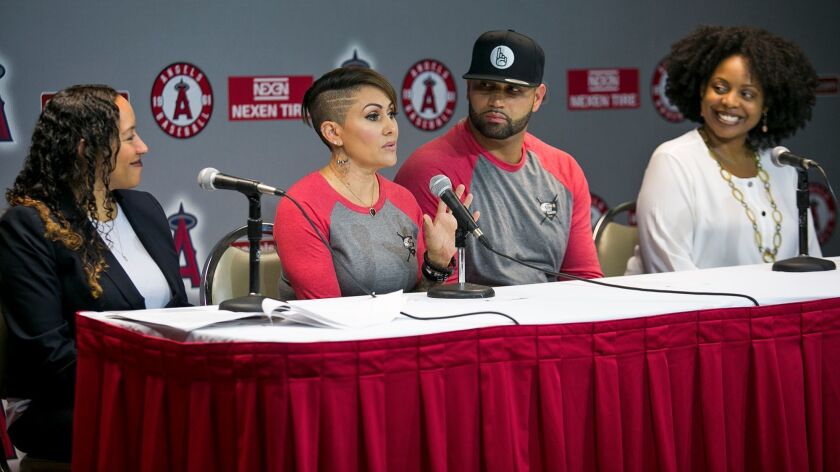 Affluence makes Orange County a destination for human traffickers who aim to charge higher prices for victims' forced labor and sex work, said Lita Mercado, director of Victim Assistance Programs at Community Service Programs and administrator of the Orange County Human Trafficking Task Force.
The majority of victims and traffickers here are not from O.C.
A full 78% of victims arrived from outside the area, Mercado said, adding that there were 225 victims of human trafficking in 2015 and the 2016 report will show more than 300 victims.
"I'm incredibly grateful for local heroes like Deidre and Albert to take on a bigger platform and increase awareness," Mercado said. "If we can't speak about it, we can't challenge it."
Stacy Jewell Lewis, a human trafficking survivor and advocate, was raised in Washington, D.C., abducted at 19 and forced into sex trafficking. Since escaping the trade she has helped as the Department of Justice and an FBI task force assist survivors.
"I remember wishing someone could help me and know what I was going through," Lewis said during the news conference. "I'm very thankful that we're raising awareness, and they are using their platform in a stadium where families can take the opportunity and learn for themselves and protect their children."
Through Sept. 6, supporters also can go to strikeoutslavery.com and make a minimum $10 donation for a chance to win a Hero + Living Legend Experience with Albert Pujols.
Twitter: @KathleenLuppi
---
All the latest on Orange County from Orange County.
Get our free TimesOC newsletter.
You may occasionally receive promotional content from the Daily Pilot.