Theatrical 'Back to Play' shows students what it's like to work in medicine
A teenage patient played by Jake Tallo is lying on his side on a table on a stage designed to look like an operating room.
Next to him is Dr. Narenda Parson, the anesthesiologist, and Leigh Hoerner, the operating room nurse. They're prepping the patient for a mock ankle fracture surgery.
"You have to imagine the monitors are working," Parson explains to about 150 local high school students who have come to Irvine's Hoag Orthopedic Institute's auditorium on a recent morning.
He explains that in this surgery, there's usually an anesthesia machine, a breathing apparatus, an electrocardiogram and an ultrasound machine. He explains that there are two main nerves that go to the ankle that he'll need to block to provide the patient pain relief. He also explains where to put the needle and the catheter.
"[But] before we do the actual catheter, we're going to pretend that we weren't about to do the wrong side," Hoerner says, casually motioning for Tallo to turn over to his other side.
"Oh, right," Parsons says, as the audience erupts into laughter. "Well, there you are. Now we're going to do it correctly."
This is the third year of "Back to Play," the largely improvised, live-reenactment play designed to give students a taste of a career in sports medicine.
Hoag Orthopedic's executive director, Dr. Carlos Prietto, and program manager, Vanessa Glotzbach, organized the presentation as part of their outreach program.
Hoag Orthopedics is a nonprofit that fosters education, research and community outreach in orthopedic medicine. It partnered with Vital Link OC, a nonprofit whose mission is to expose high school students to potential career paths.
The 13 health professionals on stage — all volunteers — essentially play themselves. After each person's segment, they break the fourth wall to introduce themselves to the students and explain how they got into their field of medicine. And after the play ends, there's a Q&A for the students.
It might not have the high drama or comedy of a typical play (unless you count the aggressive slide to second base that resulted in injury and, later, the awkwardly amusing small talk among the staff mid-surgery), but it keeps the audience's attention by giving an inside look at every step of the process and every person involved in getting an athlete "back to play."
"It shows the high school students that there's a whole continuum of care — from the trainer to the medical assistant to the X-ray technician to the surgeon to the rehabilitation specialist — that's open to anybody that's interested," says Prietto, an orthopedic surgeon with a sub-specialty in sports medicine. "There's a lot more people involved than just a doctor and a nurse."
"We wanted something that students could relate to," says Ryan Helber, an administrator at Hoag Orthopedics, on why they decided to concentrate on sports medicine. "They see themselves in the baseball player."
This is Tallo's third year as the lead in the play. Though he did musical theater when he was younger, he's basically playing himself. A baseball player who graduated from Calvary Chapel High School in Santa Ana last year, Tallo was planning to play college baseball, but was forced to delay a year after he broke both his wrists over the summer.
"The funny thing is they thought I had internal bleeding 'cause I had 60/30 blood pressure, so they rushed me to the trauma ward," he says. "But I didn't need surgery … As an patient, I didn't have any questions because I just trusted they knew what they were doing."
The last two times they performed "Back to Play," Tallo's character had a knee injury, so this was their first time showing how to fix an ankle fracture. When it's time for Tallo's character to get his surgery, a video of an actual ankle surgery is projected on a big screen behind the actors.
"The knee surgery is arthroscopic, which means you can only see it on the camera," Prietto explains. "But this is actually cutting skin and seeing the bones and putting the screws in."
This was the first time Dana Braun, who teaches health sciences at Westminster High School, had taken her students to see an open surgery.
"I started watching the kids, making sure nobody went down, but they all seemed to do really well with it," she says.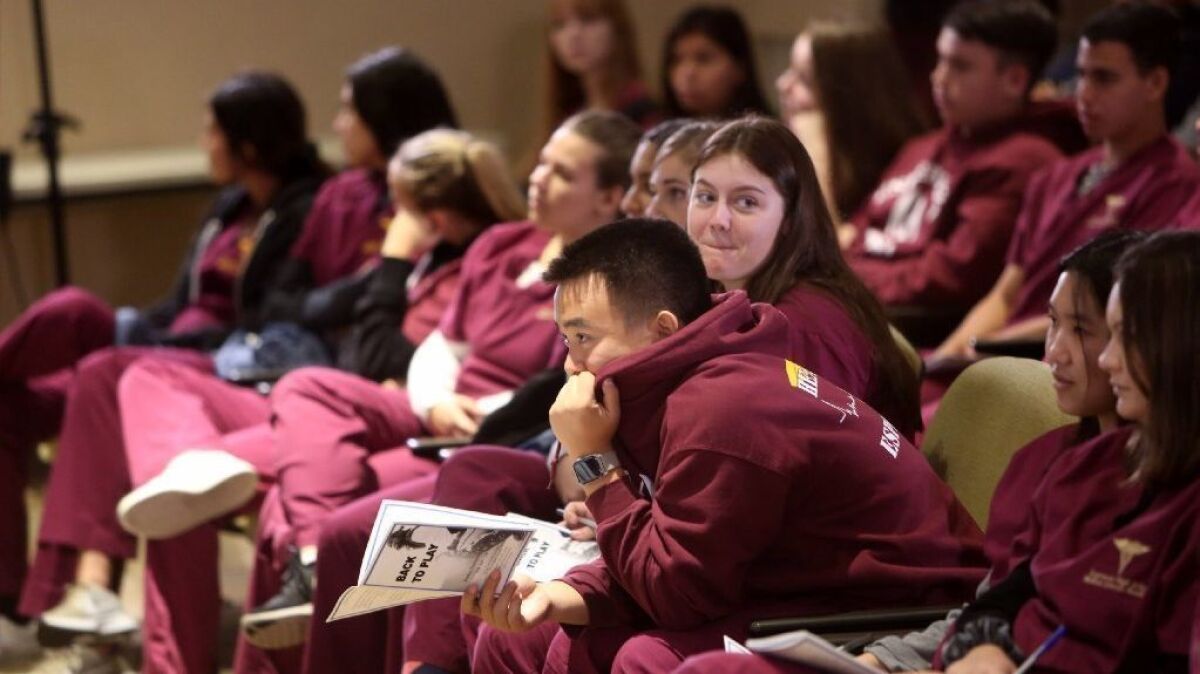 Montanna Wheeler, a junior at Esperanza High School in Anaheim, was sitting among the front rows of the auditorium with fellow students, who had all been encouraged to wear scrubs in cardinal, a school color.
"It was completely fine," says Wheeler, who wants to be a pediatrician. "I'm not affected by it at all. I like watching a bunch of doctor shows."
But there was another reason for the switch to ankle surgery.
"We wanted to be able to tie in medical devices so students could see the industry perspective," Helber says.
They invited Thomas Adams, whose Huntington Beach business, Tiodize, manufactures plates that surgeons use in ankle surgeries, to speak "so students will realize that they can even have an effect on medical health care through engineering," says Prietto.
This was also the first year they had an additional display room set up so the students could get a closer look at different surgical instruments.
"It helps take all these career options that they learn about in the classroom and makes it a lot more real for the kids," Braun says. "We can talk about it, but it's all just theory until they can see it actually going on."
All the latest on Orange County from Orange County.
Get our free TimesOC newsletter.
You may occasionally receive promotional content from the Daily Pilot.