Review:: On Theater: 'Ragtime' a sprawling epic at the Chance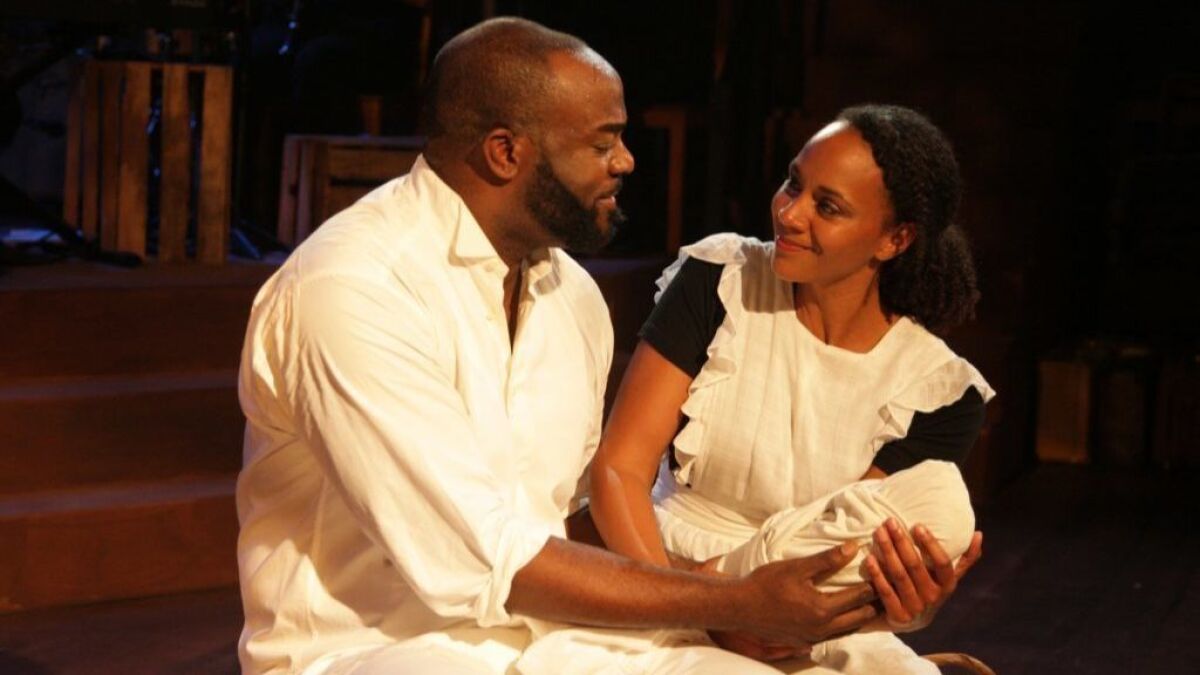 Fictional characters and historical figures interact gloriously in the sprawling musical epic "Ragtime," currently overflowing on the stage of the Chance Theater in Anaheim.
It's the turn of the century (the 20th) and America — New York City in particular — is experiencing massive social, political and cultural changes in this ambitious undertaking of the Stephen Flaherty-Lynn Ahrens musical based on E.L. Doctorow's 1975 novel.
America's treatment of immigrants and people of color, issues that will resound with today's audiences, dominate this panoramic exercise which features a huge company of 19 performers under the solid direction of Casey Stangl, whose work has flourished at South Coast Repertory.
The story focuses on three fictional characters — a widowed Jewish immigrant, a frustrated housewife/mother and a steely determined African American musician.
Dony Wright electrifies as the black entertainer Coalhouse Walker Jr., whose triumph at winning back the mother of his infant son turns to unspeakable tragedy. Jennifer Talton excels as his lady love, hitting her stride with the poignant solo "Your Daddy's Son."
Another highly moving performance is turned in by Rachel Oliveros Catalano as a compassionate character known only as "Mother" who chafes under marital servitude and becomes a true savior. Ron Hastings (who also doubles as Henry Ford) reflects values of the period as her frustrated husband who blocks her charitable advancement.
The immigrant, who clings protectively to his young daughter as he makes his way in a new world, is well played by Wyn Moreno. His eventual interaction with the mother, and then their children, provide some rare tender moments.
Supporting players include real historical figures such as showgirl Evelyn Nesbit (Sarah Pierce) and illusionist Harry Houdini (Matt Takahashi) — the most impressive being Bryce Hamilton's firebrand activist Emma Goldman.
Joseph Bricker as Catalano's younger brother grows significantly from fawning fan boy to impassioned activist. Glenn Koppel is a credible J.P. Morgan, and Jake Burnett menaces as a feisty Irish fireman and the show's true villain.
Ensemble movement across the Chance's widened stage is particularly well orchestrated by choreographer Kelly Todd. Musical director Robyn Manion's work is quite accomplished, though the use of amplification for the singers is a curious choice given the intimate dimensions of the theater.
"Ragtime" not only serves as a rousing history lesson, but it also connects subtly with today's social and political climate. It's an overwhelming experience at the Chance Theater.
IF YOU GO
What: "Ragtime"
Where: Chance Theater, 5522 E. La Palma Ave., Anaheim
When: Thursdays at 7:30 p.m., Fridays at 8 p.m., Saturdays at 3 and 8 p.m., Sundays at 3 p.m. through July 28
Cost: $25-$49
Information: (714) 455-4212; ChanceTheater.com
Support our coverage by becoming a digital subscriber.
Tom Titus reviews local theater for TimesOC.
For more news and features about Orange County, visit TimesOC.com or follow us on Twitter @timesocofficial.
---
All the latest on Orange County from Orange County.
Get our free TimesOC newsletter.
You may occasionally receive promotional content from the Daily Pilot.