TimesOC: Disneyland tickets now on sale for California residents
Good morning and welcome to the TimesOC newsletter.
It's Friday, April 16. I'm Ben Brazil on rotation with my colleagues, editors John Canalis and Carol Cormaci, to bring you the latest roundup of Orange County news and events.
While some people have been worried about surviving the pandemic, others have been agonizing over the reopening of Disneyland.
The long wait will soon be over for Disney fanatics.
On Thursday, tickets to the theme park went on sale for all California residents. Disneyland and Disney California Adventure, which have been closed since March 2020, will reopen on April 30 with limited capacity, various safety protocols and minimized hours of operation from 9 a.m. to 7 p.m.
Reporter Hugo Martin wrote that Disney will be using a five-tier pricing system. Guests will be charged more for tickets on high-demand days. Attending the park during the week will likely be cheaper.
Some of the new safety protocols at the park will include outdoor-only lines, a rule that guests from a single household go on rides together, and indoor rides can only last 15 minutes.
One of those indoor rides, the Haunted Mansion, will look a bit different than it did before the pandemic. The theme park's spookiest ride has been updated with a few new additions.
Reporter Todd Martens wrote that the most prominent is the return of the portrait of an aging woman that was dreamed up by longtime Disney animator-designer Marc Davis. There's also a demonic cat, influenced by Edgar Allan Poe's story "The Black Cat."
Other additions include floating chairs and dollhouses.
Martens wrote that the update was part of Disney's pre-pandemic plan to clean up the effects of the ride. This isn't the only planned refurbishment in the park. Disney has announced updates to Splash Mountain and the Jungle Cruise to remove components of those rides some call racist.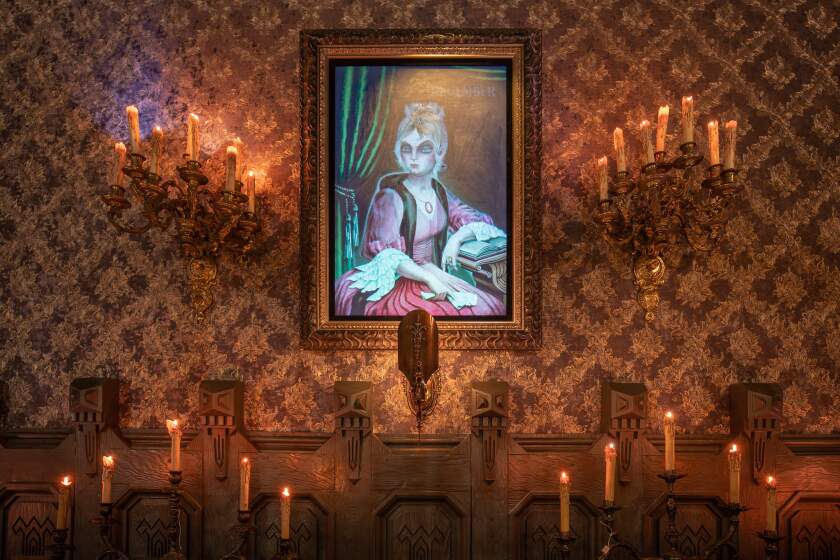 NEWS
— Goodwill of O.C. is partnering with Donate Life California to encourage people to sign up as organ donors. More than 22,000 people in California are waiting for an organ transplant.
— An Orange County federal judge is being more lenient on trial delays. The judge previously held that delays due to the coronavirus pandemic were unconstitutional.
— About 200 residents showed up to the O.C. Board of Supervisors meeting this week to voice their opposition to "vaccine passports." The county said that it will not be requiring the passports but will be offering a voluntary digital vaccination record.
— A coalition of social justice organizations in Orange County is working to halt the expansion of the James A. Musick jail near Irvine. The coalition believes that incarceration is not an effective treatment for social ills, and the money could be better spent on social programs that address the root causes of crime.
— The Newport Beach City Council this week approved new rules for short-term rentals. The reforms were spurred by complaints from residents about noise and parking congestion.
— Planning is already underway for the 113th annual Christmas Boat Parade in Newport Beach. Organizers are seeking submissions from the public to decide what theme should be used in the parade.
— Costa Mesa planning commissioners voted against installing LED billboards at the Triangle Square shopping plaza. The billboards were meant to boost patronage of the center, which has been struggling financially.
SPORTS
— Edison High School held its spring signing day ceremony this week. Students were appreciative of the celebration after the last year had stalled organized sports.
— A roundup of high school sports from a few Orange County cities.
ARTS
— South Coast Repertory will open its spring lineup with "Red Riding Hood" from April 21 through June 13. The theater company is also planning its first in-person productions starting July 15.
OPINION
— Columnist Patrice Apodaca reflected on the pandemic with UC Irvine Professor Andrew Noymer, who is also known as Dr. Dark Cloud.
---
All the latest on Orange County from Orange County.
Get our free TimesOC newsletter.
You may occasionally receive promotional content from the Daily Pilot.