Parents to be notified if Orange Unified student IDs as transgender, school board majority decides
Good morning. It's Wednesday, Sept. 13. I'm Carol Cormaci, bringing you this week's TimesOC newsletter with a look at the latest local news and events.
Educators within the Orange Unified School District will be required to notify parents if their child identifies as transgender, the conservative majority of the school board decided following a contentious meeting held last Thursday night and covered by L.A. Times education writer Howard Blume.
Although there were some protesters who made their presence known, most of the members of the public who spoke up during the meeting — a few local parents and some activists from around SoCal — supported the move, Blume reports.
The new resolution, which was passed just 10 days after state Atty. Gen. Rob Bonta filed a lawsuit against Chino schools over a similar policy, triggers parental notification when a student requests "to be identified as a gender other than the student's biological sex or gender listed on the student's birth certificate or any other official records."
The notification includes "any request by the student to use a name that differs from their legal name" — other than a common nickname derived from their legal name — "or to use pronouns" that differ from those aligned with official records.
The notification also covers a student's attempt to take part in athletic activities or use facilities such as a bathroom that don't align with the student's birth-certificate gender.
In Blume's complete report on the meeting he notes the 4-0 vote came very late in the evening, 11:30 p.m. after three board members opposed to the measure got up and walked out.
"Their exit followed a boardroom disruption started by opponents of the resolution in the audience. It turned into a shouting match between opposing sides and a brief scuffle. Most of the yelling came from resolution supporters," Blume reports.
The departing board members later issued a statement saying they left because of safety concerns.
Ahead of the discussion, Orange board member Kris Erickson said the board should put the resolution on hold pending the outcome of the state litigation. But board member Madison Miner said she feared litigation — and other harms — that could result from the lack of enacting a notification policy, according to Blume's report.
Rick Ledesma, president of the school board, said that acting on the resolution was a moral imperative.
"I kind of thought throughout this whole process ... you know, about the child," Ledesma said. "Parents decide to conceive a child. Then the mother carries the child for nine months — we all know this — only to send their child eventually to school and [for the child] to be told to keep a secret, and because supposedly it comes down from the state.
"So my concern there is this child keeping a secret and, you know, potentially there's lies being said, and this child is 12 years old ... [and] is ready to change their lives forever."
Opposing board members Erickson, Andrea Yamasaki and Ana Page, in a statement issued after the meeting, singled out Ledesma and Miner, saying "the destruction of public education and public decency is underway at [their] direction."
"By bringing culture wars into Orange Unified, the Ledesma majority has invited the most radical elements into our district, OUR home," the statement said. "We can only imagine how difficult it is for our LGBTQ youth to exist in this toxic and hateful environment where politicians are exploiting their very existence to score political points."
MORE NEWS
• The events of 9/11 are still remembered, 22 years later, in Orange County. One local remembrance was held at Sunday, Patriot's Day, at Fairhaven Memorial Park in Santa Ana. The annual Walk to Remember, designed to commemorate the first responders who lost their lives on Sept. 11, encouraged participants to take 2,220 steps, representing the 110 flights of stairs first responders climbed at the World Trade Center on the day of the attacks.
• The conservative majority on the Huntington Beach City Council was focused again last week on undoing previous councils' policies, all on 4-3 votes. At a marathon meeting that started last Tuesday night and wasn't adjourned until 2:49 a.m. the next day, the panel amended its Policy on Human Dignity. Among other changes, the new document no longer states that the city condemns hate incidents and hate crimes and in fact removes all references to them. The same four council members voted to ban mask and vaccine mandates for COVID-19. They also censured Councilwoman Natalie Moser for her remarks regarding Mayor Pro Tem Gracey Van Der Mark at the Aug. 1 council meeting. But they temporarily tapped the brakes on their plans to put three controversial charter amendments on the next ballot, saying they would seek more public input before moving forward there.
• Orange County supervisors on Tuesday rejected an appeal of planning commission approval of a 37-unit residential development in north Tustin on tennis and pickleball courts, according to a City News Service report. The county planning commission on May 10 approved the Ranch Hills project at 11782 Simon Ranch Road in an unincorporated area of north Tustin. The Foothill Communities Assn. appealed to the board of supervisors to overturn that approval. The Tustin Hills Racquet and Pickleball Club occupies the 5.88-acre site where the homes will be built.
• Homeowners on Costa Mesa's Purdue Drive were roused Sept. 3 by a thunderous crashing noise caused by the collapse of a large portion of a brick wall along Fairview Road, south of Fair Drive. City crews cleaned up the mess, but the wall surrounds a residential development that dates back to about 1979 and one of the affected homeowners, Ted Engard, says he believes it was not built to current code requirements. Who will pay for its replacement? Engard suspects he and his neighbor, who own the two parcels where the collapse occurred, may be forced to fund any kind of rebuilding effort on their own.
• City of Hope Orange County held a "topping off" ceremony last week for the installation of the final beam of its specialty cancer hospital at FivePoints Irvine campus, slated to open in 2025.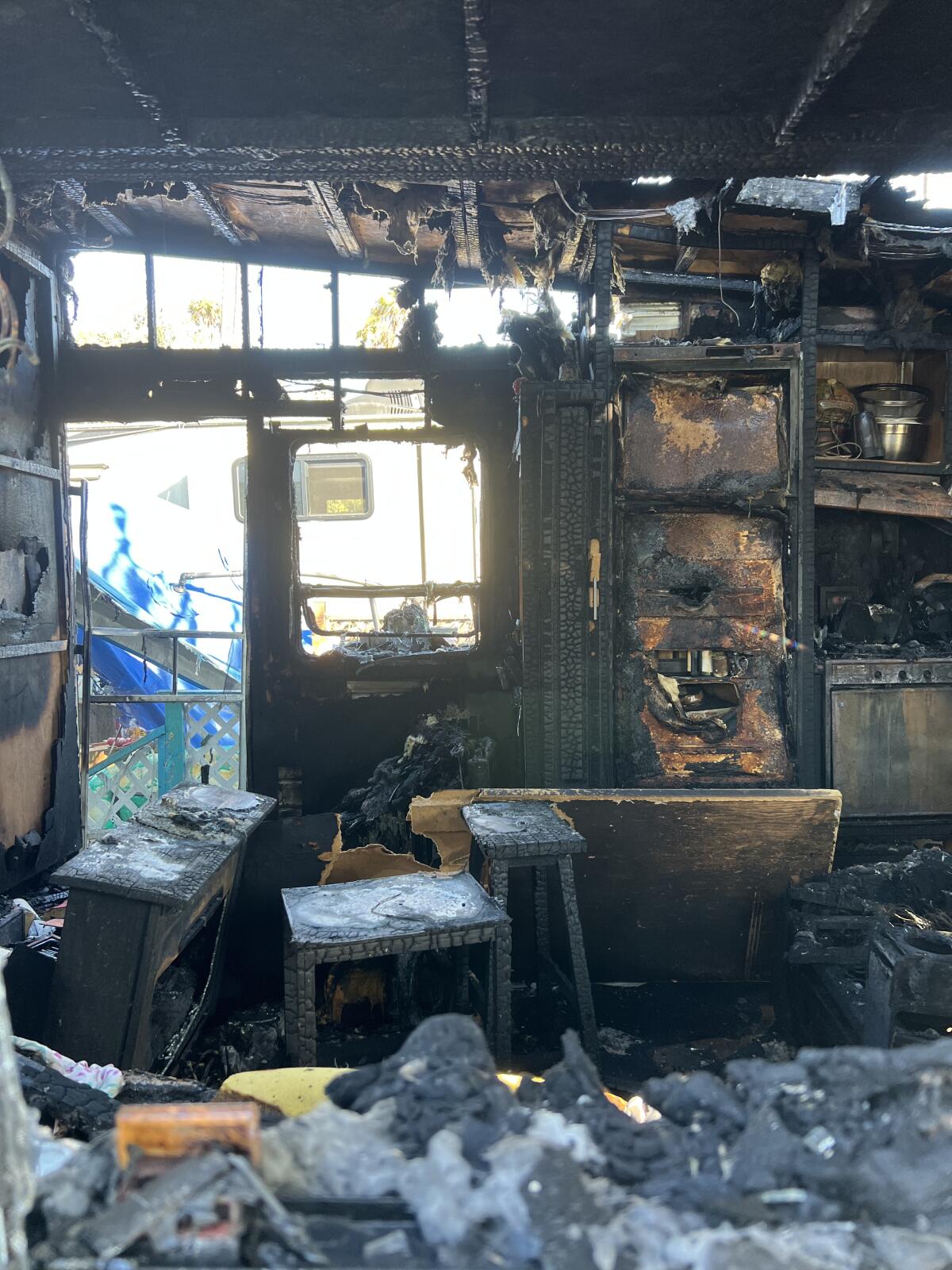 • A 69-year-old woman and her mother, 99, left without a home after the Newport Beach trailer they lived in was destroyed in a recent mobile home park fire, are in need of assistance. Michelle Martin and her mother, Lynn Scherer, both hard of hearing, barely escaped their home that August morning, and only because neighbors managed to pull them out in time. The two lost everything, so a longtime friend set up this GoFundMe charitable drive that, as of yesterday afternoon, had raised almost $3,300.
• Calvary Chapel of Costa Mesa has closed on its $5-million purchase of KRDC Los Angeles (1110) and placed its religious teaching "K-Wave" programming on the AM signal, according to a report by insideradio.com. The "K-Wave" programming originates from KWVE San Clemente (107.9) and is also carried on KSDW San Diego (88.9).
PUBLIC SAFETY & COURTS
• Last week, Irvine police officers gave the overdose-reversing drug naloxone to a pit bull puppy that they believed might have been exposed to fentanyl. The officers had been speaking to a man and woman in a Walmart parking lot and discovered they were in possession of fentanyl when the woman made the comment that her puppy might be overdosing. Caleb Aaron Eisman, 29, of San Juan Capistrano, who also goes by the
last name of Gibson, was arrested along with Katherine Marylou Menke, 27, of Santa Ana, on suspicion of drug possession, Irvine police said.
• The trial got underway Thursday for Matthew Antonio Zakrzewski of Costa Mesa, a 34-year-old child care service provider who is charged with molesting 17 boys over five years, between 2014 and 2019. The defendant's attorney asked jurors to keep an open mind and not make a rush to judgment.
• Two men died and two men suffered minor injuries Sunday night in a series of four separate traffic incidents that took place in Huntington Beach within less than an hour, police officials said. Three of those four incidents are believed to have been caused by someone behind the wheel of a black Toyota four-door sedan with significant passenger-side bumper damage who was intentionally targeting bicyclists. Detectives ask that those with information to call the department tip line at (714) 375-5066 or to call OC Crime Stoppers at (855) TIP-OCCS.
• A 48-year-old former Orange County girls basketball coach was sentenced to 150 years to life in prison last Wednesday for sexually assaulting six of his players over several years, CNS reports. Carlos Francisco Juarez, who was convicted in July of 21 felony counts related to sexual assaults, had coached for club basketball teams as well as at Mater Dei, Aliso Niguel, Tustin and Costa Mesa high schools.
LIFE & LEISURE
• Yet another iconic Laguna Beach eatery, Taco Loco, is throwing in the towel. (Last week, you may recall, it was the Stand Natural Foods outdoor cafe.) Taco Loco's owner, Gonzalo "Gonzo" Rebollar, made the announcement on his company's website, saying the time was right. It's not too late for a final visit there for some blackened fish tacos or vegan tofu burgers: Taco Loco's last day is set for Sept. 30.
• Elizabeth Machado, 32, has been recognized as one of the top-performing McDonald's restaurant managers globally. She was given the company's Ray Kroc award —and a special cake — at the McDonald's she manages in Westminster. The honor is bestowed only on the top 1% of McDonald's restaurant managers every two years. Machado began working at the Westminster McDonald's at the age of 18. "Early on, she had the drive to be the best," franchise owner Neal Ruby said. "So we realized how special she was."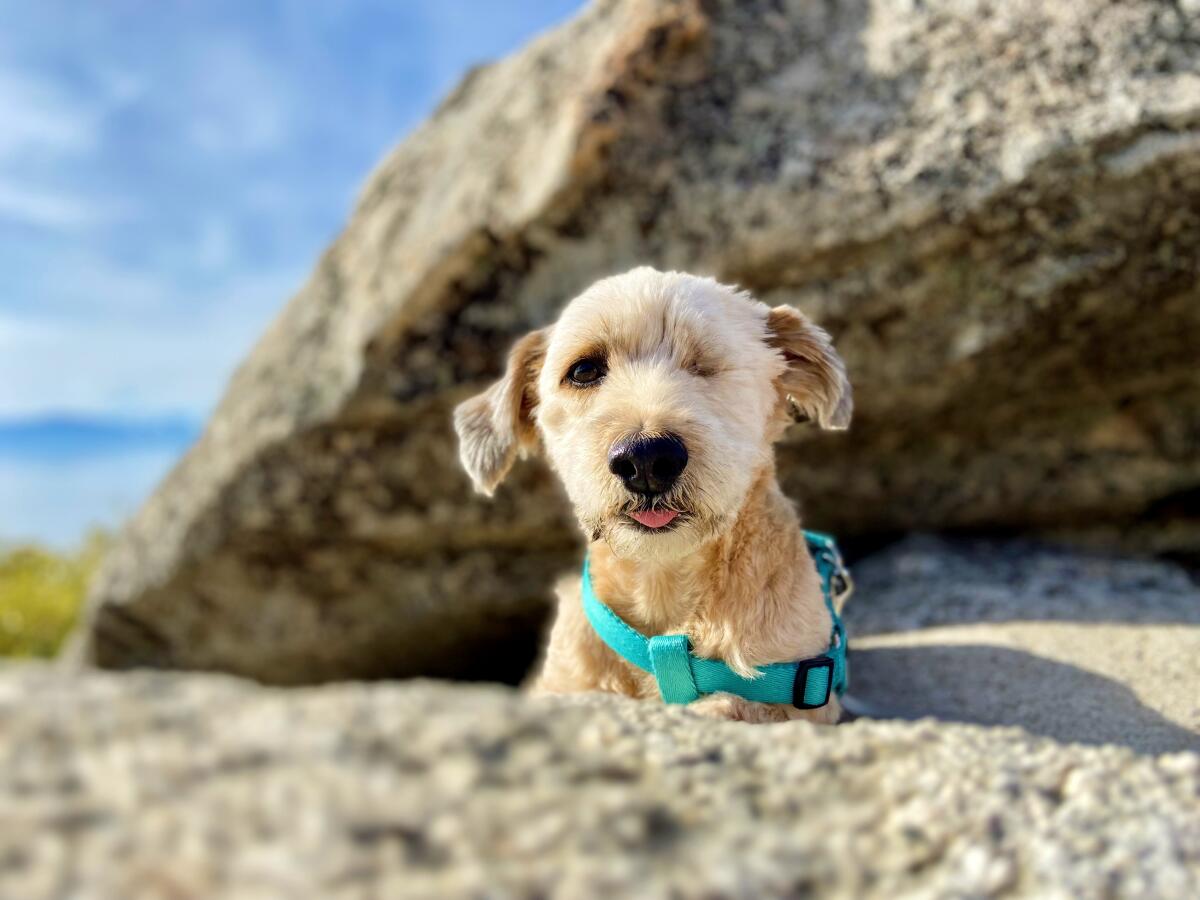 • An irresistable charmer, one-eyed rescue dog Hobie, who was adopted by Coto de Caza couple Christin and Joern Riemer is one of the 10 finalists in People magazine's "Cutest Rescue Dog" contest. He's competing to win a $1,000 donation to the rescue organization of their owner's choice. According to the story by my colleague Sara Cardine, Hobie found his home through the Laguna Beach Animal Shelter, where he landed after being found in Tijuana. To vote for Hobie, visit people.com/worlds-cutest-rescue-dog-contest-2023-7547114.
SPORTS
• With the MLB season winding down, L.A. Times sportswriter Sarah Valenzuela offers her take on what Angels fans should be watching for during the Halos' final games.
• The World Surf League finals were held Saturday at Lower Trestles in San Clemente, where hometown pro surfers Filipe Toledo and Caroline Marks emerged as the champions. The two, who grinned from ear to ear when presented with their trophies, were feted Monday afternoon along with third-place finisher Griffin Colapinto in a parade down Avenida Del Mar toward the San Clemente Pier.
CALENDAR THIS
• St. John Paul II Polish Center is holding its 44th Polish Harvest Fesitival, Dożynki, from noon to 10 p.m. this Saturday and from 11 a.m. to 4 p.m. on Sunday. Polish food (pierogi, blintzes, potato pancakes, cabbage rolls, Polish sausage, etc.), beer, Polish cultural exhibits, games for children, vendor booths and more. The only Polish Center in Orange County, St. John Paul II is located at 3999 Rose Drive, Yorba Linda.
• Camp Creep It Real OC will spook things up at Heritage Museum of Orange County this Saturday and Sunday. Organizers promise more than 120 Halloween and horror-themed vendors selling their crafts, wares and goodies. Guests are encouraged to wear costumes, and if they're bringing a pet, to dress them up for the occasion too. Hours are 1 to 7 p.m. Saturday and 11 a.m. to 5 p.m. Sunday. The museum is located at 3101 W Harvard St, Santa Ana. Daily admission, $15 (kids 10 and under admitted free). A two-day pass is $25. If you're up for the fun, go here for tickets.
• Fly Fishers Club of Orange County hosts its annual Free Public Fly Casting Clinic this Saturday at Mason Regional Park, 18712 University Drive, Irvine. Hours are 8 a.m. to 1 p.m., with a barbecue lunch to follow. Meet at Shelter No. 1. Bring your own rod or use one that's been gifted to the organization from a major rod manufacturer. Space is limited so you must register in advance via the club's website calendar. For more information contact Ken Lindt at Castingclinic@ffcoc.org.
KEEP IN TOUCH
Thank you for reading today's newsletter. If you have a memory or story about Orange County, I would love to read and share it in this space. Please try to keep your submission to 100 words or less and include your name and current city of residence.
I appreciate your help in making this the best newsletter it can be. Please send news tips, your memory of life in O.C. (photos welcome!) or comments to carol.cormaci@latimes.com.
All the latest on Orange County from Orange County.
Get our free TimesOC newsletter.
You may occasionally receive promotional content from the Daily Pilot.