Rare football fish found at Crystal Cove, the second one in 3 years, now in the hands of researchers
Good morning. It's Wednesday, Oct. 25. I'm Carol Cormaci, bringing you this week's TimesOC newsletter with a look at the latest local news and events.
Watch where you're stepping on O.C.'s famed sands, because you may encounter a rare specimen of marine life. One, in fact, that has very sharp teeth.
That's what happened on a recent afternoon to lifeguard Sierra Fockler, who found a spooky-looking black angler fish, specifically a Pacific football fish, while she was walking near the lifeguard headquarters building on Moro Beach, located within Crystal Cove State Park.
Park officials pointed out the discovery of the female specimen of the elusive fish was made on Friday the 13th, considered by some to be an unlucky date.
The news of the find was shared in a Facebook post on Oct. 17 and picked up by my longtime colleague Andrew J. Campa, a reporter with the L.A. Times, who in his story noted it was the second time in three years that the same stretch of coastline has yielded a black anglerfish.
"Only females possess a long stalk on the head with bioluminescent tips used as a lure to entice prey in pitch black water as deep as 3,000 feet! Their teeth, like pointed shards of glass, are transparent and their large mouth is capable of sucking up and swallowing prey the size of their own body," the park said in its social media post.
Campa reports the female specimen found by the Crystal Cove lifeguard this month is roughly 14 inches, measuring from mouth to tail fin, according to Michelle Horeczko, a senior environmental scientist supervisor with the Department of Fish and Wildlife.
Angler fish usually hang out well below the ocean's surface, as much as 3,000 feet down, Campa reports.
"There are only approximately 30 or so specimens that have been collected of this species globally, which makes this find valuable and may add to what is known about their life history," Horeczko told the reporter in an email.
After being examined at the Marine Field Lab at the AltaSea campus in San Pedro, the football fish was turned over to the Natural History Museum of Los Angeles, "so that the specimen can be preserved and available for scientific research," according to Horeczko.
The research may lead to clues as to why the rare species is turning up on the sand.
"It is unknown what causes these fish to strand, or why we have had two in recent years at this location," Horeczko said.
MORE NEWS
• In other Crystal Cove news, the Crystal Cove Conservancy announced it has acquired the remaining $10 million needed to fund the last of the North Beach Restoration Project. The nonprofit said the final investment came from the Bank of America after the conservancy secured federal historic rehabilitation tax credits intended to incentivize the rehabilitation and reuse of historic properties, the Daily Pilot reports. Other significant funding comes from the capital campaign led by Crystal Cove Conservancy founder and campaign chair Laura Davick and from an additional $30 million in state funding with the assistance of state Assemblywoman Cottie Petrie-Norris. Efforts to restore the 46 beach cottages started back in the early 2000s with Davick. By 2017, 29 of the cottages were restored and available for beach visitors to rent. Eight more are expected to be ready for rental by Thanksgiving.
• Huntington Beach will use a parent review board to vet children's books for public library, the conservative majority on the City Council decreed when the panel met last week. It was a hotly debated subject, with 128 people signed up for public comments, which took about five hours, according to the Daily Pilot's coverage of the meeting. About 550 people also emailed the City Council about the agenda item, with more than 90% against the idea, the Daily Pilot reported.
• The Costa Mesa has rejected the state's plan for Fairview Center site as a regional emergency operations center, noting impacts on future developments. "The current project conflicts with the city's and state's mutual goals to accommodate housing opportunities at this site and places undue constraints on future planning and [neighborhood] development efforts," the city's 19-page response letter to the state's proposal reads. The City Council Tuesday gave a final look at the letter, presented and signed off on by Jennifer Le, director of economic and development services, and voted unanimously to send it.
• The Orange County district attorney's office announced Monday it had been targeted by a cyberattack. The incident prompted a shutdown of the the office's information technology system, officials told City News Service. The perpetrator was unknown.
PUBLIC SAFETY & COURTS
• A Yorba Linda man who worked for Anaheim's Magnolia School District was arrested last week on federal charges of embezzling about $14 million from the district. Jorge Armando Contreras, 52, was charged in a federal complaint of embezzling money from federal funds from August 2016 through July, according to the U.S. Attorney's Office. Contreras was the senior director of fiscal services for the district, which serves preschool through sixth-grade students in Anaheim and Stanton. He had worked for the district since 2006 before being placed on administrative leave in August. He made his first appearance in federal court in Santa Ana on Thursday when he was ordered jailed without bond. He was scheduled to be arraigned Nov. 27.
• Newport Beach police are investigating recent tagging of swastikas on a locker at Corona del Mar High School as a hate crime, the Newport-Mesa Unified School District said. "This behavior is unacceptable and will not be tolerated in our schools," said NMUSD spokeswoman Annette Franco. The school district has a history of antisemitic incidents, the L.A. Times notes in its report on the vandalism. In 2019, police were notified after a group of high school students drinking alcohol at a house party took a photograph giving a Nazi salute around a table with red plastic cups arranged in the shape of a swastika. The students at that party attended Newport Harbor, Estancia and Costa Mesa high schools, not Corona del Mar High School.
• Four suspects were arrested in connection with a series of residential burglaries in Garden Grove and neighboring cities, according to police. City News Service reported officers arrived at a burglary in progress last Wednesday in the 13000 block of Greentree Avenue after the homeowner witnessed two female suspects via security cameras, according to the Garden Grove Police Department Public Information Officer Sgt. Nick Jensen Detectives located a silver SUV driven by 57-year-old Fullerton resident Ino Florea upon arrival as it left the area, Jensen said. Catalina Ciucur, 41, 49-year-old Caludia Margel and 45-year-old Nicole Elena were also in the SUV, Jensen said.
• The driver of a BMW 440i plowed through a tobacco shop in Brea on Thursday afternoon, knocking down display shelves and narrowly missing a customer and a shop employee. The L.A. Times report, which includes the video of the incident, can be found here. Store employee Ansh Sedh said he believes the driver was trying to pull into a parking spot when she drove into the shop.
LIFE & LEISURE
• Hilbert Museum of California Art at Chapman University will triple in size in 2024, according to this feature story by my colleague Sarah Mosqueda. Mark and Janet Hilbert have one of the largest collections of California narrative art, and an expansion of the Hilbert Museum of California Art at Chapman University will create more room to showcase and share it, Mosqueda reports. The redesign, by Johnston Marklee Associates of Los Angeles, includes two side-by-side buildings: the original Hilbert Museum at 167 N. Atchison St. in Orange and the former Chapman Dance Center to its north. "We hope to continue to foster art and artists in this community," Mark Hilbert said during a special walk-though of the construction site. "And we would like to see this area become an arts district."
• Anaheim Union High School District's Gilbert High School and Dale Junior High School have earned the Civic Learning Award of Excellence, the top state award in civics education, the district announced in a press release. Both campuses were scheduled to be recognized earlier this week by California's Chief Justice Patricia Guerrero. Eight AUHSD schools have now received the same award in the last three years.
• The Sister Kathleen Marie Learning Center was dedicated Friday when members of Saint Joachim Catholic Church convened in a two-bedroom house near the Costa Mesa church grounds to celebrate its recent transformation and to honor the legacy of its former occupant and namesake, according to a Daily Pilot story by my colleague Sara Cardine. Sr. Kathleen Marie Pughe dedicated her life to the church, spending more than 70 years in service with the Sisters of Saint Joseph of Orange. Pughe died at the age of 89, following a car accident on March 31, 2022, as she drove home from a dinner with friends.
• The Pixar-themed hotel at Disneyland that's been in the works is now expected to be completed and open for business on Jan. 30, Disney officials announced Monday. Pixar Place Hotel will be the "first fully Pixar-themed hotel in the United States," according to Disney.
SPORTS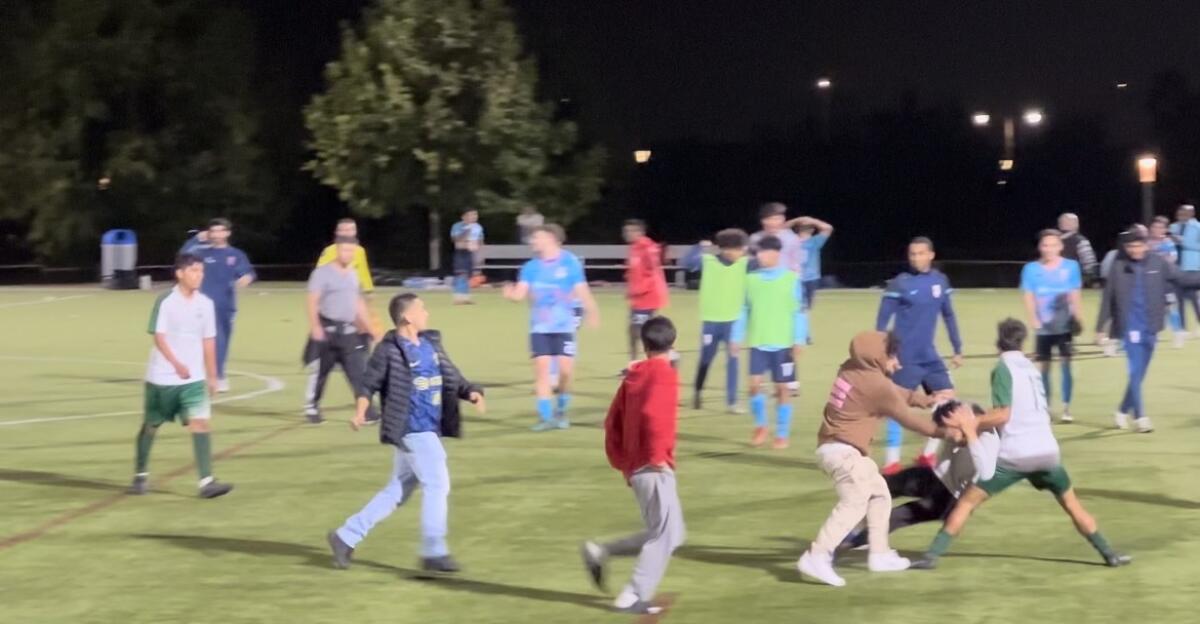 • A brawl broke out Saturday at Great Park in Irvine between Irvine Zeta and Club Garrafones. On Monday, Club Garrafones was expelled from United Premier Soccer League. The fight resulted in a 17-year-old player suffering a broken nose; a player's dad was kicked in the head; several players left with split lips, and another had a chipped tooth, according to this report in the L.A. Times.
• A professional horse rider was killed early Friday while training a filly at Los Alamitos Race Course in Cypress. The L.A. Times reports Alfredo Luevano, 53, was found on the ground near the back of the track where he had been conducting training exercises with a 2-year-old horse, according to a release from the race course. The filly Luevano had been training, Fly From The Fire, was not injured, officials said.
• Newport Harbor ended decadelong drought in Battle of the Bay football game in a 21-20 squeaker over Corona del Mar Friday. Newport Harbor coach Peter Lofthouse told Daily Pilot reporter Andrew Turner he went through a "mind trip" after his first win against CdM was in the books. "Your initial reaction is pure joy and happiness, but then there's so much," Lofthouse said. "It all just goes through your mind in seconds. From where we started back in 2018 to now where we're at here, being able to flip everything around."
CALENDAR THIS
• Halloween Party @ the Casa (21-plus) takes place Friday night at Casa Romantic Cultural Center and Gardens. Tickets are $30 and include drinks, a candy buffet and a live DJ. There will be a chance to win prizes, participate in spooky trivia and take pictures with larger-than-life animatronics. Hours are 7 to 9 p.m. Casa Romantica is located at 415 Avenida Granada, San Clemente. Tickets can be purchased here.
• Fall 2023 Corgi Beach Day is this Saturday at Huntington Dog Beach. Hours are 10 a.m. to 3 p.m. Corgi costume contest, limbo contest, "Best Corgi Butt" and Corgi eating contest. There will be a marketplace with more than 30 vendors, food trucks and more. Free and open to the public. Parking is located on Pacific Coast Highway between the stoplights at Seapoint and Goldenwest streets.
• A special Día de los Muertos fiesta for children and their families is set for Saturday at Pretend City Children's Museum, 29 Hubble, Irvine. The fiesta is free with museum admission. For more information, visit this site.
• The Anaheim Fall Festival & Halloween Parade gets underway at 11 a.m. Saturday and ends at 1 a.m. Sunday. The fun unfolds at 350 W. Center Street Promenade. At noon there is a kiddie costume contest and at 3 p.m. a doggie costume contest promises some laughs; the parade steps off at 7 p.m. Here's the full schedule.
KEEP IN TOUCH
Thank you for reading today's newsletter. If you have a memory or story about Orange County, I would love to read and share it in this space. Please try to keep your submission to 100 words or less and include your name and current city of residence.
I appreciate your help in making this the best newsletter it can be. Please send news tips, your memory of life in O.C. (photos welcome!) or comments to carol.cormaci@latimes.com.
All the latest on Orange County from Orange County.
Get our free TimesOC newsletter.
You may occasionally receive promotional content from the Daily Pilot.