Around Town: Strauss Symphony of America to perform in Costa Mesa
The Strauss Symphony of America, conducted by Balázs Bánfi, will perform Saturday at 8 p.m. in the Renée and Henry Segerstrom Concert Hall.
The performance is billed as a showcase of "a golden age of Viennese music, brimming with energy, merriment and romance," as well as a recreation of Neujahrskonzert, an annual New Year's concert in Vienna.
Tickets start at $49. For more information, visit scfta.org. The Concert Hall is at 600 Town Center Drive in Costa Mesa.
New Year's race coming to Bolsa Chica
Bolsa Chica State Beach will host the Run in the New Year 5K/10K/Half Marathon on Sunday.
The first starting gun will sound at 8 a.m. in Lot 25, near Warner Avenue and Pacific Coast Highway in Huntington Beach. Registration starts at $40 and parking at the beach is $15.
For more information, visit carenwareevents.com/run-new-years-race.
N.B. nature center will craft some fun during upcoming event
A children's crafting event will be held at the Peter and Mary Muth Interpretive Center Sunday from 10 a.m. to 3 p.m.
There is no cost to participate and parking is free. For more information, call (949) 923-2290. The center is at 2301 University Drive in Newport Beach.
Newport Dunes hosting two New Year's Eve concerts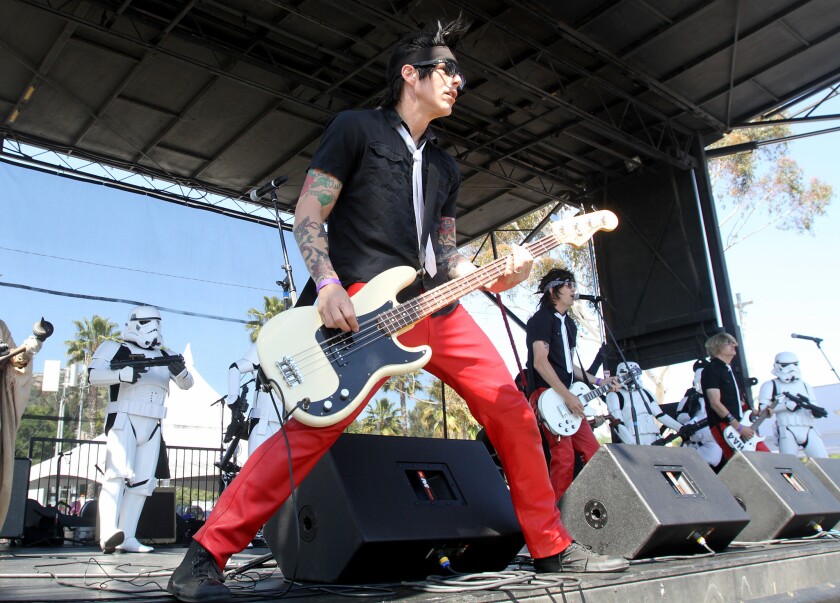 The Newport Dunes Waterfront Resort & Marina will rock in the new year with a pair of concerts on New Year's Eve.
One show, headlined by the '80s cover band Flashback Heart Attack, will start at 7 p.m. in the resort's Bayside Pavilion. Tickets start at $25, plus fees.
The second concert, featuring the tribute band Stevie Nicks Illusion, starts at 9 p.m. in the Back Bay Bistro. Tickets start at $40, plus fees.
Tickets are available by searching on eventbrite.com. Newport Dunes is at 1131 Back Bay Drive in Newport Beach.
Balboa Bay Resort goes to the Dogs for New Year's concert
The Tijuana Dogs will be the featured act during a New Year's Eve concert at the Balboa Bay Resort.
The rock band will perform from 10 p.m. to 1 a.m. Tickets are $80, with discounts for Balboa Bay Club members, and include entry, seating and access to a late-night buffet.
For more information, visit balboabayresort.com/events.
New Year's will be En Vogue during Hyatt Regency concert
R&B group En Vogue — known for hits such as "Free Your Mind," "Don't Let Go (Love)"and "My Lovin' (You're Never Gonna Get It)" — will headline a New Year's Eve party at the Hyatt Regency Huntington Beach Resort and Spa.
The event will run from 7 p.m. to 1 a.m. and include live music, a three-course dinner, champagne toast and balloon drops. Tickets start at $165.
The Hyatt Regency is at 21500 Pacific Coast Hwy. in Huntington Beach. For more information, or to buy tickets, visit nye.hyattconcerts.com.
New Year's splash will raise cash for H.B. museum
The 20th Surf City Splash, a fundraiser for the Huntington Beach International Surfing Museum, will take place on New Year's Day.
The event starts at 9 a.m. at Zack's Pier Plaza, 405 Pacific Coast Hwy. in Huntington Beach. Festivities will include a pancake breakfast, costume contest and the main event — a dash and dip into the chilly ocean, with no wetsuits allowed.
Registration is $20. For more information, visit thelocalhb.com/surf-city-splash or call (714) 698-9837.
Laguna Playhouse to stage 'Girls Night'
The Laguna Playhouse will present performances of "Girls Night: The Musical" from Jan. 2 to 5.
The production is billed as a "touching and hilarious 'tell-it-like-it-is' musical" that "takes audiences on a journey into the lives of a group of female friends."
Tickets start at $56. For more information, visit lagunaplayhouse.com or call (949) 497-2787.
The playhouse is at 606 Laguna Canyon Road in Laguna Beach.
Shred and break bread during rock guitarist's N.B. camp
Tom Morello — a guitarist known for his time with the bands Rage Against the Machine and Audioslave — will host a camp at the Fashion Island Hotel in Newport Beach from Jan. 2 to 6.
Tom Morello's Guitar Revolution will feature a number of activities, including guitar activities and workshops for players of all skill levels.
Registration starts at $899. For more information, visit tommorellosguitarrevolution.com. The Fashion Island Hotel is at 690 Newport Center Drive.
Newport collects truckloads of donations for the troops
The city of Newport Beach collected five truckloads of gifts for area military families this holiday season.
The city placed 35 donation boxes around town to collect toys, gift cards, sports equipment and DVDs for Southern California troops. The boxes for Yellow Ribbon America's Operation Christmas have been filled repeatedly, according to the city.
Representatives from the Newport Beach Fire Department, City Council and other departments met at City Hall Monday morning to hand off more donations to soldiers.
The city has supported Operation Christmas for 14 years.
Event raises money for Hoag Hospital Foundation
The 53rd annual Christmas Carol Ball raised more than $1.36 million to benefit the Newport Beach-based Hoag Hospital Foundation, according to a news release.
The Dec. 14 event took place at the Monarch Beach Resort in Dana Point.
Costa Mesa apartment complex sells for $113.5 million
Cityview, a Los Angeles-based multifamily investment management and development firm, has sold the Baker Block luxury apartment complex in Costa Mesa to Baker Block Associates LP for $113.5 million, according to a news release.
The complex at 125 E. Baker St. has 240 units. Perhaps its most notable feature is a sizable mural by artist Shepard Fairey, who also designed the "Hope" poster featuring former President Obama.
UCI butterfly biologist wins award
A UC Irvine biologist who studies the evolution of color and color perception in butterflies has received the 2020 University Faculty Award from the American Assn. of Hispanics in Higher Education, according to a news release.
Adriana Briscoe is a professor of ecology and evolutionary biology. The association's award recognizes a faculty member "who has demonstrated excellence in research and teaching, as well as contributed to their academic discipline," according to UCI.
Thunderbirds book return flight for H.B. airshow
The Great Pacific Airshow, which will take to the skies over Huntington Beach from Sept. 18 to 20, will again feature the U.S. Air Force Thunderbirds, according to a news release.
The show also will present an F-16 Viper team, the U.S. Army Parachute Team and Adam Baker, a civilian performer pilot.
For more information and a complete performer lineup, visit PacificAirshow.com.
---
All the latest on Orange County from Orange County.
Get our free TimesOC newsletter.
You may occasionally receive promotional content from the Daily Pilot.