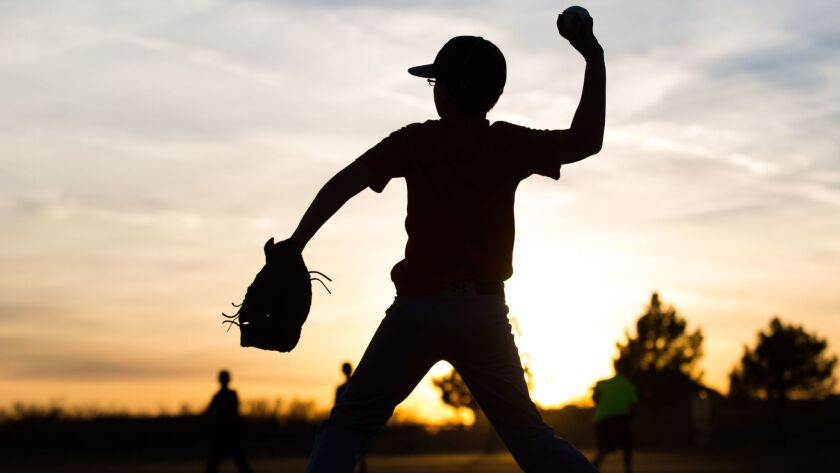 Children ages 6 to 15 will have a chance to learn baseball fundamentals from former Major League Baseball players from 1 to 4 p.m. Sunday in Fountain Valley.
The free clinic will be held at the Little League fields at the Fountain Valley Sports Park, 16400 Brookhurst St. It will cover throwing, hitting, base running, fielding, catching and pitching. Participants need to bring a glove.
In addition, kids and their families can learn personal safety tips from the nonprofit KinderVision Foundation.
To register, visit surveymonkey.com/r/2020clinicOC.
H.B. community art exhibition begins Saturday
Centered on the Center, one of the Huntington Beach Art Center's largest community exhibitions of the year, returns Saturday and will run through Feb. 29.
The annual non-juried, salon-style group exhibition will feature about 200 artists and more than 400 pieces in a variety of media.
Centered on the Center will begin with a reception at 6:30 p.m. Saturday. Other special events scheduled during its run include Art for Lunch at 11:30 a.m. Feb. 13, Poetry Night at 6:30 p.m. Feb. 20 and Film Night at 6:30 p.m. Feb. 27.
The art center is at 538 Main St. For more information, visit huntingtonbeachartcenter.org.
Neurophilosopher to speak at UCI
The UC Irvine Center for the Neurobiology of Learning and Memory will host its 26th annual Distinguished Lecture Series on Brain, Learning and Memory on Monday.
The free event starts at 7:30 p.m. in the Irvine Barclay Theatre, 4242 Campus Drive. Parking at the nearby structure is $10.
The featured speaker is Patricia Churchland, a neurophilosopher and professor emerita of philosophy at UC San Diego.
RSVPs are required and can be made at cnlm.uci.edu/churchland.
Children's Authors Festival booked at Surf City library
Huntington Beach Central Library will host the 2020 Children's Authors Festival Tuesday.
The free event, presented by Friends of the Children's Library of Huntington Beach, will run from 2:30 to 5 p.m. and include appearances from local authors and illustrators.
The library is at 7111 Talbert Ave.
Pacific Life to present more than $2 million in grants
The Pacific Life Foundation will present more than $2 million to 155 area nonprofits Tuesday during its annual Grants Reception.
Engel & Völkers opens yachting brokerage in Newport
Luxury global real estate brokerage Engel & Völkers launched its first yachting division in the Americas on Thursday, based in Newport Beach.
The Newport Beach shop, with eight advisors, is the newest addition to Engel & Völkers Yachting, which has locations in Monaco and Antibes in the South of France and provides services related to buying, selling and chartering yachts.
"This is a tremendous milestone for our growth in the Americas," Anthony Hitt, president and chief executive of Engel & Völkers Americas, said in a statement. "We've seen the value for our clientele by offering both luxury real estate and yachting services, which very much complement one another."
Chamber will celebrate new Costa Mesa bank branch
The Costa Mesa Chamber of Commerce will hold a grand opening Wednesday for a new HSBC bank branch at 462 E. 17th St.
The event will run from 4 to 6 p.m. Visit costamesachamber.com/events for more information.
Mental health forum set in Newport Beach
A free mental health forum is scheduled for 6:30 p.m. Wednesday in the Newport Beach Civic Center Community Room at 100 Civic Center Drive.
The event will feature Dr. Clayton Chau, Min Suh of Be Well Orange County and Heidi Sweeney from the National Alliance on Mental Illness — Orange County.
For more information, call Natalie Basmaciyan at (949) 718-1991.
Laguna show will pay tribute to the Man in Black
Johnny Cash's legendary 1968 performance at Folsom State Prison will be the subject of a tribute show at the Laguna Playhouse that starts Wednesday and runs through Feb. 1.
Tickets start at $56, plus fees. For more information and show times, visit lagunaplayhouse.com.
The playhouse is at 606 Laguna Canyon Road, Laguna Beach.
Marriott restaurant hosting monthly jazz concert series
A monthly concert series will bring jazz and cabaret acts to the Hook & Spear restaurant at the Newport Beach Marriott Hotel & Spa starting Wednesday.
The Sunset Jazz Supper Club Edition series lasts through May. On Wednesday, the headliners are Calabria Foti and the Bob McChesney Quintet. Future concerts will feature Harry Allen and Teka & Her New Bossa Trio on Feb. 19, the Bruce Forman Trio and the Red Guitar on March 4, John Proulx on April 1 and Jackie Ryan on May 13.
For tickets, call (949) 759-5003 or visit sunsetjazzatnewport.com. The Marriott is at 900 Newport Center Drive.
Orange Coast College welcomes two new exhibits
Orange Coast College's Frank M. Doyle Arts Pavilion will host two new exhibitions: "Right Place, Right Time: A Survey of John Upton's Photographs" and "Immersion: Visions of the Singularity through VR/AR" starting Wednesday.
The exhibits will run through April 4.
"Right Place, Right Time" explores Upton's fine-art photography and "decades-long commitment to exploring urban and natural landscapes in transition," according to a news release. The exhibit is curated by Tyler Stallings, director of the Doyle.
"Immersion," co-curated by Matthew Newman and Scott Broberg, features virtual reality and augmented reality projects "created to represent artistic visions of the 'singularity,'" or "when technology and humans come closer to merging," according to a news release.
Admission is free for both exhibitions. Gallery hours vary.
The Doyle is next to parking Lot D on the Costa Mesa campus, off Merrimac Way. For more information, call (714) 432-5738.
Voting education event Wednesday in Costa Mesa
A free voter education event will be held Wednesday at the Costa Mesa Senior Center, 695 W. 19th St.
Justin Beradino, operations manager for the Orange County registrar of voters office, will speak about this year's California primary and various changes voters need to know, including the new March 3 election date and the ability of all voters to cast their ballots by mail.
The program will run from 6:30 to 7:45 p.m. Light refreshments will be served.
RSVPs are required and can be made at bit.ly/2REGUQZ.
Segerstrom Center president to speak at luncheon
Casey Reitz, president of the Segerstrom Center for the Arts, will be the guest speaker during the South Coast Metro Alliance's annual luncheon Jan. 31.
The lunch will run from 11:30 a.m. to 1:15 p.m. in the Center Club, 650 Town Center Drive, Costa Mesa.
Guests are asked to RSVP by Monday. For more information, call (714) 435-2109.
Dinner to recognize Newport Christmas Boat Parade winners
A dinner recognizing award winners from the 111th annual Newport Beach Christmas Boat Parade and the Ring of Lights decorating competition will be held Jan. 31 at the Fashion Island Hotel, 690 Newport Center Drive.
The gala starts at 6 p.m. and will include a silent auction.
For more information, visit christmasboatparade.com/awards-dinner-and-auction.
Fusion dance will be in the spotlight during H.B. performance
"Fusion 2020" — a concert featuring hip-hop, jazz, ballet, tap and modern dance styles — will take the stage at the Huntington Beach High School theater Jan. 31 and Feb. 1.
Tickets for the show, presented by the Huntington Beach Academy for the Performing Arts, are $22 for adults and $16 for students and senior citizens.
Show times are 7 p.m. Jan. 31 and 2 and 7 p.m. Feb. 1. The theater is at 1905 Main St.
For more information, visit hbapa.org/see.
Know a hometown hero? Tell the Red Cross
The American Red Cross of Orange County is seeking nominees for its local heroes program.
Honorees will be recognized during an event May 8. Nominations are due by Feb. 28.
Award categories include animal welfare, corporate, disaster services and youth.
For more information and nomination forms, visit redcross.org/ocheroes.
Costa Mesa's Early College High School accepting applications
Early College High School in Costa Mesa is accepting new student applications through May.
Students at the school can earn college credits while obtaining their high school diplomas.
Informational nights about the campus, at 2990 Mesa Verde Drive East, are scheduled for 6:30 p.m. Jan. 30 and Feb. 27. There also will be an open house from 6 to 8 p.m. March 19.
For more information, call (714) 424-4780.
New H.B. shop benefits American Cancer Society
The American Cancer Society recently opened a Discovery Shop in Huntington Beach.
The shop, which sells clothing, accessories, artwork, antiques and other items, is at 18597 Main St.
Proceeds from the shop benefit the society's programs and cancer research.
College district announces new appointee and federal grant
The Coast Community College District recently approved Julie Clevenger as director of chancellor's office operations and government relations.
Clevenger comes to the Costa Mesa-based college district from Orange Coast College, also in Costa Mesa, where she worked for 32 years. She most recently was OCC's director of college and community services.
The district also recently received a $125,000 federal disaster fund grant, which will help the organization update its hazard mitigation plan.
A revised plan should provide the details necessary to prepare for emergencies in new and existing facilities, according to a news release.
---